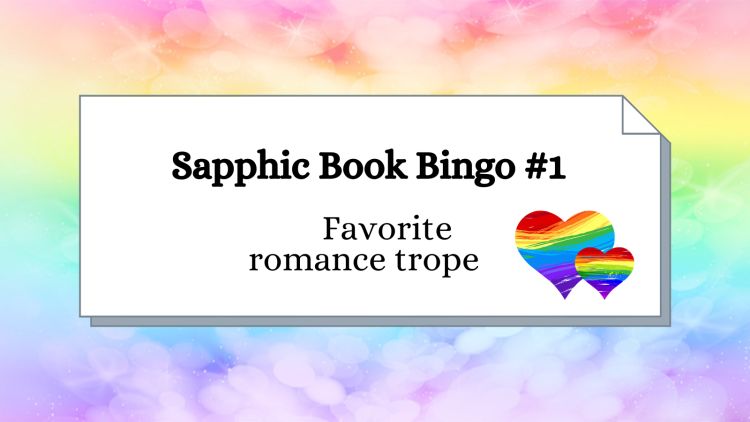 Welcome to the Sapphic Book Bingo 2022! I hope you had a good start into the new year and are ready for the first category of the 2022 reading challenge: your favorite romance trope!
The rules of the Sapphic Book Bingo
Before I share my recommendations for the "favorite romance trope" category, here's a quick rundown of the rules of the Sapphic Book Bingo:
The goal is to read sapphic books that fit the squares of the book bingo card.

You can either aim to fill the entire bingo card (which means reading 25 books, 1 for each square) or try for a "bingo" by completing a row (horizontal, vertical, or diagonal), which means 5 books read in 2022.

Here's an example for a "bingo," using some of my books:
You can read ebooks, paperbacks, or audiobooks; and they can be new-to-you books or re-reads.
Each book can only be used once.
I'll post book recommendations for a new category once a week, on Thursdays. Of course, you could also just read whatever books you want and then, afterwards, see what square they fit into.
For the longer version of the rules and an explanation of the prizes you can win, read the Sapphic Book Bingo kickoff post here.
Make the Sapphic Book Bingo more interesting! 
If you'd like to get more book suggestions, talk about the books you are reading, and chat with other readers participating in the Sapphic Book Bingo, join either my Facebook group for readers or the Goodreads group for the Sapphic Book Bingo.
Download your bingo card

Now download your book bingo card if you haven't done so already, and take a look at my suggestions for the first square below.
What is a romance trope?
A trope is a scenario, a basic plot, or a character type that is common in romance novels. Many romance novels combine several different kinds of tropes, e.g., my novel Under a Falling Star is an ice queen romance + a holiday romance + a workplace romance.
Book recommendations for the "favorite romance trope" category
Of course, I don't know what your favorite romance trope is, but I know what romance readers in general like. I polled the avid readers of my Facebook Reader Group, and here are their top 6 favorite tropes:
#1 – Ice queen character
#2 – Fake-relationship romance
#3 – Enemies-to-lovers romance
#4 – Age-gap romance
#5 – Slow-burn romance
#6 – Medical romances
I picked the top 6 because fake-relationship romances will have their own category in the Sapphic Book Bingo later this year, so I had initially planned to skip them here. But it turns out there are now so many sapphic fake-relationship romances that I decided to include ten book recommendations here and 15 later, so you get the top 6 favorite romance tropes instead of just the top 5.
Of course, if you have different favorite tropes, feel free to read a book for this category that matches your own preferences. For example, here are some lists of sapphic friends-to-lovers romances, books about women in uniform, second-chance romances, celebrity romances, and workplace/office romances.
Ice-queen character:
An ice queen is a character who comes across as cool, aloof, and often arrogant. Think Miranda from The Devil Wears Prada.
Here are my recommendations for romance novels with an ice-queen character:
Just a Touch Away by Jae
An enemies-to-lovers lesbian romance with an ice queen whose frosty facade is melted by the power of touch.
Hannah Martin has an unusual job: she's a professional cuddler. While she has a big heart for her clients, she hasn't found someone special to snuggle up to in her personal life.
Winter Sullivan isn't looking for love. She's an aloof workaholic who's built walls of ice around herself. She would rather drive toothpicks under her fingernails than cuddle, and she certainly doesn't want to share her space with anyone.
When Winter's estranged father dies, he leaves her one last surprise: she and Hannah, a perfect stranger, will inherit a building together. But there's a catch: first, they have to live together for ninety-two days.
Winter is determined to dislike her rival, but soon finds Hannah isn't what she expected at all. Thanks to a hilarious doormat war, a cuddle dare from Winter's half sister, and a kiss in the most unusual of places, the frosty fortress around her heart begins to melt.
Will she be able to accept that love might be just a touch away?
Available at:
The Brutal Truth by Lee Winter
Aussie crime reporter Maddie Grey is out of her depth in New York and secretly drawn to her twice-married, powerful media mogul boss, Elena Bartell, who eats failing newspapers for breakfast. As work takes them to Australia, Maddie is goaded into a brief bet—that they will say only the truth to each other. It backfires catastrophically. A lesbian romance about the lies we tell ourselves
Available at:
The Lily and the Crown by Roslyn Sinclair
Ariana "Ari" Geiker lives an isolated life on an imperial space station commanded by her father. The skilled, young botanist rarely leaves her living quarters, where she maintains an elaborate garden.
When an imperious older woman is captured from a pirate ship and given to her as a slave, Ariana's perfectly ordered life is thrown into chaos. Her nameless slave is watchful, intelligent, dangerous, and sexy, and seems to know an awful lot about tactics, star charts, and the dread, marauding pirate queen, Mir. What happens when the slave also reveals an expertise in seduction to her innocent mistress?
Available at:
The Headmistress by Milena McKay
A chance encounter. An unforgettable night.
And back home, trouble is brewing on the remote island of Three Dragons, where nothing feels like it used to. Alone and lonely, Sam Threadneedle wishes upon a star, hoping for change. But when said change comes, it's with a roar and not a whimper.
Torn between loyalty and lust, Sam is forced to re-evaluate everything.
Can she and the Home of Dragons withstand the storm that is Magdalene Nox, or will any and all crumble?
Not everything is as it seems, and as she slowly unravels the mysteries behind the centuries-old walls, Sam realizes that home is much more than oak and stone.
Available at:
Never Say Never by Rachael Sommers
Ambitious corporate shark Camila Evans might have just lost her marriage but she decides she doesn't need love to build a television empire and raise her young son alone. What she does need is a nanny, but the incompetent idiots sent her way make her lose faith in ever finding anyone useful.
Enter Emily Walker—fresh out of college, bright, a little naive, and new to New York City. Emily is everything Camila is not and frankly it's a little unsettling how innocent and gentle the young woman is.
That's not all that's unsettling. Camila's growing feelings for Emily are making it hard to maintain a professional distance. Surely she can't possibly be falling for the nanny? God, it's such a mid-life crisis cliché. But would it be too impossible?
As time goes on, Camila starts to wonder if maybe even she can get her happy ending after all.
Available at:
A Curious Woman by Jess Lea
Bess Campbell has escaped to the windswept Australian coastal town of Port Bannir, determined to begin her life again. She is loving her fresh start, thanks to her fun job running a hip gallery, her territorial chickens, and a lot of self-help books to find her new, better self.
Port Bannir local Margaret Gale runs an austere maritime museum, and rules her staff with an iron fist. She has no time for that crazy modern gallery or upbeat, earnest Bess sweeping around town on her hipster bicycle.
After a heated dispute over an antique collectible dildo, there's little hope Margaret and Bess will ever see eye to eye.
But when Port Bannir is rocked by a senseless murder, both women find themselves implicated. Can they work together to expose the truth––or will the truth prove far too dangerous?
Available at:
Detour to Love by Amanda Radley
High-flying executive Celia Scott is on her way to Tokyo to accept a prestigious award heavy with emotional baggage. She'll make the trip, but she doesn't have to like it, and she certainly doesn't have to make nice with a stranger on a plane.
Artist Lily Andersen is excited to finally meet her online crush, the only person in the world who truly gets her. She just needs to survive the eleven-hour flight from London to Japan with a testy seatmate who by turns annoys and fascinates her.
Fate, upgrades, and a troupe of travelling clowns bring them together for a journey memorable for all the wrong reasons. Not only do they have nothing in common, they really can't stand each other. But people are not always as they seem, and Celia and Lily are about to realise, there's more than one path to love.
Available at:
Mangos and Mistletoe by Adriana Herrera
Kiskeya Burgos left the tropical beaches of the Dominican Republic with a lot to prove. As a pastry chef on the come up, when she arrives in Scotland, she has one goal in mind: win the Holiday Baking Challenge. Winning is her opportunity to prove to her family, her former boss, and most importantly herself, she can make it in the culinary world. Kiskeya will stop at nothing to win, that is, if she can keep her eyes on the prize and off her infuriating teammate's perfect lips.
Sully Morales, home cooking hustler, and self-proclaimed baking brujita lands in Scotland on a quest to find her purpose after spending years as her family's caregiver. But now, with her home life back on track, it's time for Sully to get reacquainted with her greatest love, baking. Winning the Holiday Baking Challenge is a no brainer if she can convince her grumpy AF baking partner that they make a great team both in and out of the kitchen before an unexpected betrayal ends their chance to attain culinary competition glory.
Available at:
The Music and the Mirror by Lola Keeley
Anna is the newest member of an elite ballet company. Her first class with her mysterious idol, Victoria, almost ruins her career before it starts. When she shows she might be a potential star, Victoria chooses Anna to launch a new season around.
Now Anna must face down jealousy, sabotage, and injury, not to mention navigate the circus of friends and lovers within the company. The pressure builds as she knows she must pour everything she has into opening night and prove to her rivals and herself that Victoria's faith in her is not misplaced.
In the process, Anna discovers that she and the daring, beautiful Victoria have a lot more than a talent for ballet in common, and that not every thrilling dance can be found on stage.
Available at:
The Blood We Spill by Jo Havens
What would make the most ruthless ice-queen assassin in the Kingdom hesitate?
Bound to the Kingdom for life, Cie serves a cruel King, her knives pledged to his word, her life at his mercy. She is also one of the Kingdom's most privileged slaves – one of the Praetoria: five of the best, sworn to protect the Prince and, one day, to rule at his side. It's not a bad life – luxurious parties in any of the eighteen worlds, beautiful women falling over themselves to land in her bed, her orders to be obeyed by over forty-eight billion citizens.
But when a routine job goes spectacularly wrong, Cie discovers there is a witness to her failure – a witness to a political assassination the King would never want revealed. It's Cie's intense misfortune that the witness is a beauty – a woman with sweet, warm skin that Cie longs to sink into, with deep, brown eyes that hold promises that Cie has only ever dreamt of, a woman whose embrace offers a gentleness and a kindness Cie craves above all else.
Jemma thought she'd been in love before, but when she falls for the King's assassin, she falls hard. Cie burns her up – the assassin plays fast and loves harder, and Jemma's head is whirling even as her body is thrilled. Jemma watches as a growing terrorist threat pushes the King to madness and Cie's orders become more and more violent. The woman she thinks she loves is steeped in red. Is it even possible for a girl from the suburbs to love a person so drenched in blood?
Available at:
Fake relationship romance:
In a fake relationship romance, the characters pretend to be in a relationship with each other. During the course  the course of the book, their fake feelings no longer feel so fake.
Here are my recommendations for the fake relationship romance novels:
Just for Show by Jae
What happens when an overachieving psychologist with OCD tendencies and an impulsive, out-of-work actress start a fake relationship?
Claire Renshaw thought she had it all: a successful career as a couples therapist, a publishing contract for her self-help book, and a happy relationship. But her perfect world falls apart when her fiancée calls off their engagement. Because of that, even her book deal might be off the table. After all, readers don't want relationship advice from someone who can't even make her own relationship work.
So Claire sets out to hire herself a fake fiancée.
Lana Henderson, the actress who shows up to audition for the role, is not exactly Claire's ideal woman. Her frankness and the messes she leaves everywhere drive Claire up the wall. At least she won't fall in love with someone like Lana.
But soon, Lana starts to win her over with her big heart, tickle fights, and—gasp!—carbs after six. The longer they pretend to be a love-struck couple, the less fake their kisses feel and the more the lines between reality and role begin to blur.
Once the book contract is signed, will they walk away or is their relationship no longer just for show?
Available at:
Change of Heart by Clare Lydon
What happens when you fake it, make it, then break it?
When Erin Stewart hires a fake date for her parents' anniversary party, she gets more than she bargained for. First, she snags Steph Mitchell, a professional actor with a side order of drop-dead gorgeous. Second, she runs into a brick wall of family tension. Deep breaths; it's only five days. Plus, with Steph's help, she can totally get through it, right?
Only, Erin doesn't expect the fake romance with the charming Steph to feel so incredibly real. She also doesn't predict their sizzling attraction will spiral out of control, with dizzying consequences for everyone. Is Steph Erin's destiny, or will she be her downfall?
Get ready for a cracking romance studded with undeniable desire, an off-the-charts first kiss and lashings of family drama, all set against the cinematic backdrop of the Scottish Highlands. Clare Lydon is the queen of British romantic comedies, and this story is guaranteed to leave you breathless.
Available at:
Accidental Honeymoon by Miranda MacLeod
Would you marry a woman you hate for a life-changing inheritance?
Monica's business has been hit hard by a global recession, her ex-girlfriend is selling the house out from under her, and the hot handy ma'am, Ray, who was hired to fix up the place, turns out to be the most annoying woman on the planet. Could things get any worse?
All Ray wants is to finish her job and say adios to the world's most high-maintenance client. But after being mistaken for Monica's girlfriend, how can Ray walk away when going along with the charade would grant an old lady her dying wish? It's not like Ray intended to be so charming that Monica's grandmother would rewrite her will.
Now the unlikely couple stands to inherit a vineyard in rural New England and a heap of cash large enough to change both their lives. The only hitch? They have to get hitched.
And since Monica is a professional wedding blogger, they'll have to make it the wedding of the century while convincing two million followers they're madly in love. No problem, aside from the simple fact that they can't stand each other. There's a good chance the whole thing could end in disaster, but is it possible these enemies might find true love along the way?
Available at:
Tangled Vows by Anna Stone
One year. Five million dollars. A proposal she can't refuse.
Escort Ruby Scott is used to waking up in the bed of a wealthy woman. What she isn't expecting is to wake up with a ring on her finger and married to Yvonne Maxwell, one of the executives behind the Mistress Media empire, a woman as alluring as she is cold.
For ten years, Yvonne has been sitting on an inheritance she can't touch until she's married. An encounter with an escort in a red dress presents the perfect solution—a marriage of convenience. In exchange for a year playing the role of her wife, Yvonne offers Ruby a life of glamour, decadence, and more money than Ruby ever dreamed of.
Yvonne is adamant that they keep their arrangement strictly business. But as Ruby's submissive side awakens, Yvonne can't resist the temptation to make Ruby hers, and Ruby is intoxicated by the commanding woman and the release Yvonne grants her.
As Ruby falls deeper into Yvonne's seductive world of luxury and power games, both women struggle to keep their hearts from getting caught up in the passion between them. As threats to their fake marriage plot loom, Ruby and Yvonne find they have far more to lose than just the inheritance.
Available at:
The Art of Growing by Jacqueline Ramsden
Sloane Abbott likes her quiet life. She owns a landscaping business, she tends her plants, lives alone, and secretly crushes on her favorite nonbinary garden center employee, Polly. Between anxiety and modesty, Sloane's never planning on telling Polly she likes them. She'll just be admiring from afar while she deals with her demanding family and fulfills her sister's order.
Polly Stanwick loves people. She has the best time working at Blooms, talking to customers, hanging out with the kids, and generally being a ray of sunshine. When they hear their regular, Sloane Abbott, is having a rough day, they naturally sweep in to help.
What neither of them is expecting is for Polly's colleague to suggest her as a fake date for Sloane's weekend with her family. For Sloane, it's the only way to avoid the heteronormative life her parents will push on her, so despite her misgivings, she agrees. It's only one weekend, right?
Fooling the Abbotts into thinking she and Polly are a couple is easy, but for Sloane, handling her own feelings is harder. Holding hands and sharing a bed doesn't make things any easier—nor does Polly being there for her in all the ways she ever wished somebody would.
Available at:
Fake It by Lily Seabrooke
A fake relationship can solve both their problems—minus the whole falling in love thing.
With Avery's dream restaurant struggling for lack of customers, and Holly's smarmy ex-boyfriend trying to steal her cooking show, Holly's agent cooks up a scheme to help them both: take Avery's restaurant on Holly's show, and spread a rumor of them dating.
But they can't deny the attraction between them, and before long, the lines between fake-dating and their actual feelings start to get awfully blurry.
Available at:
How to Find a Princess by Alyssa Cole
Makeda Hicks has lost her job and her girlfriend in one fell swoop. The last thing she's in the mood for is to rehash the story of her grandmother's infamous summer fling with a runaway prince from Ibarania, or the investigator from the World Federation of Monarchies tasked with searching for Ibarania's missing heir.
Yet when Beznaria Chetchevaliere crashes into her life, the sleek and sexy investigator exudes exactly the kind of chaos that organized and efficient Makeda finds irresistible, even if Bez is determined to drag her into a world of royal duty Makeda wants nothing to do with.
When a threat to her grandmother's livelihood pushes Makeda to agree to return to Ibarania, Bez takes her on a transatlantic adventure with a crew of lovable weirdos, a fake marriage, and one-bed hijinks on the high seas. When they finally make it to Ibarania, they realize there's more at stake than just cash and crown, and Makeda must learn what it means to fight for what she desires and not what she feels bound to by duty.
Available at:
Hani and Ishu's Guide to Fake Dating by Adiba Jaigirdar
Everyone likes Hani Khan – she's easy going and one of the most popular girls at school. But when she comes out to her friends as bisexual, they don't believe her, claiming she can't be bi if she's only dated guys. Panicked, Hani blurts out that she's in a relationship… with a girl her friends can't stand – Ishu Dey.
Ishu is the polar opposite of Hani. An academic overachiever, she hopes that becoming head girl will set her on the right track for university. Her only problem? Becoming head girl is a popularity contest and Ishu is hardly popular. Pretending to date Hani is the only way she'll stand a chance of being elected.
Despite their mutually beneficial pact, they start developing real feelings for each other. But some people will do anything to stop two Bengali girls from achieving happily ever after.
Available at:
Love for the Holidays by Arizona Tape
With the approaching holidays and Ivy's ever-nosy family about her love life, a misunderstanding about her new roommate, Frances, gives her the perfect idea to avoid the yearly disappointment from her parents. A fake girlfriend.
The rules are clear, it's just for the holidays.
Available at:
The Perks of Loving a Wallflower by Erica Ridley
Fans of Bridgerton will love this delightful Regency romp in which a proper Society miss recruits a very improper lady investigator in a quest for vengeance and finds love instead!
As a master of disguise, Thomasina Wynchester can be a polite young lady—or a bawdy old man. She'll do whatever it takes to solve the cases her family takes on. But when Tommy's beautiful new client turns out to be the highborn lady she's secretly smitten with, more than her mission is at stake…
Bluestocking Miss Philippa York doesn't believe in love. Her heart didn't pitter-patter when she was betrothed to a duke, nor did it break when he married someone else. All Philippa desires is to decode a centuries-old manuscript to keep a modern-day villain from claiming credit for work that wasn't his. She hates that she needs a man's help to do it—so she's delighted to discover the clever, charming baron at her side is in fact a woman. But as she and Tommy grow closer and the stakes of their discovery higher, more than just their hearts are at risk.
Available at:
Enemies-to-lovers romance:
In an enemies-to-lovers romance, the two main characters start out as enemies or rivals before falling in love.
Here are my 10 book recommendations for enemies-to-lovers romances:
Code of Conduct by Cheyenne Blue
A lesbian sports romance about breaking all the rules.
Viva Jones was great once. A top ten tennis player with a grand slam trophy to her name, she had the world at her feet. Then an overzealous lineswoman's bad call knocked her out of the US Open, and a persistent injury crushed her career. While battling to return to the game she loves, a chance meeting with the lineswoman, Gabriela, forces Viva to rethink the past…and the present.
Away from the court, Gabriela is sexy, athletic, and lives for her career as an umpire. She seems to be falling for Viva as hard and fast as Viva is for her. There's just one problem: players and officials can't date.
Available at:
A Proper Cuppa Tea by KG MacGregor
A disastrous office affair has left Channing Hughes unemployed and (very bloody) cynical. What better time to leave Boston for her native England, where her late grandfather has named her sole heir of the Hughes fortune, along with the centuries-old manor house that's been in the family for generations. Only one problem with that plan—there is no Hughes fortune. The only way out from under the hefty tax bill is to sell the manor as quickly as possible or find a high-level job to support it.
If anyone deserves to be cynical about life, it's Dr. Lark Latimer. She overcame a dysfunctional upbringing in East Boston only to lose both her college sweetheart and a promising medical career when her Ma fell critically ill. Determined to bounce back, Lark signs on with a pharmaceutical company, a job that takes her abroad to investigate a drug trial gone sideways. She finds an English countryside that's bursting with charm—including the dry-witted, sophisticated Channing, who may be just what the doctor ordered.
Neither woman imagined the spark they shared on their transatlantic flight would lead them to life-changing decisions. Will Channing give up a future with Lark to save her home? Or will Lark persuade her to sell the manor and return to Boston?
Their time clock is ticking.
Available at:
Lost in Love by Emily Banting
A heart-warming, quintessentially English village novel, centred on the ruins of Nunswick Abbey…
Historical tour guide Anna Walker is determined to make a good impression on her new bosses, but juggling a full-time job with caring for her ailing father is putting her own health – and potentially his – at risk.
When she meets Dr Katherine Atkinson, a charming yet intimidating new arrival to the village, Anna is infuriated by the doctor's attempts to convince her that her father needs professional, full-time care. She's even more frustrated by her growing attraction to the classy, wealthy doctor.
Anna's determination to prove she can cope forces Katherine to divulge a painful event from her past that still haunts her, hopeful it will make Anna see sense before it's too late.
With Katherine's heart lost to the past and Anna's overwhelmed in the present, can the two women help each other overcome their anxieties and move forward? Will a curtain-twitching busy body curtail any blossoming attraction before it even has a chance to bloom?
Available at:
Misfit Christmas by Anne Hagan
If you want to be in the c-suite, don't fall for a social worker.
When Sophia Vaca's family immigrated from Ecuador to the U.S. many people helped them along their way. Her parents taught her to always pay every kindness forward. On the verge of completing college with a degree in social work, her mind is filled with dreams for the future despite the sometimes grim realities of her chosen field.
Lacie Lindly has her eye on the Chief Technology Officer position at the Denver tech company where she works. She's not about to let the fallout from a night of indiscretion that resulted in charges and court ordered community service stop her.
When Lacie is ordered by the judge assigned to her case to finish her time at the community center where Sophia works without pay, the two clash over their differing ideals right away. Sophia sees a jaded older woman. Lacie sees the misguided idealism of youth.
Both women quickly realize they'll need to work together to get the struggling center and the children it serves through the holidays. Around the day-to-day grind, they make plans to introduce the center to the greater Denver community and to give the kids and their families a Christmas to remember. The only thing they didn't plan on was falling in love.
Available at:
Read Between the Lines by Rachel Lacey
From award-winning author Rachel Lacey comes a playful romance about a Manhattan bookstore owner and a reclusive author who love to hate—and hate to love—each other.
Books are Rosie Taft's life. And ever since she took over her mother's beloved Manhattan bookstore, they've become her home too. The only thing missing is her own real-life romance like the ones she loves to read about, and Rosie has an idea of who she might like to sweep her off her feet. She's struck up a flirty online friendship with lesbian romance author Brie, and what could be more romantic than falling in love with her favorite author?
Jane Breslin works hard to keep her professional and personal lives neatly separated. By day, she works for the family property development business. By night, she puts her steamier side on paper under her pen name: Brie. Jane hasn't had much luck with her own love life, but her online connection with a loyal reader makes Jane wonder if she could be the one.
When Rosie learns that her bookstore's lease has been terminated by Jane's family's business, romance moves to the back burner. Even though they're at odds, there's no denying the sparks that fly every time they're together. When their online identities are revealed, will Jane be able to write her way to a happy ending, or is Rosie's heart a closed book?
Available at:
Trial by Fire by Carsen Taite
Attorney Wren Bishop knew it would be an adjustment to go from her cushy, lucrative career in big law to the public defender's office, but she's completely unprepared for the suspicion from her colleagues and the animus from her adversaries at what was billed as a close-knit courthouse. To top it off, her first case pits her against Lennox Roy, a gorgeous yet fierce prosecutor with a reputation for cajoling juries and breaking hearts.
Lennox comes from a family full of bleeding hearts who believe in second, third, and fourth chances, but she's seen firsthand the damage leniency can do. She has no patience for a softy like Wren Bishop, no matter how sexy and brilliant she might be. But when they face off over a mysterious arson case, their attraction ignites a passion that leads them to question their assumptions about the law, the truth, and each other.
Available at:
Detention by Riddhika Jain
Do you read with an open mind? What happens when life doesn't turn out to be as you expected it to? What if your friendship takes a twisted turn? Or, if your love life gets as dark as it can be? Would you find solace in that one person who puts you in danger? Kayla Anderson was never a bad student. Always the one with straight A's. Teachers loved her. And she was the only girl who had no enemies in her entire school. But there she was, sitting in a detention class, alone, due to a false accusation, with the only teacher she couldn't bear to sit across. What will this detention lead to?
Available at:
Two Knights Tango by Tagan Shepard
I'll see you in Chicago.
Six months earlier, those words echoed in Marisol Soltero's mind as she sprinted across Bogota. Back in Chicago, she waited outside Governor Sabrina Sloane's luxury condo, needing to see the woman she loved return to safety. But Sabrina didn't return. Not to Chicago and not to Marisol.
A series of disappearances in Humboldt Park provides the distraction Marisol needs from her broken heart. Her people are going missing. Snatched off the street right under her nose. Clues are sparse, but Marisol's gut tells her the culprit is her old enemy.
Governor Sabrina Sloane has become a shadow of herself. She haunts the halls of the Governor's Mansion, both her work and personal life flooded with nightmares. She knows Marisol is in danger, perhaps even more now that she's back in Chicago, and Sloane will do anything it takes to keep the woman she loves safe. Even if it means confronting the man at the center of her nightmares.
But when two chess pieces are directed at the same enemy, they can get in each other's way. If Marisol and Sabrina get the moves right, they could tango back into each other's arms. If not, all of Chicago could pay the price.
Available at:
Ice Massacre by Tiana Warner
A mermaid's supernatural beauty serves one purpose: to lure a sailor to his death.
The Massacre is supposed to bring peace to Eriana Kwai. Every year, the island sends its warriors to battle these hostile sea demons. Every year, the warriors fail to return. Desperate for survival, the island must decide on a new strategy. Now, the fate of Eriana Kwai lies in the hands of twenty battle-trained girls and their resistance to a mermaid's allure.
Eighteen-year-old Meela has already lost her brother to the Massacre, and she has lived with a secret that's haunted her since childhood. For any hope of survival, she must overcome the demons of her past and become a ruthless mermaid killer.
For the first time, Eriana Kwai's Massacre warriors are female, and Meela must fight for her people's freedom on the Pacific Ocean's deadliest battleground.
Available at:
Age-gap romance:
In an age-gap romance, there's an age difference of at least 10 years between the two main characters.
Here are my 10 book recommendations for age-gap romance novels:
Wrong Number, Right Woman by Jae
A single text message can change everything!
Flirting has never been Denny's strong suit, but so what if she's too shy to ask women out? She's content with her simple life, working as a cashier and helping her sister raise her niece.
But then she gets a wrong-number text message from a stranger named Eliza, asking her of all people for dating advice!
Eliza is Denny's total opposite: witty, outgoing—and straight. Despite their differences, the accidental text sparks an unlikely friendship. Soon, Eliza—self-proclaimed queen of disastrous first dates—would rather banter back and forth with Denny than to keep trying her luck at online dating.
When they meet in person, there's an instant connection. But what Eliza is feeling can't be attraction, right? It doesn't mean a thing that she's starting to wish the guys she dates would be more like Denny. Or does it?
Can the wrong number lead to the right woman after all?
Available at:
At Your Most Beautiful by Harper Bliss
Some nights are unforgettable…
Ten years ago, Quinn Hathaway and Maya Mercer shared a night of forbidden passion they vowed to keep secret forever.
When Quinn and Maya meet again, old sparks fly, but none of the reasons to hide their passion have changed.
Quinn is still much younger and Maya has never told her son that she's attracted to women.
Can Maya overcome her fear of what her family might think of her?
And how will Quinn's parents, who used to be Maya's next-door neighbors, react to their daughter's unconventional love affair?
Available at:
Sprinkled in the Stars by Violet Morley
AJ Beckett is just trying to get Parker, her seven-year-old autistic daughter, through life in one piece. As a paramedic, AJ puts others' needs above her own; in her personal life, she keeps everyone an arm's length away. That distance disappears when a chance run-in with actor Melanie Cooper leaves her sticky, angry, and fed up.
Melanie Cooper has just signed her last movie. The media keeps portraying her as cold and hard to work with, and Mel has absolutely nothing more to give. As she begins to imagine a new life, a challenging part of her past comes back on the scene, determined to cause problems for Mel.
After a series of coincidental meetings, AJ battles her desire for control while Mel struggles with trust. Despite the challenges and complications, Mel finds herself drawn to the Beckett ladies, and AJ can't deny their connection, either.
Falling in love has never been so sweet.
Available at:
Mrs Middleton by Melissa Tereze
Their love could heal their hearts…but destroy the relationships they both hold dear.
Emma Bradley is trembling. And not because of the climate difference between England and Africa, where she's just ended an 18-month stint teaching sports to kids. She's about to see Vanessa again.
Golden hair, luminous blue eyes, a smile to light up a room. The woman Emma loves. The woman she spilled her heart out to, then ran away to another continent to avoid a humiliating scene—because Vanessa is her best friend's mum. If Emma is lucky, maybe Vanessa chalked it up to too much wine. Or better yet, forgot all about it.
Vanessa Middleton is fighting a serious case of uncertainty. Emma's confession is crystal clear in her memory, and now that Vanessa is divorced from her cheating husband, the strongest barrier between them is gone. But there are others no less challenging.
Because if Vanessa couldn't keep her husband's attention, what could bright, beautiful, much younger Emma possibly see in her? Worse, if the two of them act on their attraction, their affair could jeopardise the relationship they both hold dear: Vanessa's daughter—Emma's closest friend.
Available at:
The Love Factor by Quinn Ivins
Molly Cook is almost thirty, with dismal career prospects, and has given up on saving the world. It might be the nineties, and everything's shoulder pads, Doc Martens, and The X-Files, but people won't budge on gay rights. Molly decides to give a PhD a whirl but finds herself more interested in campus politics…and her strict and sexy statistics professor.
Professor Carmen Vaughn is stuck in small-town Maryland with smarmy blowhards for colleagues and ungrateful students who can't handle her high standards. She has no intention of coming out, least of all to Molly, a troublemaking grad student who can't stop picking fights with the conservative faculty.
But when Molly discovers evidence implicating a homophobic colleague in a scandal, Carmen can't ignore it—even if the subject hits too close to home. As the two women work together to make their case, they grow closer than Carmen ever imagined. But she absolutely refuses to get involved with a student.
The thing is, as the chemistry builds between them, Molly isn't sure she wants to be a grad student anymore…if she ever did.
Available at:
No More Secrets by Jamey Moody
When Krista Kyle's world is turned upside down, there's only one person that can save her.
First love is a mighty strong emotion. Krista knows this and has been given several chances over the years to have the life she dreamed of, but something always got in the way.
Melanie Zimmer has loved Krista Kyle for over half her life. She now has the courage to do something about it. All she has to do is help Krista find hers and she knows just the place.
Does Lovers Landing still have the magic that brought them together over thirty years ago? Will Krista finally be brave enough to hold on to her true love?
This is the second book in The Lovers Landing Series. Come along on this first love, second chance romance and see if Krista and Melanie can find their courage in one another.
Available at:
Just My Type by Lucy Bexley and Bryce Oakley
Since dying over 2,000 years ago, killing people is the closest Ero comes to feeling alive. She's been lying low since arriving in Sorrow, Massachusetts. Until she breaks into a hematology lab at the local university one night after her fresh dinner is interrupted.
Dr. Annie Golden has been hitting dead end after dead end in her research on a rare blood disease. Everything changes when she accidentally attacks a stunning woman she finds lurking near her blood samples.
Annie can't put her finger on what's so enrapturing about this beautiful, dark-haired woman. And Ero can't figure out why Annie is appealing to more than just her appetite.
When Ero's true self is revealed, will Annie's fear win out over her attraction?
Get ready for a different kind of high-stakes lesbian romance. This vampire novella is not for the faint of heart—but if you love your stories a little bit gorey, a little bit swoony, and laugh-out-loud funny, this is one you'll definitely any to sink your teeth into.
Available at:
The Mountain Whispers by Ali Spooner
Arriving home and discovering the betrayal by her best friend and lover, Eli Fortner leaves to run off her anger and hurt. A chance stop at a convenience store and the purchase of lottery tickets sends Eli's life into a whirlwind of change.
Able to now pursue her dreams, Eli heads off to see what else fate has in store for her.
Whit Brewer, Eli's neighbor, is everything Eli never knew she needed and wanted. But can she let go of the betrayal long enough to let Whit in?
Thirteen black cats, a baby goat, and Cruz, her furry best friend, join Eli on her adventure, new life, and the possibility of real love.
Available at:
Sleepless Nights by Iona Kane
Alex Knight is a rock star at the top of her game. Her life might be a little secretive and a lot lonely, but she's selling out stadiums around the world on her most successful tour yet. Who wouldn't want a piece of her success?
Tyra MacLean has been there, done that, ripped the sleeves off the T-shirt. Still scarred by her own experience of fame, she hates celebrity and everything that comes with it. All she wants is a quiet life. But when Alex decides she wants Tyra and her band to join her tour, Ty has to put her bandmates first and return to the world that nearly destroyed her.
As Alex and Tyra tour America together can they put aside their fears and their differences to find love?
Available at:
Highland Fling by Anna Larner
Eve Eddison describes her ideal woman to her best friend, Roxanne, over pints in their local pub a few days before she travels to the Scottish Highlands. There she falls head over heels for an enigmatic local, Moira Burns, and the usually reticent Eve wants more than a holiday romance. Forestry officer Moira Burns has no intention of letting go—either of past pain or for present pleasure. If that means she misses out on her chance at happiness, so be it. Convinced Eve is headed for heartbreak, Roxanne advises her to let Moira go…but has Eve found her ideal woman at last?
From the breathtaking Highlands of Scotland to the buzz of a Leicester gay bar, family and friendship are tested to breaking point, as letting go proves painfully hard.
Available at:
Slow-burn romance:
In a slow-burn romance, the characters don't fall in love at first sight or jump into bed early in the book. Instead, the relationship develops more slowly while they get to know each other and learn to trust.

Here are my book recommendations for slow-burn romances:
Damage Control by Jae
A famous actress falls for the female PR agent she hired to stop rumors about her sexuality in this heartfelt lesbian slow-burn romance.
An actress practically since birth, Grace Durand has finally made it in Hollywood. When a photo of her in a seeming compromising situation with another woman is plastered all over the tabloids, she fears for her career as a lead in romantic movies.
Desperate for a publicist who'll convince America that she's straight, Grace hires Lauren Pearce, one of Hollywood's leading PR agents, not knowing that she's a lesbian.
Lauren has dealt with PR nightmares for years, so doing damage control for one more rich, spoiled client shouldn't be a problem—or so she thinks. But the more time she spends with Grace, the more she realizes how different she is from her television persona.
Getting involved with her client is not in her game plan, especially since it would confirm the rumors and ruin Grace's career, but the attraction between them is growing as they run the gauntlet of the paparazzi together.
Available at:
Coming Home by KJ
What would happen if your regular, ordinary, safe, everyday existence suddenly became…not any of those things? When Samantha Markson, Ordinary Person, is thrust into the life of Abigail Taylor, Not At All Ordinary Person, it proves to be an experience like she's never had before. World famous actress, Abigail Taylor, is in Melbourne filming her new movie, and is accompanied by her nine year old daughter, Grace, because Abigail wants her to experience an Australian education for three months. Sam Markson is a teacher at one of the best schools in Melbourne, and is perfectly happy doing that, thank you very much, when she's suddenly redirected from the classroom into the job as Grace's teacher; a move so fast that even blinking would feel like slow motion. Sam has never met anyone like Abigail Taylor, and she starts to realise that her ordinary life might actually be missing something extraordinary.
Available at:
Jericho by Ann McMan
Librarian Syd Murphy flees the carnage of a failed marriage by accepting an eighteen-month position in Jericho, a small town in the Appalachian Mountains of Virginia. Her plans to hide out and heal her wounds fall by the wayside as she gets drawn into the daily lives of the quirky locals. When Syd gets a flat tire and is rescued by the town physician, Maddie Stevenson, the two women form a fast friendship—but almost immediately begin struggling with a mutual attraction. And, if that's not enough, Syd is straight and going through a divorce—and Maddie somehow forgets to mention her sexual orientation to her new best friend. Almost everyone who crosses their paths believes it's only a matter of time until they figure it out, but sometimes, it takes a while to see the obvious. Together, Syd and Maddie learn that life and love can have as many twists and turns as a winding mountain road.
Available at:
The Long Shot by A.L. Brooks
Talented golfer Morgan Spencer has never won a major but it's so close she can taste it—no thanks to her sexist father, a golfing legend who won't even give her the time of day.
Television producer Adrienne Wyatt has thrown herself into her career after her lover left her a year ago. She has a brilliant new plan: a documentary featuring Morgan's rise and rise, capitalizing on the young woman's star appeal.
The main problem is that the reserved golfer treats Adrienne's plan like an invasion of privacy. The other issue is her growing feelings for the irritatingly attractive woman—an unprofessional lapse that would get her ridiculed by her peers if anyone found out.
When things come to a chaotic head, as fierce desires, risked careers, age differences, and dreams all come into play, what will win?
Available at:
All That Matters by Susan X Meagher
Life is going damned well for Blair Spencer. She's a very successful real estate agent, happily married to a man who encourages her to live the independent life she loves—and they're actively working to have a baby.
The wrench in the works is that Blair favors adoption, while her husband David desperately wants to have a biological child. The fates are against them, and they finally seek the help of a group of reproductive specialists. One of the doctors, a surgeon named Kylie Mackenzie, eventually becomes a good friend to Blair. And she needs all of the friends she can get when things start to go horribly wrong at home. As her marriage teeters on the brink of collapse, she relies more and more on Kylie's friendship.
Kylie's happily gay; Blair's happily straight. But the way they structure their relationship leads friends and family to privately question whether the pair is setting themselves up for heartache. They eventually come to a crossroads, which could either destroy their friendship or turn it into what each of them has been seeking. The question is whether each woman can change her view of herself and her needs. The answer is all that matters.
Available at:
Uncommon Emotions by Lynn Galli
As a turnaround specialist, Joslyn Simonini spends her days analyzing corporate profit margins and trying to keep her likeness from being turned into a voodoo doll by company employees. If she does her job well, they often lose theirs. So, it comes as a surprise when she finds herself being kissed one day at work. She's even more shocked to find out that the mysterious kissing bandit is a woman.
Not in the habit of kissing women, Joslyn tries to brush off the unintentional mistake. But before long, she's forced to examine the rush of emotions that accompanied the kiss, especially when she meets Raven Malvolio. At first, she needs Raven to complete her analysis, but she doesn't expect to need the friendship that Raven offers. When those friendly feelings escalate to something more, Joslyn's confusion and underdeveloped emotional range might ruin her chance at a relationship that could surpass even her dreams.
Uncommon Emotions takes a look at how someone can think she's happy with her life only to be surprised by the passion she's yet to feel.
Available at:
And Playing the Role of Herself by KE Lane
Actress Caidence Harris is living her dreams after landing a leading role among the star-studded, veteran cast of 9th Precinct, a hot new police drama shot on location in glitzy LA. Her sometimes-costar Robyn Ward is magnetic, glamorous, and devastatingly beautiful, the quintessential A-List celebrity on the fast-track to super-stardom. When the two meet on the set of 9th Precinct, Caid is instantly infatuated but settles for friendship, positive that Robyn is both unavailable and uninterested. Soon Caid sees that all is not as it appears, but can she take a chance and risk her heart when the outcome is so uncertain?
The leading ladies and the supporting cast of this debut novel by newcomer K.E Lane will charm you, entertain you, and leave you with a smile on your face, eager for Ms. Lane's next offering.
Available at:
Ask, Tell by EJ Noyes
Where can you turn when you're caught in a crossfire of war and passion?
Captain Sabine Fleischer is a skilled and dedicated U.S. Army surgeon deployed to a combat hospital in Afghanistan. She is also one of the thousands of troops who are forced to serve in silence because of the military's anti-gay policy of "Don't Ask, Don't Tell (DADT)."
Usually driven and focused, Sabine finds that battles raging both inside and outside the perimeter walls are making it more and more difficult for her to deal with her emotions. Dealing with loss and mortality, lack of privacy, sleep deprivation, loneliness and the isolation forced on her by "Don't Ask, Don't Tell" are all taking their toll. Plus, her long-term relationship with a civilian back home is quickly becoming another casualty of war.
Colonel Rebecca Keane is an enigmatic career officer who runs the surgical unit like clockwork. Well liked and respected by those who work with and under her, she walks a fine line to preserve the military's chain of command while connecting with those under her care and supervision. Sabine knows the Colonel is way off-limits, but can't help fantasizing about her. Especially when she starts picking up unspoken cues—a stolen glance, a secret smile, an "accidental" brush of hands. Or is it just wishful thinking? After all, Rebecca's wedding ring shines almost as brightly as her deep blue eyes…
Available at:
Living by Lise Gold
During her morning exercise, yoga instructor Cam Saunders finds herself rescuing a young woman who has walked into the sea, seemingly intent on taking her own life. When the woman in question turns out to be a famous actress, Cam promises to keep her secret safe.
Six months later, America's sweetheart Ella Temperley is working hard to get her life back on track, grieving the loss of her twin sister and fighting a deep depression. Despite her fame, she feels alone in the world and keeps thinking of the woman she owes her life to.
After Ella shows up in Cam's life again, the two become closer than they ever imagined possible. But what happens when friendship turns into attraction? Living is a slow-burn coming-out romance about loss, love and life.
Available at:
Charm City by Monica McCallan
Taylor Tate has one last chance to turn things around. As the owner of Charm City Events, she needs her upcoming week of Valentine's Day events to go off without a hitch. She's painstakingly planned every detail down to the last red heart decoration, but what Taylor doesn't plan on is the less than enthusiastic bar manager she's paired with stumbling into her life at the worst possible time, making things more difficult every step of the way.
Carson Smith is getting by fine. She loves her job as the bar manager at Second Chances, a dive bar staple of the Baltimore landscape, and she doesn't need anything or anyone disrupting the delicate balance she's finally created. Especially for a stupid Valentine's gimmick to take advantage of desperate singles. When the owner of the bar forces her to work with an event planning company to drum up business, she has no choice but to begrudgingly agree. It's either play along or see the bar close, and she can't let that happen.
It's only a week, but time passes differently when there's love in the air and too much on the line, and both women soon find their lives, and hearts, intertwined as they work together to make the week a success.
Available at:
Medical romance:
In a medical romance, at least a part of the book takes place in a medical setting. Usually, one or both main characters work in a medical profession, e.g., physician, nurse, etc.
Here are my book recommendations for medical romances:
Heart Trouble by Jae
Dr. Hope Finlay loves her job as an emergency room physician, especially since it allows her only brief encounters with her patients. She learned early in life not to get attached to anyone because it never lasts.
Laleh Samadi, a waitress at her aunt's restaurant, is the exact opposite. She easily connects with people and loves her big, boisterous Persian family, despite their tendency to meddle in her life.
When Laleh needs to be rushed to the ER with heart trouble, Hope saves her life. Afterwards, strange things begin to occur: Why does Laleh suddenly know even the most obscure diseases, while Hope is fluent in Farsi?
Soon, they can no longer deny that there's a mysterious connection between them—one that becomes stronger with each passing day.
Are they losing their minds…or their hearts?
Available at:
Blurred Lines by KD Williamson
Kelli MacCabe is a no nonsense detective with a tough exterior. Only a select few know her as a loyal, loving friend. Committed to her family, her friends, and her job, Kelli puts her needs behind everyone else's.
As a surgeon, Nora Whitmore is used to being in control. The hospital is her life and leaves room for little else. Respected by her colleagues, but misunderstood by the residents, Nora takes what she needs and keeps everyone at arm's length. In the process, she creates unexpected enemies.
Tragedy brings them together. As chaos grows around them, the lines between them begin to blur. Despite being from different worlds, friendship grows between them, turning quickly to attraction. Will these two strong, independent women find a way to deal with their individual baggage? Or will they be overcome by it?
Available at:
The Fifth Surgeon by Faith Prize
Nadia Keating has barely started her cardiothoracic fellowship training, but she already has the archetype nailed—she's direct, uncompromising, and suffering from a God complex.
Before she can focus on her impressive research, deeply closeted Nadia has a personal project: getting her inconvenient attraction to women out of her system. She picks a stranger online for a one-night stand.
Ashley Rylan, the chief of Nadia's department, is her polar opposite—sweet, agreeable, and soft-spoken—and the stranger Nadia unwittingly chooses.
The two women's meeting is a hostile disaster and they would love nothing more than to never see each other again. However, their paths keep colliding as Nadia embarks on an ambitious experiment that could lead to a historic medical breakthrough.
Despite warring egos and the secrets they keep, their connection is powerful and growing. Maybe having sex would help them get over their distraction at work? Or would that just ruin everything?
Available at:
Major Surgery by Lola Keeley
Skilled surgeon Veronica Mallick runs her London hospital department like she runs her surgeries: with hawkish efficiency. Then her perfect world is turned upside down by the arrival of a new Head of Trauma.
Cassie Taylor is a brash, no-nonsense army surgeon, fresh from the front lines, and trying to find her way in civilian life. She's all action and sharp edges, not too interested in rules. She's even less interested in bureaucracy, or playing nice with her uptight, paper-pushing colleague, Veronica.
While they're circling each other warily at St. Sophia's hospital, Cassie becomes entangled in some shady financial dealings.
Their shared search for the truth draws them closer together, sparking heated moments as they try to see justice done. But in exposing a scandal, can they also find some common ground? How will they both deal with being attracted to a woman they don't even like?
Available at:
Turn Back Time by Radclyffe
Love has a way of derailing the best of plans. Wynter Thompson, divorced with a young child, struggles to balance the demands of her surgical residency with the responsibilities of motherhood -and between the two, discovers there is little time left for anything else. She manages to convince herself that she has everything she needs, because another chance at love is definitely not in her game plan. Pearce Rifkin is a woman with a plan, and it doesn't include a serious relationship. Chief Surgical Resident is just a stepping stone to her lifelong goal – chairmanship at one of the top ten medical centers. Determined to follow in her father's footsteps, even though she isn't the son he dreamed of, Pearce has no time for romance. Two women with nothing in common but a shared passion for surgery clash at every opportunity, especially when matters of the heart are suddenly at stake.
Available at:
Irregular Heartbeat by Chris Zett
When drummer Diana Petrell leaves her rock-star life to return to ER medicine, she won't let anything stop her—not even falling for aloof mentor, Dr. Emily Barnes.
Emily isn't happy having to babysit an intriguing resident with a ten-year gap in her résumé.
But every time they work together, it's not just their patients' heartbeat that gets a little irregular. Soon, the once-clear lines between work and personal life begin to blur.
What happens to their careers when Diana's secret comes out?
A lesbian romance that asks how much we'd risk for love.
Available at:
Baby Doctor by Kim Hartfield
As an obstetrician, Audrey thinks she's seen it all – until a patient gives birth completely alone. Drawn to Krista's inner strength, Audrey longs to learn more about her and her determination to survive any obstacle.
Overwhelmed by single motherhood, Krista is grateful for Audrey's friendship. Although Audrey's success intimidates Krista, she idolizes her – and she can't help noticing the doctor's mature beauty.
Krista is too young for Audrey, and she used to be her patient. They shouldn't even be friends, and yet both want to be lovers. Can they take a risk and follow their hearts – or will both remain single moms forever?
Available at:
Hearts in Motion by Miranda MacLeod
After tragedy strikes, can love blossom out of grief?
As an emergency room doctor, 41-year-old Hadley Moore has spent a decade perfecting the art of shutting down her emotions to focus on saving lives. But when her younger sister and brother-in-law die tragically, the pain of loss is too great to ignore. Reeling from guilt over letting her family take a back seat to her career, Hadley seizes the opportunity to make things right by returning to her hometown to raise the infant son her sister left behind.
At 29, Tyne Briggs knows firsthand how hard it is to grow up without a loving family. After being saved from a hostile foster home as a queer pre-teen, the young artist dotes on her large and boisterous adoptive family. When she loses her brother and sister-in-law in a car accident, her top priority is to make sure her baby nephew has the happy childhood she was denied.
Shared grief and mutual attraction bring the two women together, where they find solace and passion in equal measure. But they are soon at odds when each decides she is the best choice to give baby Owen a permanent home. Without a will to guide them, and with the two aunts unable to reach a compromise, a lengthy custody battle looms.
Cooperation and a common purpose could lead to true love and the creation of a new family together, but not if impulsive decisions and unsavory lawyers tear them apart first.
Available at:
Reservations of the Heart by TB Markinson
Can two wounded souls find solace together?
41-year-old doctor Stella Gilbert used to have it all. Her career was on fire, and she had a picture-perfect family–until she was blindsided by her wife doing the unthinkable. Three years after her divorce, Stella's loved ones worry about her non-existent personal life and her stubborn belief that focusing on her career and raising her daughter are all she needs to be fulfilled.
Reeling from the revelation of a long-held family secret, 29-year-old Aurora Shirley is just over it all. If her parents could lie to Aurora all her life, won't everyone else? Women are the last thing on her mind as she starts a temporary job at a local medical school. Unfortunately for Aurora, she needs to find a date for her best friend's wedding or be deemed the worst maid of honor in history.
When Stella and Aurora unexpectedly come together, sparks fly. Neither is looking for a relationship, but what they discover in one another is so much more than a physical connection. Can two wounded women who believe love is the last thing they want overcome their fears to find healing?
Available at:
Trails of the Heart by Ruby Scott
Brilliant but socially awkward, trauma specialist Rachel Adams is all about making a difference. Returning to the US after working with Doctors Beyond Borders in Haiti, she faces the challenge of settling into 'normal' life as part of the City General ER team. But all she has is her work.
Andy (Andrea) Jones, a no nonsense Medevac pilot has always played the field since her Air Force days, having never met the right woman. Charming, charismatic and caring, women rarely say no to her, that is, until she meets Rachel.
Attractive women make Rachel flustered. Confident, attractive medevac pilots who flirt with her, send her into a tailspin.
There are a hundred reasons to say no; one is older, the other young; one is outgoing, the other quiet; one loves nature, the other loves their couch. But will a hundred reasons to say no blind them to the thousand reasons to say yes?
A slow burn, age gap, lesbian medical romance.
Available at:
Leave a comment
Leave a comment and let us know what your favorite romance trope is and which book you'll be reading for this category!
Subscribe to this blog to get future Sapphic Book Bingo posts
If you'd like to get all future Sapphic Book Bingo posts sent to your in-box, subscribe to my blog.