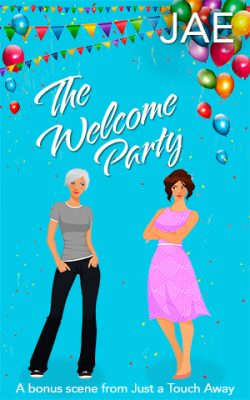 Ice queen Winter isn't exactly overjoyed at having to attend a welcome party with her temporary roommate, professional cuddler Hannah.
The welcome party brings more suprises: a pink party hat, a 85-year-old lady who might have a crush on her, and a cupcake that looks like…well, you'll have to read the scene to find out!
"The Welcome Party" is a bonus scene for Jae's ice queen/enemies-to-lovers romance novel Just a Touch Away. It takes place toward the end of chapter 14. To fully enjoy this bonus scene, you might want to read chapters 1-13 of Just a Touch Away first. 
Lucia Sorrentino may come from a long line of chefs, but her attempts in the kitchen always turn into a recipe for disaster. Unfortunately, she's just as untalented when it comes to her love life. She calls on her best friend, Remy, to help her wine and dine a woman. Will it become another cooking nightmare, or can she pull it off?
Sign up to Jae's reader newsletter
Sign up to Jae's monthly reader newsletter to be the first to find out about new releases, special offers, giveaways, and other exciting news. You'll also get Jae's short story "The Romance Bet" as a welcome gift.