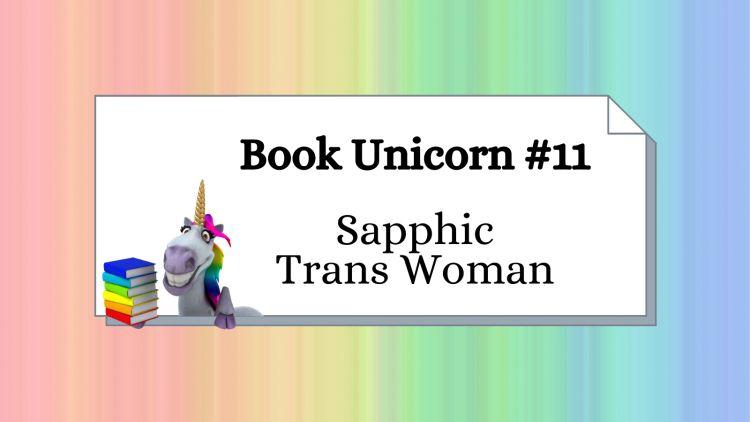 For this month's Book Unicorn category, read a book with a main character who's a sapphic trans woman.
Generally, the term "trans" (short for "transgender") can be used in two different ways:
Trans or transgender is an umbrella term that encompasses a variety of gender identities. It includes everyone whose gender identity differs from the sex they were assigned at birth. Many nonbinary people consider themselves trans since they don't (exclusively) identify as male or female.
Trans or transgender can also be used for a more specific identity under that umbrella. Trans women are women who were assigned male at birth. They may or may not have surgery and/or take hormones to bring their bodies into alignment with their gender identity.
Since books about nonbinary characters were already covered in an earlier post, pick a book with a protagonist who fits the latter definition of trans for this category of the Sapphic Reading Challenge: a book featuring a trans woman.
While there are many books with trans supporting characters such as my novel Wrong Number, Right Woman, make sure you choose a book in which the trans character is the main character. Ideally, pick a book written by a trans woman.
What is the Book Unicorn?
A quick reminder: The Book Unicorn is a bonus level that you can pick either by itself or as an additional goal. The goal is to read at least 10 sapphic books from a list of 12 harder-to-find genres and themes, e.g., books about time travel or books about older characters. You can download a PDF with all 12 categories here.
10 sapphic books with a trans protagonist
Here are the 10 books I picked for the "sapphic books with a trans character" category:
Fake It by Lily Seabrooke
To spark interest in Avery's restaurant, and to revitalize Holly's image, a fake relationship is the answer to both their problems.
And the start of a pressing new problem: falling in love.
Avery Lindt finally opened her dream restaurant—and there's no customers. She's staying optimistic, though: she's confident she can fake it till she makes it, roll with the punches, and find a way to save her luxury restaurant, Paramour.
But it gets harder when she gets restaurant mogul and star chef Mike Wallace angry, and finds herself on the other end of a campaign to shut down Paramour.
Celebrity chef Holly Mason's show is in trouble: people are bored with her routine of helping struggling restaurants. Worse, her ex-boyfriend Mike Wallace is making backdoor deals trying to steal the starring role.
Luckily, Holly's agent Tay has a solution: ditch her show plans for the season, throw their lot in with luxury restaurant Paramour against Mike Wallace's racketeering operation of a restaurant partnership. The cherry on top? A fake relationship between Holly and Avery to stir up drama.
It would already be a mess if Holly and Avery weren't already struggling to hold back their attraction for one another. Despite their promise not to date, the lines between acting and reality get awfully blurry sometimes.
Available at:
Knowing Her by Raquel De Leon
Teresa Barrera has finally moved back home after running away when she was fifteen. Things are better for her than they were then. She's out as a trans lesbian, has a good job, and is in the promising start of a new relationship. To top it all off, she's back in contact with her sister, who has completely accepted her. She's not ready to tell the rest of her family, but that's okay.
Lian Hui, a private investigator who had searched for Teresa for years, is surprised when they become friends. Not much of a people person and prone to bouts of anxiety, she finds herself drawn to Teresa's kindness and patience. When Teresa's relationship turns sour, Lian steps up as the friend Teresa needs most.
As Teresa and Lian become closer, they find the line between friendship and romance can be a blurry, confusing thing.
Available at:
Being Emily by Rachel Gold
They say that whoever you are it's okay, you were born that way. Those words don't comfort Emily, because she was born Christopher and her insides know that her outsides are all wrong.
They say that it gets better, be who you are and it'll be fine. For Emily, telling her parents who she really is means a therapist who insists Christopher is normal and Emily is sick. Telling her girlfriend means lectures about how God doesn't make that kind of mistake.
Emily desperately wants high school in her small Minnesota town to get better. She wants to be the woman she knows is inside, but it's not until a substitute therapist and a girl named Natalie come into her life that she believes she has a chance of actually Being Emily.
A story for anyone who has ever felt that the inside and outside don't match and no one else will understand…
Available at:
The Seep by Chana Porter
Trina FastHorse Goldberg-Oneka is a fifty-year-old trans woman whose life is irreversibly altered in the wake of a gentle—but nonetheless world-changing—invasion by an alien entity called The Seep. Through The Seep, everything is connected. Capitalism falls, hierarchies and barriers are broken down; if something can be imagined, it is possible.
Trina and her wife, Deeba, live blissfully under The Seep's utopian influence—until Deeba begins to imagine what it might be like to be reborn as a baby, which will give her the chance at an even better life. Using Seeptech to make this dream a reality, Deeba moves on to a new existence, leaving Trina devastated.
Heartbroken and deep into an alcoholic binge, Trina follows a lost boy she encounters, embarking on an unexpected quest. In her attempt to save him from The Seep, she will confront not only one of its most avid devotees, but the terrifying void that Deeba has left behind. A strange new elegy of love and loss, The Seep explores grief, alienation, and the ache of moving on.
Available at:
Tengoku by Rae D. Magdon
Aozora Kaede is on the run. Forced to flee from home after a violent disagreement with her aunt and cousin, she is a wanderer with a spirit wolf as her only companion. Homura Imari lives in the lap of luxury. As the daughter of a daimyo, her duties are clear: stay home and learn how to rule the province she will inherit.
But when fate brings the two of them together, Imari notices Kaede's connection to the spirits and decides to ask for a favor. She needs someone to guide her to Hongshan, a faraway mountain where a magical blacksmith is rumored to live—a blacksmith who can hopefully replace her missing left hand.
Together, they must travel across the treacherous Jade Sea, protect themselves from Kaede's vengeful family, and perhaps even save the Empire from destruction.
Available at:
Cinder Ella by S.T. Lynn
Ella is transgender. She's known since she was young; being a woman just fit better. She was happier in skirts than trousers, but that was before her stepmother moved in. Eleanor can't stand her, and after Ella's father passes she's forced to revert to Cole, a lump of a son. She cooks, she cleans, and she tolerates being called the wrong name for the sake of a roof over her head. Where else can she go?
An opportunity to attend the royal ball transforms Ella's life. For the first time, strangers see a woman when she walks down the stairs. While Princess Lizabetta invited Cole to the ball, she doesn't blink an eye when Cinderella is the one who shows. The princess is elegant, bold, and everything Ella never knew she wanted. For a moment she glimpses a world that can accept her, and she holds on tight.
She should have known it wouldn't last. Dumped by her wicked stepmother on the farthest edge of the kingdom, Ella must find a way to let go of the princess and the beautiful life they shared for an hour. She'll never find her way back. But it's hard to forget the greatest night of her life when every rose she plants is a reminder.
Available at:
Dreadnought by April Daniels
Danny Tozer has a problem: she just inherited the powers of Dreadnought, the world's greatest superhero. Until Dreadnought fell out of the sky and died right in front of her, Danny was trying to keep people from finding out she's transgender. But before he expired, Dreadnought passed his mantle to her, and those secondhand superpowers transformed Danny's body into what she's always thought it should be. Now there's no hiding that she's a girl.
It should be the happiest time of her life, but Danny's first weeks finally living in a body that fits her are more difficult and complicated than she could have imagined. Between her father's dangerous obsession with "curing" her girlhood, her best friend suddenly acting like he's entitled to date her, and her fellow superheroes arguing over her place in their ranks, Danny feels like she's in over her head.
She doesn't have time to adjust. Dreadnought's murderer—a cyborg named Utopia—still haunts the streets of New Port City, threatening destruction. If Danny can't sort through the confusion of coming out, master her powers, and stop Utopia in time, humanity faces extinction.
Available at:
Staying True by Suzie Carr
Free-spirited masseuse Ruby Clark treasures her independence, refusing to allow anyone to encroach on her sense of control. She succeeds at remaining unaffected until she meets Nadia Chase, a self-assured, sexy new client who sets Ruby's heart in motion.
The two develop a connection that drips with chemistry. As Ruby struggles to maintain her autonomy amidst the fervent attraction, Nadia reveals a secret that threatens to derail both their professional relationship and their blossoming love.
Seeking guidance and support from Shawna, their transgender friend who struggles with her own issues of self-worth, and Ruby's grampa, a wise storyteller who raised Ruby in the aftermath of a childhood tragedy, the unlikely foursome embarks on a quest to learn the meaning of love, letting go, and staying true.
Available at:
The Weight of Living by M.A. Hinkle
When she arrives in Cherrywood Grove for a working vacation, shy photographer Trisha Ivy expects to kick back and relax, enjoying her last summer of freedom before turning into a real adult with a mortgage and a nine-to-five. After all, her real life is back in Chicago with her best friend Bella, not a sleepy small town. But Trisha keeps running into beautiful, confident Gabi Gonzalez, a caterer working all the same weddings…and she's the daughter of Trisha's favorite local TV star. Trisha can't resist getting to know her. After all, she's only in town for the summer, and Gabi is straight. What harm could it do?
Gabi Gonzalez has spent most of her life trying to escape Cherrywood Grove and find something bigger and better. During an internship in Milwaukee, she thought she'd finally found it. But after her father's sudden death, she returns home and tries to squeeze back into the same childhood roles: kid sister, cool aunt, tireless worker. She's just resigned herself to going through the motions when she meets Trisha, someone who finally sees Gabi for her own self instead of putting her in a box. Can Gabi open up to Trisha about what she really wants before Trisha leaves town for good?
Available at:
Stage Dreams by Melanie Gillman
In this rollicking queer western adventure, acclaimed cartoonist Melanie Gillman (Stonewall Award Honor Book As the Crow Flies) puts readers in the saddle alongside Flor and Grace, a Latinx outlaw and a trans runaway, as they team up to thwart a Confederate plot in the New Mexico Territory.
When Flor—also known as the notorious Ghost Hawk—robs the stagecoach that Grace has used to escape her Georgia home, the first thing on her mind is ransom. But when the two get to talking about Flor's plan to crash a Confederate gala and steal some crucial documents, Grace convinces Flor to let her join the heist.
Available at:
Leave a comment
Leave a comment and let us know which book you'll be reading for the "sapphic books with a trans character" category?
The 2022 Reading Challenge: Sapphic Book Bingo 
There will be a year-long reading challenge in 2022 too! I'm working on putting together a Sapphic Book Bingo with two different bingo cards for you to choose from. Make sure you subscribe to my blog to get the Sapphic Book Bingo posts sent to your in-box starting on January 1!