Today's interviewee is a surprise guest—me. Yes, that's right. Jae, author of f/f slow-burn romances, is interviewing herself. Well, kind of. Let me explain what happened. One of the other authors I have lined up for an interview and giveaway had to switch to a later date, so I thought: Why not post an interview with me? Since this is my blog, surely readers would be interested in hearing from me too.
But since I couldn't very well interview myself, I had a couple of my readers and fellow lesbian fiction author Lee Winter provide the questions. So here are their questions and my answers. I hope you enjoy them.
As always, there'll be a giveaway at the end. I'm giving away a signed copy of my two latest releases, Not the Marrying Kind and Paper Love, along with some other fun goodies, so make sure to leave a comment.
Please tell us a little about your latest release, Not the Marrying Kind.
Not the Marrying Kind is a romance set in a small town where everyone knows everyone else and gossip travels with the speed of light. One of the main characters, Ashley, is the owner of the town's only flower shop. She's also in the closet because she's afraid to lose her customers and her conservative family, so she has decided to live her life alone.
Enter Sasha, the town's easygoing six-foot baker, who's Ashley's exact opposite and doesn't care at all what people think. When they are asked to work together for their friends' wedding, they start to spend more time together…and soon, Sasha is tempting more than just Ashley's sweet tooth.
Many writers use celebrity pictures to visualize their characters while they write. Is there a celebrity you used to create Sasha and Ashley from Not the Marrying Kind?
No, there isn't. I've never modeled my characters after celebrities. In a lot of romance novels, all characters are perfect-looking. It works for some romances, if you are writing a celebrity romance, for example, but why would a baker and a florist need to look like supermodels?
I want my characters to be real and relatable. They are ordinary people…people who could be your friends. My characters will always be beautiful in the eyes of their significant other, but most of them don't meet Hollywood's standards of beauty.
Sasha is six foot tall and "big-boned," as someone calls her in the story, while Ashley is the typical girl next door—pretty, but not model beautiful. She's got green stains on her sneakers from her work in the flower shop, and she doesn't spend hours putting on makeup in the morning. That's actually part of what Sasha appreciates about her, because a high-maintenance woman wouldn't fit into her life.
Not the Marrying Kind is book 2 in the Fair Oaks series, which started with Perfect Rhythm. Does that mean readers need to have read book 1 before reading Not the Marrying Kind?
No, it's not strictly necessary to have read Perfect Rhythm. Like most of my series, each book in the Fair Oaks series has different main characters and can be read as a standalone.
I simply enjoy linking books and giving readers glimpses into the lives of the characters after their story ends, so Holly and Leo—whose story I told in Perfect Rhythm—are important supporting characters in Not the Marrying Kind. Lauren and Grace from Damage Control also make an appearance when the group of friends spend the weekend at a beach house in Florida for a bachelorette party.
If you were on an award committee and could give one of your characters an award, who would it be and for what?
Sasha from Not the Marrying Kind would get an award for her delicious cupcakes. She made key lime cupcakes for Ashley because she couldn't stop thinking about their time in Florida, and I imagine they must have been very yummy.
Tell us a little about the second book you're giving away, Paper Love. What makes it different from your other novels?
Most of all, the setting. Paper Love is set in Freiburg, the city where I live. Freiburg is a charming city with a history that reaches back to the twelfth century. There's a lot of history and folklore, including the legend that says anyone who steps into a Bächle—one of the narrow water canals running through the streets—will end up marrying a local and live there forever.
And that's exactly what happens to Susanne, one of the main characters. She's a businesswoman who starts out as a bit of an ice queen but quickly thaws when she meets lovable nerd Anja.
You seem to write about two English full-length novels a year, and you also translate your books into German. What are your tricks to avoid burnout and writer's block? Have you ever had either?
Luckily, I haven't experienced either, although you'd think I would be a prime candidate for burnout since I not only write full-time, but I'm also the senior editor of Ylva Publishing, and I seem to have a problem saying "no" when fellow writers ask for help with their writing or marketing. If you work from home, it's really not easy to maintain a good work/life balance, especially when your job is also your passion. But I've got no complaints. I like life as a writer much more than life as a psychologist, which was my previous job.
What helps me avoid writer's block is outlining and getting to know my characters before I start writing a new novel. I usually plot out the major scenes and turning points of the book. That way, I always know what will happen next and don't waste time staring at a blank page, figuring out what to write.
I also know each character's backstory—what kind of family she grew up in, what previous relationships she has had, what events and circumstances made her who she is today—so I know exactly how each of my characters will react to what happens in the story.
What was the last gift you gave someone?
The last gift I gave was actually a birthday present for fellow lesfic writer Chris Zett. She uses fountain pens too, so I sent her some Australian ink and a paperback copy of The Emotion Thesaurus, a very helpful book for writers.
What holiday would you invent to get a day off work?
I would invent stay-in-bed-and-read day. It would actually be a three-day holiday because one day wouldn't be enough to even start to catch up with my to-be-read list.
What was your favorite book as a child, and what are you reading right now?
My favorite book growing up was Tamora Pierce's Alanna—or rather the entire Song of the Lioness series. It's a fantasy/adventure story about a girl who disguises herself as a boy to become a knight. Finally a girl who got to be the hero! I devoured the book and the rest of the series, and I still have a hardback copy on my bookshelf.
Since I'm working on a new manuscript right now, I don't have a lot of time to read, but I just bought the audiobook of Breaking Character by Lee Winter, and I know I'll enjoy it because…well, it's a Lee Winter book, and Angela Dawe always does a great job narrating.
When's your next book coming out, and what are you working on right now?
My next releases will be the audiobook version of Next of Kin on May 28, then the audiobook of Falling Hard in June. I'll also have a short story in the upcoming Ylva Publishing erotica anthology Laid Bare, which will be out in June, and my Oregon series will be available as a box set in July.
My next all-new novel will be the one I'm working on right now. It's titled The Roommate Arrangement and will be out in November. I'm about two-thirds through the first draft, and I really think the main characters, Rae and Steph, are special together.
I'll share an excerpt in my next reader newsletter, but for now, here's the blurb:
After a year on the road, comedian Stephanie Renshaw returns to LA, hoping to finally get her big break. A chance encounter lands her the perfect apartment close to the comedy clubs, but it comes with a catch: the landlord only rents to couples. Since Steph isn't the relationship type, she comes up with a daring plan: find a roommate who's willing to pretend they're an item.
Enter Rae Coleman, a former police officer working the door at one of the top comedy clubs. After losing one eye and her job with the LAPD, Rae guards her wounded soul behind a tough exterior.
At first, the two clash horribly before a tentative friendship develops. Bit by bit, Steph manages to break through the walls Rae has built around her.
But are they ready to open themselves up to love, especially when it could stand in the way of Steph's career?
Where can your readers find out more about you and your books?
Right here on this website! Hehehe. The best way to keep up with my writing is to subscribe to my newsletter, which goes out to readers once a month.
Book giveaway
I'm giving away two book bundles:
A signed paperback copy of Not the Marrying Kind, plus a small cupcake notebook, a "donut worry, be happy" magnet, and a bar of Black Forest chocolate.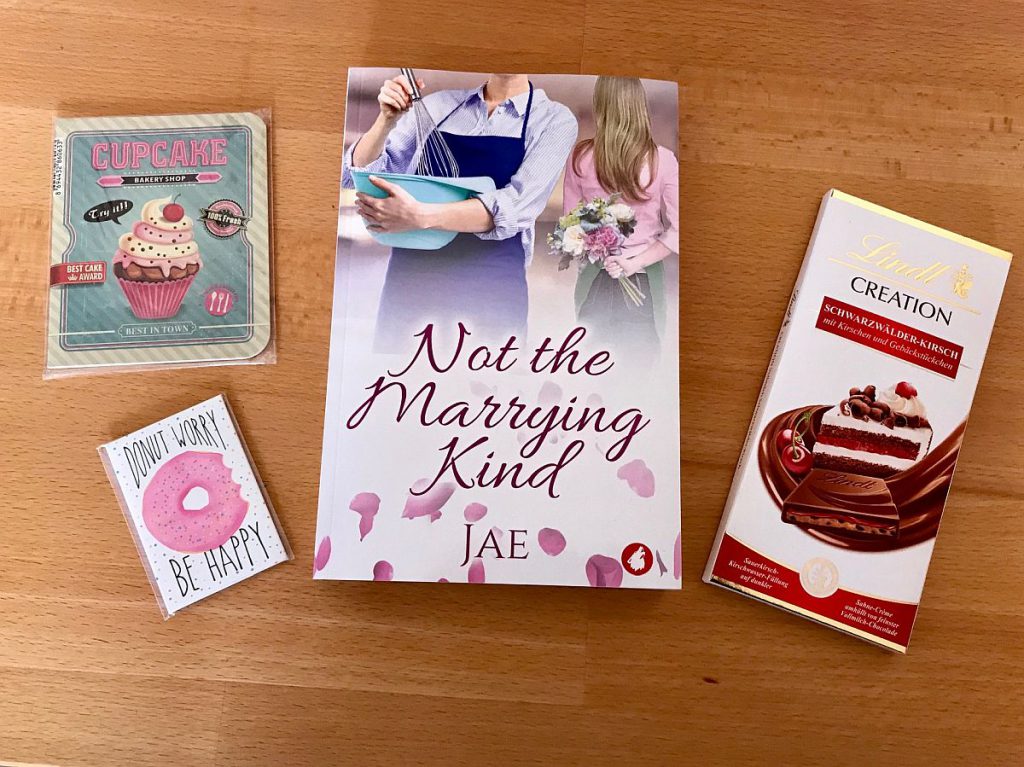 A signed paperback copy of Paper Love, plus a leather bookmark and a small notebook with a leather cover that has a Jae logo.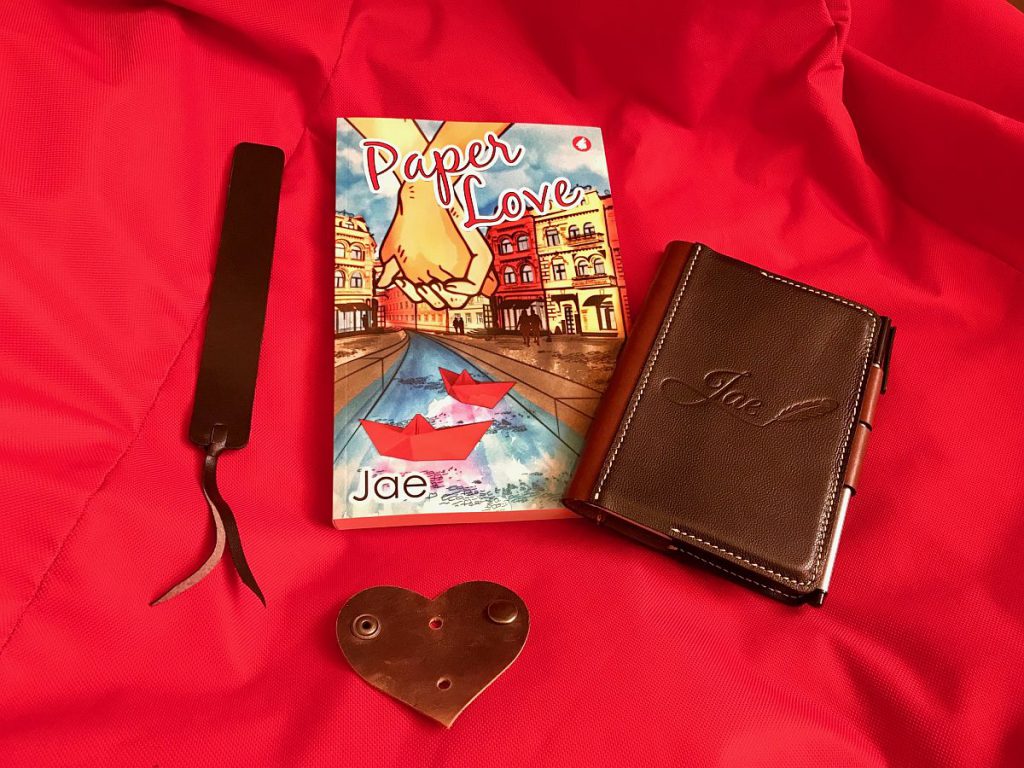 I'm willing to send the book bundles worldwide, so anyone can enter. To be entered into the drawing, please leave a comment on this blog post. If you have a preference as to which book bundle you'd like to win, let me know in the comment.
Entries close on Thursday, May 23, 2019, 10 a.m. CET, when I'll draw the winners using a random-numbers generator. I'll notify the winners by email.