This week's Lesbian Book Bingo square is one of my favorite romance tropes, and one I know many readers love too: friends to lovers romance novels.
In a friends-to-lovers romance, the two main characters have been friends for some time, sometimes even childhood friends. Now they are developing romantic feelings for each other.
15 GREAT F/F FRIENDS TO LOVERS ROMANCE NOVELS
I've put together a list of 15 great friends-to-lovers romances I hope you'll enjoy.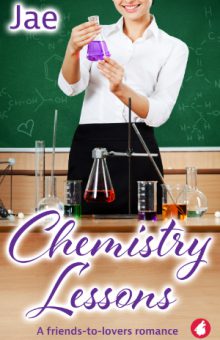 Chemistry Lessons by Jae
If science teacher Regan knows one thing, it's chemistry, and she's sure there's none between her and best friend Kylie, no matter what everyone else thinks.
To prove it, they agree to go on three dates.
When a good night kiss turns passionate, will they risk losing their friendship for a chance at love?
Available at:
Amazon
Apple Books
Ylva Publishing
Like Jazz by Heather Blackmore
Claiborne High newcomer Cassidy "Cazz" Warner unwittingly attracts the attention of her beautiful, popular classmate Sarah Perkins, though a cross-country move wrests them apart before they begin to understand the depths of their friendship. Ten years later, Cazz runs into Sarah during a fraud investigation at Sarah's charitable foundation. Will Cazz's feelings for Sarah compromise her objectivity and jeopardize her case, or will they make her risk everything to protect the only woman she's ever loved?
Available at:
Bold Strokes Books
Amazon
Apple iBooks
Just Three Words (SoHo Loft Series) by Melissa Brayden
Sometimes the one you want is the one you least suspect…Accountant Samantha Ennis craves order and structure. As the bookkeeper at the boutique advertising agency she owns with her three best friends, it's her job to apply logic to the chaos. When one of those best friends, laid back Hunter Blair, moves in to share her loft apartment, Sam's carefully organized world is thrown wildly askew.
Available at:
Bold Strokes Books
Amazon
Apple iBooks
Audible (audiobook)
Jukebox by Gina Daggett
Soul mates from their first meeting at age eleven, Harper and Grace know better than to fall in love. Yet they do. And are too much in love to care. But formidable powers control their lives: shame, fear, and especially money. Potent forces that will challenge their love to its very limits. This breathtaking debut novel is a feast for the senses, an erotic, melodic, lushly-detailed coming-of-age story that erupts with conflict and passion.
Available at:
Bella Books
Amazon
Imagining Reality (Virginia Clan, book 2) by Lynn Galli
Changing a reputation can be the hardest thing anyone can do, even among her own friends. But Jessie Ximena has been making great strides over the past year to do just that. Will anyone, even her good friends, give her the benefit of the doubt when it comes to finding a forever love?
Available at:
Amazon
Coming Home by Lois Cloarec Hart
Rob, a charismatic ex-fighter pilot severely disabled with MS, has been steadfastly cared for by his wife, Jan, for many years. Quite by accident one day, Terry, a young writer/postal carrier, enters their lives and turns it upside down.
Available at:
Ylva Publishing
Amazon
Apple iBooks
Into Thin Air by Jeannie Levig
Hannah Lewis's life is exactly where she thinks it should be. But when her girlfriend, Jordan, disappears into thin air and she and Jordan's best friend, Nikki, are drawn closer in the search, the more she learns, the less she seems to know, and the more she discovers about herself. When Jordan Webber is torn away from everything she knows, she finds herself in a struggle for her sanity and is forced to confront who she has been. When they come together again, can anything ever be the same?
Available at:
Bold Strokes Books
Amazon
Apple iBooks
Without Warning (Shaken series, book 1) by KG MacGregor
Two strangers, trapped in a collapsed shopping mall, find each other amid the rubble and join forces to escape.  Hampered by injury and darkness, they claw their way through one crumbled store after another, emerging long after most have given up hope for survivors. Without Warning is the story of their courageous journey through adversity and their promise of steadfast love.
Available at:
Bella Books
Amazon
Apple iBooks
Jericho by Ann McMan
Librarian Syd Murphy flees the carnage of a failed marriage by accepting an eighteen-month position in Jericho, a small town in the Appalachian Mountains of Virginia. Her plans to hide out and heal her wounds fall by the wayside as she gets drawn into the daily lives of the quirky locals. When Syd gets a flat tire and is rescued by the town physician, Maddie Stevenson, the two women form a fast friendship—but almost immediately begin struggling with a mutual attraction. Together, Syd and Maddie learn that life and love can have as many twists and turns as a winding mountain road.
Available at:
Bywater Books
Amazon
Audible (audiobook)
Awakenings (I Found My Heart in San Francisco series, book 1) by Susan X. Meagher
A glimmer of attraction, discovery of shared interests, growing respect for one another, and the stirrings of desire. These are the building blocks for a nascent relationship. But when one member of the pair is out and experienced, while the other believes she's straight, their friendship will have to change in dramatic ways to lead to the goal they both seek—love.
Available at:
Brisk Press
Amazon
Beginnings by L.T. Smith
Lou Turner loves Ashley Richards. Always has and always will. This is Lou's story, a story spanning thirty years…from the innocence of youth to the bitterness of adulthood. But can Lou use her beginnings to shape her future? Only one woman can answer that question. Childhood and friendship, love and belief, and the hope that yesterdays can be what futures are made from.
Available at:
Ylva Publishing
Amazon
Apple iBooks
Prairie Heart by Marian Snowe
Eleanor Higgins has an incredible talent for matchmaking–for everyone but herself. That's because no one can measure up to her best friend, Morgan…but Morgan's straight, and Eleanor's spent her entire life trying to put that fantasy behind her. When Morgan reveals that she may not be so straight after all, can Eleanor find her friend the perfect lady when all she really wants is to be that "perfect lady" herself?
The Gravity Between Us by Kristen Zimmer
Kendall Bettencourt is Hollywood's hottest young starlet, but she longs for normal. Payton Taylor is Kendall's best friend since childhood and her refuge from the craziness of celebrity life. With her career taking off, Kendall moves Payton to LA to help keep her sane.  But Payton is hiding a secret that could make everything ten times worse.  Because to her, Kendall is more than a best friend—she is the only girl that she has ever loved.
Available at:
Amazon
Apple iBooks
Audible (audiobook)
If you haven't done so already, download your bingo card, pick the book you want to read for the "friends to lovers" square, and start reading! Remember that you can either read one of the 15 books listed above or pick another f/f romance novel with two main characters that start out as friends.
Lesbian Book bingo giveaway: Win a book by leaving a comment
For the "friends to lovers" square, I'm giving away an e-book copy of:
Love and Devotion by Jove Belle
Just Three Words by Melissa Brayden
Jericho by Ann McMan
Anyone can enter. To be entered into the drawing, leave a comment on this blog and let us know which book you're going to read for the "friends to lovers" square or if you can think of other lesbian books that fit this category.
Entries close on Thursday, July 26, 2018, 10 a.m. CET, when I'll draw the winners using a random numbers generator. I'll notify winners via email. Your email address won't be used for any other purpose.
Subscribe to this blog so you won't miss the next book bingo post
The reading list for the next bingo square—romantic comedies—will be posted on August 2. Subscribe to my blog so you won't miss it. There'll be another giveaway too!
Important notice to make sure you don't miss any of the Lesbian Book Bingo posts!
The data protection laws have changed on May 25, so I'm asking you to re-subscribe to my blog if you want to get each new book bingo post sent to your in-box.