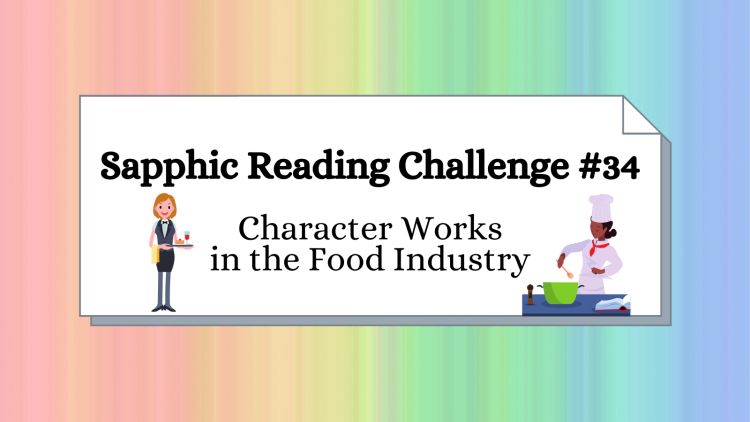 This week's Sapphic Reading Challenge category features characters who work in the food industry. The protagonist could be a chef, a baker, a pastry chef, a waitress, or a caterer, or maybe they own a restaurant, a bakery, an ice cream shop, or some other yummy place.
People working with beverages count too for this category, so the main character could also work as a barista, a bartender, a winemaker, etc.
Most of the books on the list below are foodie romances that might cause some serious food cravings and are best enjoyed with a snack of your choice!
A free "foodie romance" short story coming tomorrow
I'll send out a free short story titled "Whining and Dining" to my newsletter subscribers tomorrow (September 3, 2021). If you'd like to get it sent to your in-box, make sure you subscribe. "Whining and Dining" is a friends-to-lovers romance with a main character who is a chef.
Read up on the rules of the Sapphic Reading Challenge
If you are only discovering the Sapphic Reading Challenge now, the good news is you can still join! It's a year-long challenge, so it runs until December 31, 2021. Read up on the rules of the Sapphic Reading Challenge and download your PDF so you can keep track of the books you read this year.
15 sapphic books about characters working in the food industry
I put together a list of 15 sapphic books about characters who work in the food industry. I hope you find at least one you'll enjoy.
Chemistry Lessons by Jae
Kylie and Regan have been best friends since kindergarten, supporting each other through thick and thin.
While everyone thinks they would be perfect for each other, they insist there's no chemistry between them—and Regan should know since she's a chemistry teacher.
To prove it, they agree to a little chemistry experiment: they'll go on three dates with each other.
So what if their gazes start to linger and accidental touches no longer feel platonic? They chalk it up to the romantic atmosphere—until a friendly good night kiss turns passionate.
Can their friendship go back to the way it was before? Do they even want it to? Or will they risk losing what they have for a chance at love?
Available at:
Kat's Nine Lives by Laina Villeneuve
Wedding bells are ringing for Kat Morehart—just not her own. When the church she works for refuses to let a gay couple marry in the sanctuary, she aims to make it up to them by offering her home as the perfect venue. It will take an act of faith to pull it off at the historic home she shares with her quirky parents.
Caterer Wendy Archer enjoys the business Kat directs her way and their friendship even more. Though she loves how much Kat cares for others, Wendy has to wonder at times how she fits into Kat's life.
As they work together to create the perfect setting for the wedding, Kat and Wendy struggle to fight what simmers between them.
Available at:
Chef's Special by Susan X. Meagher
After years of slowly working her way up the ladder, Emily Desjardins is finally poised at the next step—cooking at the kind of restaurant she'd love to one day own.
Her new boss is classically trained, has stunningly high standards, and effortlessly designs delicious, creative cuisine. She's also demanding, inflexible, ridiculously confident and so hot it's almost silly.
Emily is determined to spend her time learning all of the tricks and tools she'll need to keep moving up. But keeping her mind on the job with the enigmatic Blake Chadwick pervading her thoughts and her dreams proves much harder than she could have ever imagined.
Available at:
Venus & Aphrodite by Barbara Winkes
When Zoe inherits money from her grandmother, along with the instruction to do "something wild" with it, she takes a three-week vacation to Italy and Greece. But is that wild enough? Back home, she decides to open a restaurant to share with her community the food and wine she fell in love with.
The major wrinkle in her plan? She needs the perfect person to cook the delicious dishes she has in mind.
Chef Arianna O'Dell was a rising star in the culinary world before a public scandal put an abrupt halt to her dreams. Arianna is reluctant to resume a career in a field that has cast her out, but it's hard to resist Zoe's passion.
Can Zoe and Arianna overcome everything that's holding them back, and make their shared dream a reality?
Available at:
No Parking by Valentine Wheeler
When Marianne Windmere's bakery customers begin complaining that her parking lot is always full, she assumes it must be customers for the new restaurant next door. She's never met her neighbor, and with the parking lot situation, she has no interest in doing so. But when a snowstorm knocks out the power and traps both women in the building overnight, sparks fly—until the next morning, when the buried argument comes to a head.
Can they find a way to reclaim the magic of that night? And as decades-old secrets about the history of the town and Marianne's family come to light, can they work together to save both their businesses?
Available at:
Table for Two by Kate Gavin
Trying to take a few brief moments away from a stressful situation, Reagan Murphy snags the last table at a bustling downtown lunch spot. When another woman walks into the crowded restaurant seeking a table, Reagan offers to share hers.
Jillian Jacobs just wanted a quick bite before she'd have to focus on a new and unreasonable deadline. Irritated by her empty stomach and by the prospect of waiting, Jillian resentfully accepts a seat at a stranger's table.
Their shared lunch is filled with hostility, snide comments, and shades of derision from Jill and Reagan finds herself relieved at the end of the encounter.
But then the two are thrown back together when Jill becomes a catering client of Reagan's. Soon navigating a professional relationship becomes complicated as their attraction begins to smolder. Will it get in the way and cause even bigger problems? Or will this be the start of something they've both been looking for all along?
Available at:
Mangos and Mistletoe by Adriana Herrera
Kiskeya Burgos left the tropical beaches of the Dominican Republic with a lot to prove. As a pastry chef on the come up, when she arrives in Scotland, she has one goal in mind: win the Holiday Baking Challenge. Winning is her opportunity to prove to her family, her former boss, and most importantly herself, she can make it in the culinary world. Kiskeya will stop at nothing to win, that is, if she can keep her eyes on the prize and off her infuriating teammate's perfect lips.
Sully Morales, home cooking hustler, and self-proclaimed baking brujita lands in Scotland on a quest to find her purpose after spending years as her family's caregiver. But now, with her home life back on track, it's time for Sully to get reacquainted with her greatest love, baking. Winning the Holiday Baking Challenge is a no brainer if she can convince her grumpy AF baking partner that they make a great team both in and out of the kitchen before an unexpected betrayal ends their chance to attain culinary competition glory.
Available at:
The Secret Ingredient by KD Fisher
For single mom Adah Campbell, the executive chef job at a posh restaurant in quaint South Bay, Maine is a dream come true—and the perfect opportunity to start over, far away from a home that's never felt entirely hers. But fitting in has never been easy, and between a new town, a new boss, and the unexpectedly attractive owner of a rival café, things get off to a rocky start.
Never did free-spirited Beth Summers think she'd still be in Maine. Travel the world gathering delicious recipes and finding friends and lovers? Absolutely. Step in to run her family's small-town café? Not so much. However, once Beth commits to something, that's it. Soon, The Yellow House is the hottest spot in town, but Beth's out of energy—and out of ideas for moving forward.
Until Adah Campbell walks into her life. As sparks fly, both chefs have to decide if they are willing to make sacrifices…or if it's really too many cooks in the kitchen.
Available at:
Rising from Ash by Jax Meyer
Phoenix Murray has had enough. Enough of her incompetent boss. Enough of her addict father always asking for money. Enough of the struggle to survive. So when her aunt offers her a job as a cook at the South Pole, she jumps at it. Even when she's asked to avoid casual sex to keep the peace in the tiny community.
Astrophysicist Ashley Bennett can't wait for her year at the South Pole. Not only will it allow her to focus on her PhD research, it's a key step in her plan to become a Mars colonist. Avoiding the complications of dating in a society that doesn't understand asexuality is a bonus.
When Phoenix and Ash meet, they can't help but push each other's buttons. Phoenix doesn't understand that her confident sexuality puts Ash on edge while Ash's curt formality triggers Phoenix's insecurities about her upbringing. But living at the bottom of the world means there's nowhere to run, and as they find common ground, their differences aren't nearly the hindrance they thought.
Available at:
Recipe for Love by Aurora Rey
A recipe for love:
One cup of homespun country farmer
Two dollops of hotshot city chef
A sprinkle of funky little restaurant
Increase the heat until romance sizzles.
Hannah Little doesn't have much use for fancy chefs or fancy restaurants, but that's exactly what Three Willows Farm needs to survive. When a local restaurant wants to feature her produce, she's thrilled. But the contract means working with an egotistical, and (let's face it) drop-dead-gorgeous head chef from New York City.
Chef Drew Davis can't wait to run her own kitchen. If taking a job at some trendy farm-to-table restaurant in the middle of nowheresville will get her there faster, she's on board. She has no intention of staying though, and that means the feisty farmer who keeps trying to tell her how to do her job can't be anything more than a pleasant distraction.
Available at:
A Taste of Love by Clare Lydon
Single since forever, Natalie Hill has all but given up on love. She's convinced herself and everyone else she wants a quiet life. But if a tall, dark and gorgeous stranger turned up on her doorstep, her plans might change…
Enter Ellie Knap, who's jump-starting her life in the Cotswolds after bailing on her relationship and her career. Her plan? To open an ice cream shop and melt into the village.
When the two meet it's far from love at first sight, but then slowly, they become friends. Then one night, on a moonlit bridge, everything changes… But can Ellie pack up her old life in time to embrace the new? And can Natalie hold on tight when her quiet life suddenly gets deafeningly loud?
Available at:
Veritas by MJ Duncan
Working as a chef aboard a private yacht might not seem like a vacation for most people, but to Lauren Murphy, a highly-regarded sous chef at a top New York restaurant, the opportunity to spend seventeen days in the Virgin Islands, sailing from one tropical location to the next, while having complete freedom to create her own menus is a dream come true.
Enter Grey Wells, the owner and captain of the Veritas, and the most complicated person Lauren has ever met. Cold and distant one minute and then cautiously friendly the next, Lauren is compelled to get to know her better. What happens when she does, however, is enough to change both of their lives forever.
Available at:
How Sweet It Is by Melissa Brayden
Molly O'Brien is a sweetheart. Her friends and neighbors all think so. While she enjoys her quiet life running the town bakeshop in Applewood, Illinois, she wonders if there could be more. After losing the love of her life four years prior in a plane crash, Molly thinks she's ready to navigate the dicey dating waters once again. However, you can't always pick who your heart latches on to. When Jordan Tuscana, the beautiful younger sister of her lost love, returns to town, Molly finds her interest piqued in a manner she wasn't prepared for.
As secrets are uncovered, Molly and Jordan must figure out how to navigate the difficult terrain of their multi-faceted relationship. Especially when something much deeper seems to be bubbling between them.
Available at:
Sweetest Thing by Natasha West
Robyn Vincent bakes. It's the only thing in her life that feels good, feels like control. Until almost by accident, she ends up as a contestant on one of the biggest cookery shows in the world, 'Bake It!' Now she's wildly out of her comfort zone, baking under the watchful eye of mean judges as well as a national audience. If that wasn't bad enough, there's also her main competitor, Jodie Jacobs. She's seriously skilled, cold as ice, and worst of all, sex on a stick.
However, when the competition heats up, so do things between Robyn and Jodie. And not just on the set… But are they a recipe for disaster? Or is the attraction between them the icing on the cake?
Available at:
For the Love of Cake by Erin Dutton
Maya Vaughn, the hottest young pastry chef to emerge from the reality television machine, enjoys spending time with men and women alike. When she takes a turn as a judge on the very show that launched her career, she expects to find a nice change of scenery and a little diversion.
A late-bloomer at forty-two years old, Shannon Hayes is finally on the precipice of achieving her dreams. She has one shot to prove she can compete with chefs half her age with much more experience. Engaging in a fling with a judge fourteen years her junior would almost certainly kill that chance.
Available at:
Leave a comment
Leave a comment and let us know which book you'll be reading for the "character works in the food industry" category!