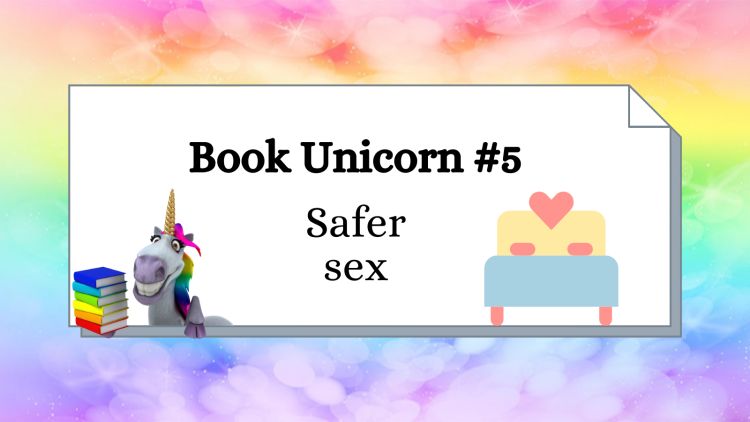 For this week's Book Unicorn post of the Sapphic Book Bingo, read a sapphic book in which the characters practice safer sex. Maybe there's a scene in the book in which they talk about safer sex, or we find out they've gotten tested for STIs (sexually transmitted infections) before sleeping together, or we see them use dental dams or condom-covered sex toys, etc.
As I mentioned in a post that I wrote for the Ylva Publishing blog a few years ago, sapphic romances and erotica rarely depict safer sex practices. The characters never seem to worry about contracting sexually transmitted infections, even if they have only just met and don't know each other's sexual history.
I get that it can interrupt the buildup and flow of a steamy scene, but as an author, I try to find a way to incorporate it, especially if I'm writing a story in which one of the characters had a lot of one-night stands in the past.
P.S. I've been asked why I use the term "safer sex" instead of "safe sex." Calling it "safe sex" would be misleading because sex can never be 100 percent safe, but following safer sex practices can make it, well, safer and lower the risk of STIs.
What is the Book Unicorn?
A quick reminder: The Book Unicorn bingo card is an additional bingo card that you can tackle in addition to the regular bingo card or by itself. The goal is to read one book for each of the 12 squares of the Book Unicorn card. Each square represents a harder-to-find theme.
I'll post book suggestions for one Book Unicorn category each month.
Download your Book Unicorn bingo card
If you haven't done so already, download your Book Unicorn bingo card here. The PDF is clickable, so you can fill in the titles of the books you read on your computer, or you can print it out and fill it in by hand.
15 sapphic books that include safer sex
Here are my 15 book recommendations for the "sapphic books that include safer sex" category:
Falling Hard by Jae
A womanizing surgeon falls hard for a single mom in this lesbian medical romance.
Dr. Jordan Williams devotes her life to two things: saving patients in the operating room and pleasuring her latest conquest in the bedroom. Her idea of commitment is spending a few hours together in bed.
Single mom Emma Larson is Jordan's polar opposite. Family and fidelity mean everything to her. After an ugly divorce from her wife, a plastic surgeon, she and her five-year-old daughter move in next door to Jordan. While she finds Jordan undeniably attractive, falling in love with another womanizing surgeon is the last things she needs.
When a bad fall leaves Jordan in need of assistance, Emma decides to help her while she recovers.
Could those six weeks turn out to be the beginning of a happily ever after, or will they both end up with a broken heart?
Available at:
Chasing Dreams by A. L. Brooks
Powerful venture capitalist Claire Pressley is done with stressful New York and has set her sights on a "treechange"— renovating a homestead in Eagle Cove, Oregon to make a gorgeous guesthouse.
Her plan isn't quite so simple when it turns out Eagle Cove's beloved town librarian Ruby Jordan had been saving to buy the homestead herself. Worse, Ruby had some grand, beautiful dream to turn it into an animal shelter.
Claire couldn't look more like a villain in her new town if she tried. Now she has to find a way to make peace with the locals, as Ruby furiously works out a Plan B for her animal shelter.
But even as the hot-headed women keep clashing, it's hard not to notice their sizzling chemistry, and how attractive they find each other.
It seems unlikely they'll even manage to be friends at this rate. And being more than friends…that would be just ridiculous! Right?
Available at:
Get It Right by Skye Kilaen
A butch lesbian parolee. The pretty pansexual nurse who got away. Is this their second chance at a happily ever after?
Finn is finally out of prison, which is great. Having no job, no car, and no place to sleep except her cousin's couch? Not so great.
Plus, her felony theft conviction isn't doing wonders for her employment prospects, so she can't afford her migraine meds without the public clinic. The last thing she ever expected was for the gal who stole her heart to come walking down that clinic's hallway: Vivi, the manicure-loving nurse who spent two years fighting the prison system to get proper medical care for her patients, including Finn.
Finn could never believe she imagined the attraction and affection between them. But acting on that in prison, especially as nurse and patient, had been a serious No Way. She's had eight months to get over Vivi, who abruptly left her job without saying goodbye. Finn is over it. Honest! It's totally and completely fine.
Except Vivi, here and now, doesn't seem fine. And Finn couldn't live with herself if she didn't try to help.
Is fate offering Finn a second chance? Or is finding love as likely as finding a job with health insurance?
Available at:
Heart Failure by Chris Zett
Dr. Jess Riley's life is perfect, ticking all the boxes—successful cardiologist, newborn daughter, and a luxurious condo. That is, until she suddenly collapses from acute heart failure. Her entire world crumples along with her exhausted body.
Jess is forced to face facts—she can't keep working endless hours, and she'll have to move back home to recover.
To her shock, her mother has already taken in Lena Walker, a struggling artist who isn't a stranger to heartbreak either.
At first, an unimpressed Jess resents Lena's cheerful presence. Gradually, though, the two women form a tentative friendship over tai chi, picking fruit, and evening walks with the baby. A sexy massage leads to friends-with-benefits fun. But is it all too soon? Should two barely mended souls try to risk a future together?
An enemies-to-lovers lesbian romance about daring to open your heart.
Available at:
The People We Trust by Donna Jay
When Soraya Jansen took over the exotic Libellule's from her boss, she understood two things: The beauty parlour offers certain "extra" services that need to be handled with discretion. And there's a strict no-fraternising rule between staff or clients.
But Soraya's in charge now and can bend the rules to suit her management style. Besides, no one will get under her guard—not the ex-employee she allows back to work, the flirty new hire, or the hot police officer client who definitely shouldn't be so interesting given they're on opposite sides of the law.
So why, after forty years of protecting her heart like a fortress, is Soraya suddenly having the pesky urge to lower her walls and take a chance? Maybe the no-fraternising rule was a good idea after all.
Available at:
No Rings Attached by Rachel Lacey
From award-winning author Rachel Lacey comes the second installment in the Ms. Right series: a captivating romance about a reluctant bookseller finding love in unexpected places.
Lia Harris is tired of being the odd one out. She's never quite fit in with her uptight family, and now that her roommates have all found love, she's starting to feel like a third wheel in her own apartment. Fed up with her mother's constant meddling in her love life, Lia drops hints about a girlfriend she doesn't have. But with her brother's London nuptials approaching, she needs to find a date to save face. Lia turns to her best friend, Rosie, for help, and Rosie delivers—with the fun, gorgeous Grace Poston.
Grace loves to have a good time, hiding her insecurities behind a sunny smile. Her recent move to London has provided her with a much-needed fresh start. Grace isn't looking for love, and she hates weddings, having weathered more than her fair share of heartache. Friendships are different, though, so for Rosie's sake, she reluctantly agrees to pose as Lia's adoring girlfriend for the wedding festivities.
Both Grace and Lia are prepared for an awkward weekend, complete with prying family members and a guest room with only one bed. As it turns out, they get along well—spectacularly, in fact. Before they know it, the chemistry they're faking feels all too real. But is their wedding weekend a fleeting performance or the rehearsal for a love that's meant to last?
Available at:
The Shaded Parlor by Nanisi Barrett D'Arnuk
Mistress JuliAnn Clayton owns one of the most renowned bars and alternative restaurants in the area. But when she allows her staff to talk her into listing herself in the "Flog-a-Dom" auction to benefit the LGBTQ Pride Clinic, she's  sure something will go wrong. But with an audience watching and the Dungeon Master officiating, how bad could it get? And there's always her vanilla lover, Dr. Shelley ready to alleviate any injury, real or imagined. With a starting bid at five thousand dollars, it will definitely raise money for the Clinic. But when the bidding gets out of hand, will it open all those doors JuliAnn has spent fifteen years trying the lock closed? Will the memories sink her back into those dreaded days that even millions of dollars haven't erased?
When the mystery bidder turns out to be the Mistress who abandoned her fifteen years ago; the one JuliAnn swore she'd never go back to, her memories come crashing down on her. Can she fulfill her promise to help the Clinic, or will the past throw her bar, her restaurant and her reputation into chaos?
Available at:
No Strings by Lucy Bexley
Fun is the one thing Elsie Webb takes seriously. Though she'd be having a lot more of it if Haelstrom Media paid her enough to actually get out of debt. She's determined to hold out on contract negotiations for her kids' television show Fangley Heights until she gets what she deserves. There's only one problem, the head of the network just died and left her future more uncertain than ever.
Forty-eight hours and one funeral–that's all Jones Haelstrom has to get through before she can return to her life in LA that's as ordered and sparse as an IKEA showroom. When she steps in as CEO of her father's media company, Elsie Webb is her first problem to deal with. Elsie ends up challenging Jones in ways she never could have predicted, starting with an attraction neither can avoid.
As their attraction teeters on the edge of something more both agree to keep it casual. A no-strings agreement and disclosure to HR should be enough to keep things between Jones and Elsie from getting tangled, right?
Available at:
The Headmistress by Milena McKay
A chance encounter. An unforgettable night.
And back home, trouble is brewing on the remote island of Three Dragons, where nothing feels like it used to. Alone and lonely, Sam Threadneedle wishes upon a star, hoping for change. But when said change comes, it's with a roar and not a whimper.
Torn between loyalty and lust, Sam is forced to re-evaluate everything.
Can she and the Home of Dragons withstand the storm that is Magdalene Nox, or will any and all crumble?
Not everything is as it seems, and as she slowly unravels the mysteries behind the centuries-old walls, Sam realizes that home is much more than oak and stone.
Available at:
Show Off by Renee Dahlia
Burlesque dancer Charlie Kent should be happy performing and hooking up with sexy people now the pandemic is over, just like before. Instead it feels empty. The audience is always missing Elle, her friend-with-benefits. They were just casual, but Charlie now realises she wants more. Much more. When Elle arrives at the Seraph's Burlesque Club for business only, Charlie is not going to let this second chance go to waste.
Elle's interior design business has boomed since the pandemic with so much work she's barely thought of the sexy-as-sin burlesque dancer who she used to hook up with… Except when she's lonely all night. But she can't be just friends anymore, so she stays away. When she is commissioned to refit Seraph's Burlesque Club, Elle bumps into Charlie, and all her best intentions go out of the perfectly dressed window.
Elle must keep her professional reputation intact, and can't allow her attraction to Charlie to derail her work and her need for love. . . Unless she can have it all?
Available at:
Missed Connection by Stephanie Shea
Avery Dimaano is good at most things. No, she's better. She has amazing friends, a family that's only slightly more dysfunctional than others, and an affable way of strutting through the world that makes her the quintessential person for the role of HR at Gia, San Francisco. There's only one problem, she has no one to spend her weekends with.
Travel influencer Ky Logan doesn't play by anyone else's rules. Her life of jet-hopping across the world is the envy of two million followers, even if her family doesn't exactly approve. It's a simple, adventurous existence with no one to answer to but herself.
Six months after her trip to Sydney, Ky still can't stop thinking about the woman she sat next to on the plane. Avery. Beautiful, clever, straight Avery. When a leak in Avery's apartment leads them to share a bed for two weeks, lines inevitably become blurred, especially after the kiss they shared in San Francisco International.
Maybe Ky is the person Avery has been waiting for, even if she's never considered being with a woman. But is Ky's time with Avery just another one of her vacations?
Available at:
Leveled by Serena J. Bishop
After having her travel papers stolen to research in India, Dr. Persephone 'Perse' Teixeira succumbs to living in her sister's basement and working in retail. Just as she's about ready to hit rock bottom, Perse is offered an opportunity to teach anthropology and history at Chesapeake Bay University. Perse is thrilled; now her only worry is managing her anxiety. However, that changes once she meets a science professor, Dr. Stefanie 'Stef' Blake.
Stef is cute, quick-witted, and a touch neurotic. She's also very interested in dating Perse. When Perse declines her romantic advances because it is imperative that she focuses on her new job, Stef explains she has a relationship system that consists of six levels, which will ensure perfect compatibility before marriage. It's casual, slow, and, really, what are the odds of getting to level six?
Perse is amused, yet intrigued by Stef's analytical approach, and agrees to go out with her. But logic only goes so far and when feelings start to grow, Perse must contend with her anxiety issues, because history has taught her nothing good comes out of falling in love.
Are Perse and Stef compatible enough to get through the levels? Will Perse's past cause her to run before they can find out? Or did Stef create the perfect system for happily ever after?
Available at:
Table for Two by Kate Gavin
Trying to take a few brief moments away from a stressful situation, Reagan Murphy snags the last table at a bustling downtown lunch spot. When another woman walks into the crowded restaurant seeking a table, Reagan offers to share hers.
Jillian Jacobs just wanted a quick bite before she'd have to focus on a new and unreasonable deadline. Irritated by her empty stomach and by the prospect of waiting, Jillian resentfully accepts a seat at a stranger's table.
Their shared lunch is filled with hostility, snide comments, and shades of derision from Jill and Reagan finds herself relieved at the end of the encounter.
But then the two are thrown back together when Jill becomes a catering client of Reagan's. Soon navigating a professional relationship becomes complicated as their attraction begins to smolder. Will it get in the way and cause even bigger problems? Or will this be the start of something they've both been looking for all along?
Available at:
Pausing by Renee MacKenzie
Jordy Chapman is the Emergency Service Coordinator at Cypress Haven mental health facility in Naples, FL. She sees so much instability at work that she has adopted a zero-tolerance policy in her personal life. Jordy is content to run, hanging out with her best friend Steph, or to stay home and snuggle with her cat, Sammie. Romance the last thing on her mind.
Keira Yeager's family owns an upscale furniture store in Naples. A family tragedy and personal heartbreak has her concentrating on working at the store, or swimming in the pool behind her house. When Keira orchestrates a generous donation of furniture to Cypress Haven, she has no idea how this one event will change her life.
When the two meet, they hit it off immediately and things heat up and turn passionate. Will the Yeager family's anguish and misunderstanding threaten their new relationship?
Available at:
Awakenings by Susan X Meagher
Despite the questions of her roommates and the objections of her fiance, Jamie Evans persists in enrolling in a college course that seems an odd choice for a young woman of her background. What no one can know is that the course, The Psychology of the Lesbian Experience, will propel Jamie onto a journey of self-awareness and realization. For the required fieldwork, Jamie is paired with the darkly beautiful Ryan O'Flaherty – a boldly "out" and sexually adventurous lesbian. This somewhat unlikely pair, slowly, and sometimes painfully, becomes aware that what they feel for each other is more than just friendship. The temptation to live life on her own terms is great, but so are the costs, as Jamie struggles to break out of her establishment-fashioned, pre-ordained mold. If she can summon the courage, however, she might find out that love, and life, have so much more to offer than she ever dreamed.
Available at:
Leave a comment
Leave a comment and let us know what book you are reading for the "sapphic books that include safer sex" category!