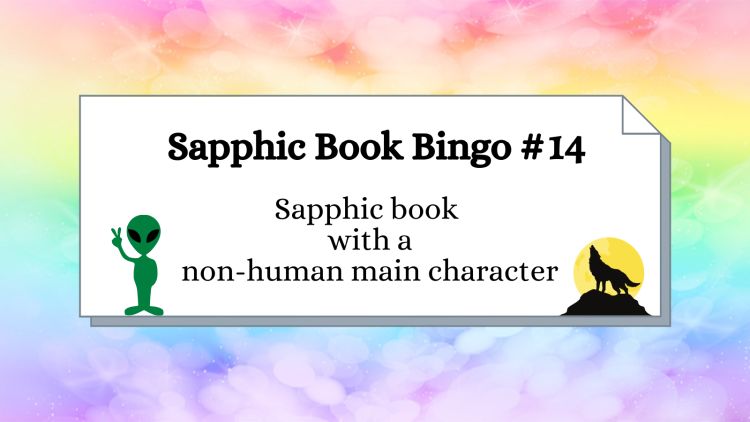 For this week's Sapphic Book Bingo square, read a sapphic book with a main character who is not human.
It could be a book about a lesbian vampire, a bisexual werewolf, a pansexual shape-shifter, a queer alien, or any other sapphic main character who isn't human.
Usually, you'll find those characters in all subgenres of speculative fiction such as fantasy, science fiction, paranormal romance, urban fantasy, dystopian or post-apocalyptic fiction, etc.
How to get started if you are new to Sapphic Book Bingo

If you have only just discovered the Sapphic Book Bingo, you can still join us! Read up on the rules, download your book bingo card, and take a look at my suggestions for the "sapphic book with a non-human character" square below.
If you'd like to get more book suggestions, talk about the books you are reading, and chat with other readers participating in the Sapphic Book Bingo, join either my Facebook group for readers or the Goodreads group for the Sapphic Book Bingo.
15 recommended sapphic books with a non-human character
Here are my book recommendations for the "non-human character" square of the Sapphic Book Bingo:
Good Enough to Eat by Jae & Alison Grey
Robin's New Year's resolution to change her eating habits is as unusual as she is. Unlike millions of other women, she isn't tempted by chocolate or junk food. She's a vampire, determined to fight her craving for a pint of O negative.
When she goes to an AA meeting, hoping for advice on fighting her addiction, she meets Alana, a woman who battles her own demons.
Despite their determination not to get involved, the attraction is undeniable.
Is it just bloodlust that makes Robin think Alana looks good enough to eat, or is it something more? Will it even matter once Alana finds out who Robin really is?
Available at:
Lead Me Astray by Sondi Warner
Welcome to Overlay City in New Orleans—a shadowy in-between where the paranormal and the real world meet. Its newest resident: Aurie Edison.
A victim of a hit-and-run, Aurie now exists as a ghost in this mysterious realm. Convinced there is more to her death than what she remembers, Aurie sets out to uncover the truth. She soon finds herself in the company of Mys, a psychic empath, whose need to help others trumps all else, and Zyr, a werewolf detective able to work both the human and occult worlds.
As they begin to piece together the events leading up to her death, Aurie can't deny the deeper connection developing between them. Yet, with each new secret suggesting a more sinister danger at play, they realize they may not make it out (dead or) alive.
Undeniably queer and devilishly sexy, Lead Me Astray will take you to the shadowy depths of New Orleans and never let you go.
Available at:
The Lonely Vampire by Ann Greyson
This folklore horror style novel is about Ileana Vladislava, a vampire who flees Transylvania in 1578 in the midst of eradicating vampires from the region and reestablishes herself in Newcastle upon Tyne, a city in Tyne and Wear, England. Hundreds of years later, Ileana lives out a lonely existence in Wightwick Hall, a castle within the Jesmond Dene woodland valley. When Ileana sees the young and beautiful Myrna Ivester at a public library, there is something about her that sets her apart from anyone else. She decides to take a risk and transform Myrna into a vampire believing it is her destiny. With the impending threat against the vampires by Claymor, a vampire hunter in the form of a grudge bearing werewolf, the war between good and evil finds a new battlefield in Newcastle upon Tyne.
Available at:
The Warrior Within by Brooke Campbell
Libby struggles with a debilitating disease and is resigned to singlehood. When she goes out one evening with co-workers, the last thing she expects is to stumble into the woman of her dreams: Jo.
It isn't long until she falls head over heels for her. But Jo's stunning revelation could spell the end of their new relationship, and as if that wasn't bad enough, the 150-year-old half-vampire has powerful enemies – including her father.
Entering Jo's dangerous world, Libby is drawn into a web of secrets and danger. Can she overcome the seemingly insurmountable odds and survive?
Available at:
Cold Blood by Genevieve McCluer
In a single night, Kalila lost everything—her wife, their son, and even her life. Now, forced to live as the very monster she despises, she's hunting down the vampire responsible, no matter how long it takes, or how many other vampires she has to kill along the way.
Dorenia is all too familiar with Kalila's story. Her own vampiric nemesis has tormented her for over a century as retribution for his mistake in turning her. As an information broker in Toronto, the city of fiends, she's managed to stay one step ahead by gathering all the intel she can and never staying in the same place very long.
When Kalila inadvertently saves Dorenia's life, the two strike up an unlikely alliance. Maybe together, they'll have a chance of taking down the vampires who have eluded them all these years. And maybe, in each other, they can find a love worth living for.
Available at:
Shattered by Lee Winter
Earth's first black, lesbian superhero has had enough of humanity and disappeared. A stubborn tracker is sent to bring her home…any way she can.
Shattergirl is a brilliant but aloof black, alien superhero who can hurl and destroy large objects. The world reveres her and other guardians like her, yet she's suddenly refusing to save people and has suddenly disappeared.
Lena Martin, the street-smart human tracker with a silver tongue and a disdain for the rogue guardians she chases, has only days to bring Shattergirl home.
As the pair clash heatedly, masks begin to crack, and brutal secrets are exposed that could shatter them both.
An award-winning, opposites-attract, lesbian science fiction story about embracing the special people who pass through our lives and change us forever.
Available at:
The Perfect Match by Milena McKay
A cupid's life is hard.
There are so many rules.
Rule Number 1: Graduate from the Cupids' Academy.
Rule Number 2: Attend the Annual Cupids' Convention in Las Vegas.
Rule Number 3: When shooting your arrows and bringing love to people, strive for the Perfect Match.
When junior cupid Abby Angellini, fresh from Cupid Academy, heads to Sin City, she runs smack into her idol. Sabine Goddard is the one cupid who has a faultless record when it comes to slinging arrows and bringing people together. The stats for her own love life, however, aren't nearly as great.
Sparks fly as Cinnamon Roll meets the Queen of the Perfect Match and the word quiver takes on an entirely new meaning.
Available at:
Racing the Dawn by Sandra Barret
Jade Murphy is bored. A century and a half of hopping from night job to night job will do that to a vampire. After narrowly escaping a house fire, she's unexpectedly intrigued by gorgeous firefighter Beth Jenssen, and her undead existence might just be perking up a bit.
When her neighbor's illegal side business triggers Jade's serious anger management issues, things start to get complicated. Running around the streets of Boston trying to extricate herself from the mess she's made, while keeping Beth's attention on anything other than her vampire foibles, isn't exactly a recipe for romance.
Undead existence still too boring, Jade?
Available at:
All That Remains by Sheri Lewis Wohl
Search and rescue volunteer Johnnie Lancaster and her dog, Cougar, serve their community by bringing home the skeletal remains of the lost no one could save. But sometimes being the best at what she does isn't good enough. Nothing has trained her for a serial killer who appears to chew on the bones of their victims, and it's not long before Johnnie is convinced the killer walks by day as a human and hunts by night as a werewolf.
Forensic anthropologist Shantel Kind has never seen a case like this one. That doesn't mean she's prepared to believe in a preternatural killer. As she works closely with Johnnie, their attraction is impossible to deny, but the death toll keeps rising, and time is running out. They might have to risk their lives—and their love—to stop a werewolf.
Available at:
Outsider by W. Freedreamer Tinkanesh
Rooted in the music scene of London, UK, and inspired by a life-long passion for music and a peculiar interest in private dark sides, 'Outsider' is a study of human emotions, disturbed by vampires and punctuated with rock music.
Sid is a medicated musician who has lost her rhythm, but strangely is finding her voice as a writer. Her involvement in this story starts when she attends one of Second Look's gigs for the first time. The rock band inspires her to write short stories sprinkled with monsters.
For Joy, the bored blood-drinker, it might have started when a powerful vampire turned her into a creature of the night at the dawn of the 20th century. Death would probably claim that it started at Sid's birth, when she thought this soul would make a perfect travelling companion. For Toni and Dee-Dee, it was the night the mighty predator made the unwilling musician into an extremely angry fledgling. The entity known as Life, meddling with mortals' private lives and nights, clinched her own private deal.
The curious Sid wonders and inquires about vampires. The cynical Joy rediscovers the art of feeling and finds herself willing to protect her mortal lover, even against an over-righteous vampire.
Is everything as it seems? Is everyone as they appear? With offbeat sense of humour and twisted realism, the author guides you down a trail of bodies (alive, dead and undead) until the final showdown.
'Outsider', a story tainted with mental disorders, will appeal to lovers of dark fantasy and supernatural thrillers, and readers curious of alternative lifestyles.
Available at:
The Anti-Quest by Angel Martinez
Brave paladin. Royal princess. Fierce dragon. Simple. Being all three at once? Way too complicated.
Paladin Snillek's mother was human and ruled a planet. That's about the extent of her knowledge since they didn't see each other much. When her mom dies in a freak accident, her father tells Snillek she's inherited the title, and she has to learn how to pass as the mostly human Princess Siel for a planet she never thought about much. The dresses alone are horrifying and the courtiers aggravating.
​In a moment of frustrated rage, Snillek's princess persona slips and frightened palace staff misinterpret what they see. Now Paladin Snillek has been called upon to rescue Princess Siel…from herself.
Gruyere wants desperately to journey into the wilds of Tarribotia, but it's too dangerous to go alone and so far, everyone's laughed at her for suggesting it. When she spots a Dzedek paladin sulking in a tavern, she offers her services, hoping to pass herself off as a rogue guide.
Two women with secrets and possibly opposing goals head out into the hinterlands of a planet neither one of them knows well. They might both make it back by Winterfest if nothing eats them first.
Available at:
Captive in the Underworld by Lianyu Tan
In the land of the dead, Queen Hades' word is law. Hades gets what she wants–always–and what she wants is a certain goddess of the springtime.
Innocent Persephone chafes beneath her mother's hawkish gaze and mercurial temper. Demeter has rebuffed all her daughter's suitors, but she is not yet satisfied; she strives to crush Persephone's spirit.
Still, when Hades pulls her into the dark realm of the underworld, Persephone longs for the world above, even if it means an eternity under her mother's thumb.
With her tears and pleas for freedom ignored by pitiless Hades, Persephone must learn to satisfy her keeper in all ways, lest she suffer the consequences.
And though she cannot deny that something blooms within her, something forbidden, Persephone despairs of ever feeling the sun upon her skin once more.
No matter the cost, Hades intends to keep her.
Forever.
Available at:
Every Dark Desire by Fiona Zedde
Naomi lives an almost idyllic life in Jamaica. She has a daughter who adores her, a close-knit community that looks out for its own, and paradise as her playground. But she secretly longs for the touch of other women. It is a longing she finally gets to satisfy during a trip into the tourist heart of Jamaica. When she surrenders to the seduction of a compelling stranger, however, she is savagely transformed into Belle, a ruthless beast whose hungers know no bounds.
Now Belle is part of a vampire clan, reveling in an existence that lays bare the dark hungers within every soul. Part of her hates her new world, but another part glories in it and in the explosive sexual connection she shares with the powerful head of the clan. But as magical as her new world is, it also has its dangers. Dangers that threaten the people she loves.
Available at:
Tangled Ribbons by Carren Strock
A novel of Earthly—and otherworldly—relationships.
Unexplained sexual longings, and fragments of unidentified images, consume Jenna's Earth-life, and she dies with those haunting questions unanswered—but for her, death is not the end.
Although Jenna finds herself on the Celestial Tableland—a land of Spirits—her existence is interwoven with Bev's, a woman in her last Earth incarnation. Bev helped Jenna to die, and now Jenna must help Bev to meet Anne, her soul mate, as the two women are destined to become a Perfect Pairing. But Cornelia, a vengeful Spirit, will stop at nothing to destroy this pairing.
Unless she can discover the cause of Cornelia's rage, Jenna will be unable to help Bev. But Jenna's investigation only leads to more questions: Why is Cornelia out to destroy this Perfect Pairing? Why is Cornelia's past hidden from her? Why do no other Spirits see Cornelia's destructive behavior? And what do the other souls who call out to Jenna have to do with Cornelia?
Eventually, Jenna's search leads her to some surprising answers—and to a forgotten past of her own.
Available at:
Reaping the Benefits by EJ Noyes
Morgan Ashworth isn't having a good day. The award for Minion of the Year is slipping out of reach, and she has to administer an afterlife package to one of her human employees. An employee she's attracted to. An employee who'll soon know Morgan isn't quite what she seems.
Jane Smith was having a great day. Until her hot boss dropped a bombshell. It's time for Jane to complete the questionnaire to decide where she'll spend her afterlife. Oh, and her boss is immortal and also Death's Head Minion. Yes, Death, as in the Grim Reaper.
Jane decides to bargain—if Morgan needs her to sign the afterlife document, she can use her unlimited resources to help Jane with her bucket list. Seems straightforward. Except for the matter of their mutual attraction, and the fact one of the items on Jane's list is "Sleep with my boss."
The more time Morgan and Jane spend together, the more they realize mutual attraction barely scratches the surface. But can Jane heal the broken heart Morgan has nursed for centuries? And will Morgan risk loving, then losing, another mortal woman when she knows it means an eternity of heartbreak?
Available at:
Without a Front: The Producer's Challenge by Fletcher DeLancey
Alsea is fractured in the aftermath of war. So is its leader. Though devastated by a personal loss, Lancer Andira Tal must somehow stitch her world together and move it forward when all the rules have changed. Every decision is fraught with risk, and her enemies wait for her to stumble.
During a global debate over alien technology, Tal stuns the world when she accepts a challenge from her most vocal critic in the producer caste. By trading the staff of office for the tools of a field worker, she hopes to swing the producers to her side.
In the peaceful fields of Hol-Opah, Tal finds both a shocking secret and a lost dream. It is here that she will take her greatest risk—and give her enemies their greatest weapon.
This sequel to The Caphenon moves into a deeper exploration of Alsean culture, while stirring up a mixture of romance, humor, and political intrigue.
Available at:
Leave a comment
Leave a comment and let us know what book you'll be reading for the "non-human character" category!