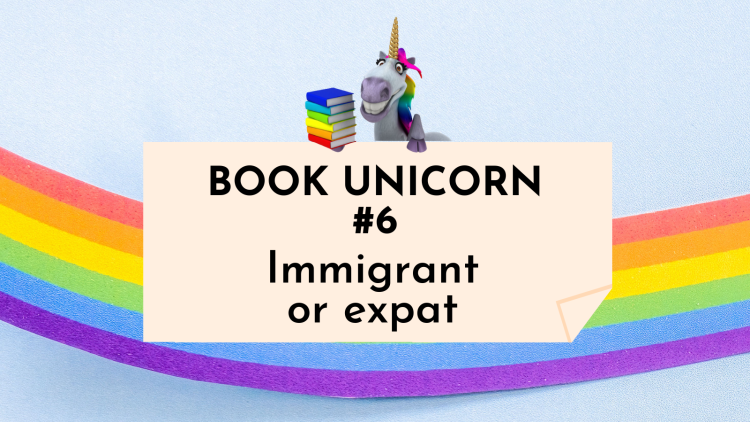 This month's Book Unicorn category of the Sapphic Book Bingo features sapphic books with a main character who's either an immigrant or an expat.
Both expats and immigrants are people who left their native country and now live elsewhere. The difference between an immigrant and an expat is that immigrants move from the country of their birth to another country to live there permanently, while expats (expatriates) have relocated abroad only temporarily.
But sometimes, the situation changes, so someone can start out as an expat and then stay permanently, as it happened in my novel Shaken to the Core.
15 sapphic books with a main character who's an immigrant or expat
Below, you'll find 15 recommended books featuring a main character who's an immigrant or an expat:
Shaken to the Core by Jae
Kate Winthrop, the only child of a wealthy shipping magnate, has the course of her life charted for her by her parents. She's expected to marry well and produce a successor to the Winthrop empire. But Kate has a very different path in mind. Her true passion lies with photography—and with women.
Alone in the city after losing her brother, Sicilian immigrant Giuliana Russo starts working for the Winthrops as a maid. Despite their different social status, Kate and Giuliana become friends, much to the dismay of Kate's parents.
As the connection between the two women grows, a devastating earthquake hits San Francisco and ignites fires that sweep through the city for three days and nights.
Will the disaster shatter their tentative feelings for each other, or will they find the courage to save each other's lives—and their hearts?
Join Kate and Giuliana on a journey of danger and discovery in the action-packed historical romance Shaken to the Core, set against the backdrop of the 1906 San Francisco earthquake.
Available at:
Both Ends of the Whip by Brenda Murphy
Octavia Vargus had everything she wanted at Rowan House, Skye's most exclusive pleasure house, except the one thing she craved. Longing for the freedom to explore both sides of her nature, she leaves Rowan House and her mistress, for a new start in Italy with her partner Bridget Murray.
Vivian Abiola is a connection to a past Octavia would like to forget, and a love she never expected to see again. After Octavia's past relationship with Vivian is exposed, Octavia and Bridget explore the limits of their desires with Vivian. When an arsonist threatens to destroy their vineyard, past loyalties and secrets endanger their lives, and the three women's relationship. Their love may be the only thing that helps them survive the firestorm of doubt, intrigue, and jealousy.
Available at:
Score to Love by Johana Gavez
In the field, hate can easily turn into love.
Antonia Carvalho left her native Brazil in search of a dream: a professional soccer career and better opportunities for her and her brother. The plan is simple; score as many goals as possible with the Houston Starlight and become one of their top players. She won't let anything get in the way. Not even Camila Sánchez, her attractive but annoying teammate.
Camila Sánchez spent all her life in the shadow of her father, a former soccer star and coach. There's no time for distractions as she fights to show everyone she deserves her spot on the team. Playing for the Houston Starlight is her opportunity to shine. She won't let Antonia steal her spot on the team, no matter how much chemistry they have in bed.
Available at:
The Sting of Victory by S D Simper
Haunted by a history of horror and abuse, Flowridia, a witch with a tender heart, finds a second chance in the home of her kingdom's royal family. With employment comes friendship, and perhaps she has finally found a place to belong—until she catches the eye of Lady Ayla Darkleaf, a woman with enticing grace and a predatory smile. The corrupt world of politics consumes her, and Flowridia falls into a toxic love affair surely doomed for heartbreak. Yet when Ayla's legacy as a monster unfolds, Flowridia sees only the tender soul hiding beneath.
An ancient deity returns, hell-bent on restoring the world to its natural order, and Flowridia's kingdom is tasked to stop him. Caught in the ensuing clash of gods, her loyalties will be tempted at every turn—by family, by fate, and by the woman whose claws grip her heart.
Available at:
Last Chance Chicago by Diana DiGangi
Attorney and recovering cocaine addict Sam DiCiccio didn't think she was ever going to see her ex-wife Amy Igarashi again, much less wind up defending her against felony insider trading charges.
But Amy's been falsely accused, and Sam, who's still in love with her, can't bear to watch her take the fall for a crime she didn't commit. Amy is holding on to resentment from their broken relationship and is hesitant to let Sam back into her life. But that all changes when her assets are frozen by a judge, and Sam is the best and only lawyer she can afford.
As Sam and Amy pull the threads of the alleged crime, they begin to unravel a mysterious corporate conspiracy that runs deep and wide. But as the clock ticks faster each day, the chance to prove Amy's innocence and keep her out of jail begins to slip away.
Sam and Amy keep inching closer to the truth, but each step draws them closer to shadowy enemies and amplifies the heat between them.
Available at:
Of Light And Love by E.V. Bancroft
Carolyn Trent-Parker is one of her generation's best artists but after losing her wife two years ago, she can no longer paint. In fact, she doesn't want to do much of anything except hide away. Unwilling to move from her home but with no means of income, she's forced to get a lodger.
Laura Kingston-Lopez is heartbroken and disillusioned, and she heads to England to pursue her masters in animation. She needs a place to stay but isn't prepared for what she gets. Her new landlady, Caro, is unwelcoming, grumpy, and completely fascinating.
Opposites in every way, they push each other in unexpected ways. Can Caro rediscover her creativity? And even if she does, can Laura let go of her past so they can paint a new future?
Available at:
The Escape Artist by Judith Katz
Set in the brothels and gangster dens of Jewish Buenos Aires at the beginning of the twentieth century, The Escape Artist catapults us into the lives of Sofia Teitelbaum and Hankus Lubarsky.
Sofia, a nice Jewish girl from Poland, is lured away from home by Tutsik Goldenberg, a wealthy traveling businessman who claims to be a lonely Argentine diamond merchant in search of a wife. Upon arriving in Buenos Aires, Tutsik dumps Sofia at his sister's brothel.
Hankus, also a nice Jewish girl from Poland, is passing as a man. Having escaped the pogroms of Poland that killed her family, she lives her life as a handsome and mysterious magician and escape artist.
When Tutsik spots the talented juggler and acrobat Hankus he envisions success as his manager, seeing Hankus as the means to get out from under his sister's thumb.
Sofia and Hankus fall in love and their attempts to walk the tightrope of love, freedom, and independence are quickly put to the test.
Available at:
The Language of Light by Kathleen Brady
It's 1982, and China has just barely begun to open to the West.
When Lu McLean sells all her possessions and leaves Los Angeles to study Mandarin Chinese at the Beijing Language Institute, she imagines a life of serious scholarship and an eventual job as a translator at the United Nations. On the night of her arrival, Lu meets the captivating, Ming, a Chinese teacher at the institute. Still recovering from a failed ten-year relationship, Lu has vowed never to give her heart away again.
But as Lu struggles to balance Beijing's simple beauty with the confounding rigidity of ageless custom, her feelings for Ming deepen. She soon finds herself vacillating between letting herself love Ming and her escalating fears about the certain barriers that would prevent them from ever navigating a life together. Against the backdrop of China's Spiritual Pollution and a tightening cultural climate, it becomes clear that Ming cannot leave—and Lu cannot stay indefinitely. Events soon force Lu—and Ming—to balance the love that binds them against the social and political forces that threaten to tear them apart.
Available at:
Underwater Vibes by Mickey Brent
How to survive that pivotal moment when admiration turns to attraction?
Hélène Dupont, a scientific translator in Brussels, Belgium, cherishes two things: flowers and her cat. She writes bad poetry to help her survive her painful existence with her husband, until she is forced to undergo a radical lifestyle change. Sylvie Routard, a young Greek photographer, enters Hélène's world as her new private swim coach. During their daily lessons, Hélène's admiration toward Sylvie turns to attraction. As unsettling feelings hijack Hélène's mind and body, daydreams featuring Sylvie enter her world—even her poems. While the two athletes increasingly feel underwater vibes in the pool, Hélène questions her relationship at home, and everything else in life.
Available at:
Moon over St. Augustine by Renn Loraine
Meg doesn't believe in ghosts.  And yet…
One night in a foggy St. Augustine cemetery, Meghan Thomas is startled by a beautiful woman who seems to have stepped out of Florida's Spanish past. Stunned, but thinking the woman needs help, Meg follows her – only to discover she has disappeared.
The incident leaves Meg unnerved, but it's only the beginning of what happens next: faint footsteps in her apartment at night, the sound of small items scraping across surfaces, and furniture that seems to have moved of its own accord.
And then one day – among the graceful palm trees and historic buildings of the oldest city in the U.S. – Meg seems to be the only one who sees the sensual woman in the black mantilla and long red skirt moving through the ancient coquina streets. Meg follows, not knowing the way leads to a mystery – and the woman who will change her life forever.
Available at:
Casting Shadows by RJ Samuel
Kiran is still the only vision painter in Ireland but she cannot express her gift as she struggles with the consequences of its misuse. When everything she loves is threatened, she must protect her family by uncovering the history and secrets of the vision painters in Kerala. But there are those who will do what it takes to keep the truth locked away in the shadows of the past.
Available at:
Wildflower Words by Sam Ledel
Hazel Thompson prides herself on being a beacon of earnest goodwill in Cedar Springs, Utah, where she works alongside her mother as a cook in a raucous restaurant and dance hall. But lately, Hazel wonders if she hasn't clipped her own wings by always putting her family and neighbors first, leaving no time for her own wants.
Lida Jones, the daughter of roving Eastern European immigrants, treks West with her father in search of a better life on the rapidly developing American frontier. To help make money, Lida takes a job in the Pack Horse Library and gets to know the rowdy, tough residents of Cedar Springs. Getting close to anyone is a waste of time, though. She won't be here long.
Hazel and Lida can't help but get to know one another as Lida travels through on her route. When Lida's father begins to struggle at work, Lida fears she'll have to leave Cedar Springs—and Hazel—behind. But how can she when, finally, she's found a place, and a person, to call home?
Available at:
Heartlines by Simonetta Pastorini
Dianna Laydon is an actress starring in one of TV's top series, Treasure Hunt, but she has never gotten used to fame. In her heart, she's still the simple Southern girl who had moved to Los Angeles years ago to make her dream come true. She's also a control freak, a play-by-the-book kind of girl, and a totally rational person. Her life, though, is turned upside down when a new actress is cast as a recurring character in Treasure Hunt. Vivien Reese has spent her whole life under the spotlights, being the wild daughter of a renowned British director, and a famous actress herself since she was just eighteen years old. With her party-girl reputation and her go-with-the-flow attitude, she seems Dianna's polar opposite, so when the two girls meet sparks start flying, and not necessarily in a good way. But as they work together and they get to know each other, they discover that they might be more similar than they had initially thought, and more importantly, they're terribly drawn to each other.
Available at:
Beyond the Blue by TJ O'Shea
Numbers rule Dr. Mei Sharpe's life. She has no husband, one friend, two daughters, and three random meetings with the same woman within four weeks. Once is chance, twice is coincidence, but upon the third meeting, even Mei in all her empirical rigidness must admit that perhaps the universe is giving her a nudge. A nudge that lands her directly in the path of Lieutenant Morgan Kelly—an affable, charming detective for the Sheriff Department's brand-new cold case team working down the hall from Mei's morgue.
More golden retriever than hard-boiled detective, Morgan is determined to pull the asocial widow out of her shell. As the icy scientist warms to her cheerful new friend, an irrepressible chemistry develops, and Mei begins to realize she's perhaps a different number on the Kinsey scale than previously considered.
As Mei and Morgan struggle with guilt and grief, drama and desires, Mei finds her scientific austerity is no match for the universe and its nudges toward the startling revelation of what her heart really wants.
Available at:
Velvet in Venice by Karin Kallmaker
Artie Bryson came to Venice to finish her PhD. Five years later the PhD still isn't done, but life is okay. Leading guided tours of the magnificent city pays the bills. The days are all the same — until she seeks respite from the summer swelter in the Casino di Venezia cabaret.
Nikki Velvet has finally found her musical niche singing Postcards from America in a solo tour across Europe. Her bluesy, jazzy, sultry voice brings Artie back the next night. And the next…
The two Americans find they have a lot in common, but Nicki's gig in Venice ends in two short weeks. Not long enough for anything more than a bit of fun, right? One very old coin knows otherwise.
Available at:
Plain English by Rachel Spangler
When Claire Bailey left London to open her own art gallery in the tiny village of Amberwick, she'd hoped to make an honest go at simple living right up until the moment a shockingly attractive aristocrat rocketed o the road and knocked her world n its axis.
Pip has learned to play the part of a ne'er-do-well upper elite: charismatic, enigmatic, and a little bit erratic. Luckily, women tend to like that. After leading such a charmed existence, Pip finds that Claire's complete lack of interest in money or status sparks both curiosity and attraction.
Surrendering to both boredom and sheer chemistry, the two agree to an unconventional, no-strings, romantic adventure designed to provide them both a bit of freedom and entertainment. However, once released from the pressure to project perfect images of themselves, the walls they depended on for protection begin to crumble. Worlds blend and identities blur as their whirlwind romance quickly becomes more than they bargained for. Will their almost elemental attraction be enough to overcome the complexities rushing in from all sides? Or will the pressures they've both sought to escape force them to forge a new path neither of them had dared to dream of?
Available at:
Win books in the Pride Month Trivia
If you haven't discovered the Pride Month Trivia yet, check out this fun, month-long event! You can win books every day by answering a daily Pride Month Trivia question about sapphic books.
Leave a comment
Leave a comment and let us know what book you'll be reading for the "sapphic book with an expat or immigrant main character" category!