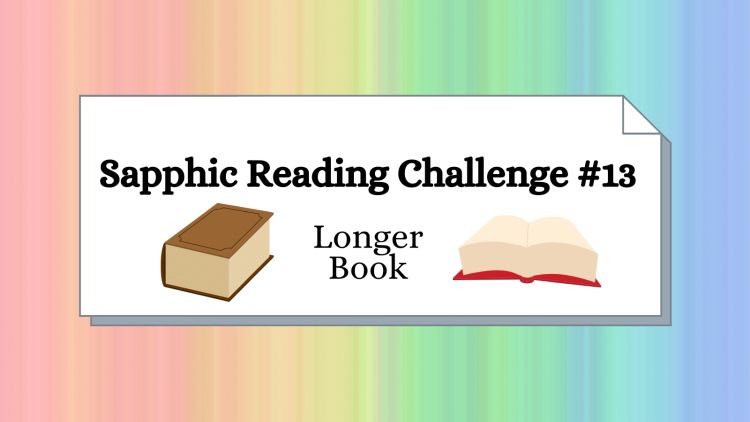 This week's Sapphic Reading Challenge category features longer sapphic books. Of course, "longer" is a pretty subjective term. For the purposes of this reading challenge, "longer" means any book that has at least 120,000 words.
Publishing professionals define the length of a book by its word count, not by the number of pages. That's because the page count can be misleading since the number of pages depends on the font, the font size, the margins, the page size, etc.
If you can't find the word count for the book you'd like to read, go for books that have at least 350 pages.
If you listen to audiobooks, pick one that has a length of 12 hours or more.
Read up on the rules of the Sapphic Reading Challenge
Before you pick a book for the "longer books" category, read up on the rules of the Sapphic Reading Challenge and download your PDF so you can keep track of the books you read this year.
Remember that you can either read one of the 15 books listed below or pick another sapphic book that is longer than 120,000 words.
15 sapphic books that are longer than 120,000 words
I put together a list of 15 long novels with sapphic main characters. I hope you find at least one you'll enjoy.
Damage Control by Jae (141,000 words; 370 pages; 17.5 hours)
An actress practically since birth, Grace Durand has finally made it in Hollywood. When a photo of her in a seeming compromising situation with another woman is plastered all over the tabloids, she fears for her career as a lead in romantic movies.
Desperate for a publicist who'll convince America that she's straight, Grace hires Lauren Pearce, one of Hollywood's leading PR agents, not knowing that she's a lesbian.
Lauren has dealt with PR nightmares for years, so doing damage control for one more rich, spoiled client shouldn't be a problem—or so she thinks. But the more time she spends with Grace, the more she realizes how different she is from her television persona.
Getting involved with her client is not in her game plan, especially since it would confirm the rumors and ruin Grace's career, but the attraction between them is growing as they run the gauntlet of the paparazzi together.
Available at:
Mosaic by Susan X. Meagher (396 pages)
When you're a single lesbian who'd prefer to be partnered, it pays to keep your eyes peeled―even at work.
Kelsey Maliar blew into Summer Hayes' shop on a frosty cold morning, and within a few minutes things had warmed up significantly. By the end of the week they were having a great first date, followed by another, and still another.
Everything seemed perfect, something neither of them had a lot of experience with. But they were both ready to put in the work this time, having learned that the end result was well worth the effort.
Nearly every couple reaches a few forks in the road when they're starting out, but things sailed along very smoothly―until they didn't.
What do you do when a woman who's remarkably close to perfect struggles with an issue that wouldn't bother the vast majority of people―but is a hot-button for you? Is it a positive grown experience to work through an emotional challenge together? Or is self-protection the wise choice?
They've both tried to understand the path to love, but the manual's really hard to comprehend. If they can stick to their resolve, they should be able to hurdle this roadblock. But can they?
Available at:
Aurora's Angel by Emily Noon (540 pages; 20.75 hours)
Joined in a battle for survival, a broken-winged angel and a shapeshifter huntress with a bloody past form a bond that may change their world.
Alone since her father's murder, Aurora has spent years hunting his killers. Battle-weary she's ready to start over where no one knows who or what she is – she just has one last mission. Everything is going to plan until she discovers the beautiful winged girl caged underground. Her decision to rescue Evie and to help her get home safely, despite avians being infamous for selling out shifters like Aurora to cutters and black-market flesh dealers, will put her on a perilous path.
As the women travel together their attraction grows but Aurora is guarding her lonely heart almost as much as her dangerous secrets and Evie is struggling to accept how important Aurora has become to her.
With their enemies conspiring to kill them, they may be each other's only hope. Aurora is powerful but she's also emotionally scarred. It will be up to Evie to save her from herself and to fight for them, or innocent people will die along with the guilty ones and Aurora will disappear from Evie's life forever.
Available at:
The Bucket List by CJ Murphy (148,000 words; 380 pages)
Professor Jordan Armstrong, a biogenetic engineer, is at an impasse in her super food research. In order to move forward, she is adamant that her former professor, Noeul Scott, is the key. The problem is, Noeul vanished after a personal tragedy. Jordan stumbles upon a coded 'bucket list' that she hopes will reveal clues to where she's gone.
With the help of her cryptologist sister, Jordan follows clues to several National Parks where hidden memorials to Noeul's deceased wife, contain the next set of coded ciphers. Jordan must decode each in order to reveal the next location. Along this expedition, she is guided by something, or someone, she can't see. Unexplained happenstances continue to direct her steps.
Available at:
Jericho by Ann McMan (475 pages; 21 hours)
Librarian Syd Murphy flees the carnage of a failed marriage by accepting an eighteen-month position in Jericho, a small town in the Appalachian Mountains of Virginia. Her plans to hide out and heal her wounds fall by the wayside as she gets drawn into the daily lives of the quirky locals.
When Syd gets a flat tire and is rescued by the town physician, Maddie Stevenson, the two women form a fast friendship—but almost immediately begin struggling with a mutual attraction. And, if that's not enough, Syd is straight and going through a divorce—and Maddie somehow forgets to mention her sexual orientation to her new best friend. Almost everyone who crosses their paths believes it's only a matter of time until they figure it out, but sometimes, it takes a while to see the obvious. Together, Syd and Maddie learn that life and love can have as many twists and turns as a winding mountain road.
Available at:
Those Who Wait by Haley Cass (620 pages; 21 hours)
Sutton Spencer's ideas for her life were fairly simple: finish graduate school and fall in love. It would be a lot simpler if she could pinpoint exactly what she should do when she graduates in less than a year. Oh, and if she could figure out how to talk to a woman without feeling like a total mess, that would be great too.
Charlotte Thompson is very much the opposite. She's always had clear steps outlining her path to success with no time or inclination for romance. Her burgeoning career in politics means everything to her and she's not willing to compromise it for something as insignificant as love. Fleeting, casual, and discreet worked perfectly fine.
When they meet through a dating app, it's immediately clear that they aren't suited for anything more than friendship. Right?
Available at:
Interference by Zoe Reed (480 pages)
The last thing Jordan Marshall wants is a relationship, especially with someone like Taylor Becks, the star player from a rival roller hockey team. Taylor doesn't talk – to anyone. When Jordan's curiosity about the athlete overpowers her predisposition to being guarded, the two strike up an unlikely romance. In the midst of desolation left by being disowned and forbidden from seeing her little brother, Jordan finds that sometimes the biggest risks reap the greatest rewards.
Available at:
Nottingham by Anna Burke (400 pages)
After a fateful hunting accident sends her on the run from the law, Robyn finds herself deep in the heart of Sherwood Forest. All she really wants to do is provide for her family and stay out of trouble, but when the damnable Sheriff of Nottingham levies the largest tax in the history of England, she's forced to take matters into her own hands. Relying on the help of her merry band of misfits and the Sheriff's intriguing—and off-limits—daughter, Marian, Robyn must find a way to pull off the biggest heist Sherwood has ever seen.
With both heart and freedom at stake, just how much is she willing to risk to ensure the safety of the ones she loves?
Available at:
Princess of Dorsa by Eliza Andrews (590 pages; 15.5 hours)
Rebellious Princess Natasia has always known that her fate is to marry a man her father can shape into his heir. But everything changes after a would-be assassin nearly takes Tasia's life. Someone with means and connections is obviously trying to destabilize the Empire, but who? No noble family is above suspicion, so the Emperor takes the extraordinary step of naming his daughter his true heir.
Tasia suddenly finds herself saddled with learning to rule an entire Empire. But there are enemies on every side, threatening to disrupt the Empire's fragile peace — there's the long-standing and deeply unpopular war in the East, disagreements amongst her father's closest advisors, angry lords threatening their defiance, and rumors of a faraway kingdom trying to sow discord.
Can Tasia rise to the occasion? Will she be the leader her father believes her to be? Or is the Empire doomed to fall?
Available at:
The Unspoken Name by A.K. Larkwood (460 pages; 18 hours)
Csorwe was raised by a death cult steeped in old magic. And on her fourteenth birthday, she'll be sacrificed to their god. But as she waits for the end, she's offered a chance to escape her fate. A sorcerer wants her as his assistant, sword-hand and assassin. As this involves her not dying that day, she accepts.
Csorwe spends years living on a knife-edge, helping her master hunt an artifact which could change many worlds. Then comes the day she's been dreading. They encounter Csorwe's old cult – seeking the same artifact – and Csorwe is forced to reckon with her past. She also meets Shuthmili, the war-mage who'll change her future.
If she's to survive, Csorwe must dodge her enemies, claim the artifact and stop the death cult once and for all. As she plunges from one danger to the next, the hunt is on…
Available at:
The Priory of the Orange Tree by Samantha Shannon (840 pages; 26 hours)
A world divided. A queendom without an heir. An ancient enemy awakens.
The House of Berethnet has ruled Inys for a thousand years. Still unwed, Queen Sabran the Ninth must conceive a daughter to protect her realm from destruction – but assassins are getting closer to her door.
Ead Duryan is an outsider at court. Though she has risen to the position of lady-in-waiting, she is loyal to a hidden society of mages. Ead keeps a watchful eye on Sabran, secretly protecting her with forbidden magic.
Across the dark sea, Tané has trained to be a dragonrider since she was a child, but is forced to make a choice that could see her life unravel.
Meanwhile, the divided East and West refuse to parley, and forces of chaos are rising from their sleep.
Available at:
Kicker's Journey by Lois Cloarec Hart (157,000 words; 490 pages; 17 hours)
In 1899 two women from very different backgrounds are about to embark on a journey together – one that will take them from the Old World to the New, from the 19th century into the 20th, and from the comfort and familiarity of England to the rigours of Western Canada, where challenges await at every turn.
The journey begins simply for Kicker Stuart when she leaves her home village to take employment as hostler and farrier at Grindleshire Academy for Young Ladies. But when Kicker falls in love with a teacher, Madelyn Bristow, it radically alters the course of her tranquil life.
Together, the lovers flee the brutality of Madelyn's father and the prejudices of upper crust England in search of freedom to live, and love, as they choose. A journey as much of the heart and soul as of the body, it will find the lovers struggling against the expectations of gender, the oppression of class, and even, at times, each other.
What they find at the end of their journey is not a new Eden, but a land of hope and opportunity that offers them the chance to live out their most cherished dream – a life together.
Available at:
Hunter's Descent by Lise MacTague (386 pages; 142,000 words; 14.5 hours)
While investigating the deaths of multiple students at a boot-camp style institution, Malice and Ruri become trapped in the mysterious Kingdom of Flower and Bone–a netherworld filled with both magical and malignant beings. But which is which?
Even ancient forces aren't immune to petty squabbles. Will the pair make it out alive?
Mary Alice Nolan, code-named "Malice," is a Hunter: genetically modified and rigorously trained to track and kill supranormals ("supras") such as werewolves, vampires, and demons. Seeking revenge after her sister is malevolently "turned" into a werewolf, the last thing the hot-tempered Malice expected was to develop deep desires for one of her sworn enemies.
Ruri Samson is a magnificent golden-eyed wolven without a pack. Smart, sensitive and loyal, she considers Malice her mate. Ruri would sacrifice her own life to protect her—and this time she just may have to.
Available at:
All the Little Moments by G Benson (132,000 words; 370 pages; 14.75 hours)
A successful anaesthetist, Anna is focused on herself, her career, and her girlfriend. Everything changes abruptly when her brother's and sister-in-law's deaths devastate her and her family. Left responsible for her young niece and nephew, Anna finds herself dumped and alone in Melbourne, a city she doesn't even like. She tries to navigate the shock of looking after two children battling with their grief while managing her own.
Filled with self-doubt, Anna feels as if she's making a mess of the entire thing, especially when she collides with a long-legged stranger. Anna barely has time to brush her teeth in the morning, let alone to date a woman—least of all one who has no idea about the two kids under her care.
Just when Anna finally starts to feel as if she's getting some control of the situation, the biggest fight begins and Anna really has to step up once and for all.
Available at:
Ghost Walk by Kay Solo (800 pages)
Maaya is a teenager who can see ghosts, and she and her three friends get by on the poor streets of Sark by sealing away troublesome spirits under the direction of a deceptive, malicious wealthy man. Accompanying them is a ghost named Saber, Maaya's long-time friend. Maaya doesn't concern herself with world affairs, focusing only on staying alive in a superstitious town that ignores her at best and wants her dead at worst – but after an entire street of people goes missing without a trace and whispers of war begin to reach her ears, Maaya decides it's time to investigate.
Maaya soon finds herself in over her head as she confronts a wave of faceless ghosts that terrify even the dead. Driven on by rumors of a mysterious weapon that can make entire cities vanish in an instant, she and Saber start their journey across the world to find out how to stop it. She begins to find new friends, powerful allies, and even love, all while being pursued by new and more dangerous enemies.
The closer she gets, however, the more she realizes that the ghosts she's after may not just be mindlessly killing innocents – and that they may be chasing her instead.
Available at:
Leave a comment
Leave a comment and let us know which book you'll be reading for the "longer books" category!
Subscribe to this blog to get future Sapphic Reading Challenge posts
If you'd like to get all future Sapphic Reading Challenge posts sent to your in-box, subscribe to my blog.
Happy reading!
Jae