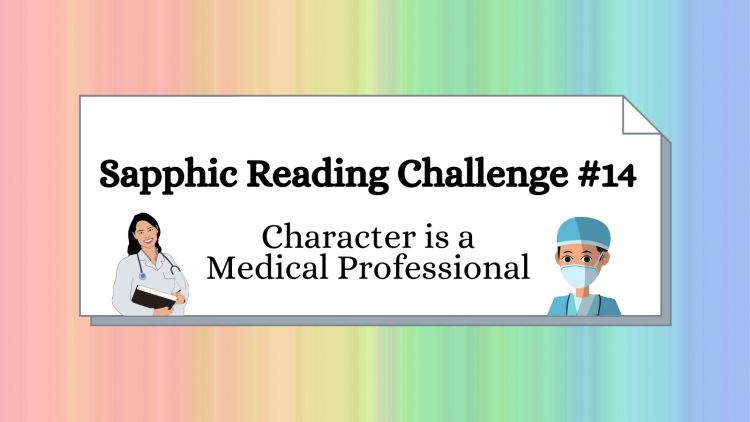 This week's Sapphic Reading Challenge post features characters who are medical professionals. Most of the books are medical romance novels, but any book with a protagonist who works in health care counts, e.g., a physician, dentist, psychiatrist, psychologist, nurse, chiropractor, paramedic, or EMT.
Read up on the rules of the Sapphic Reading Challenge
Before you pick a book for the "character is a medical professional" category, read up on the rules of the Sapphic Reading Challenge and download your PDF so you can keep track of the books you read this year.
Remember that you can either read one of the 15 books listed below or pick another sapphic book with a protagonist who's a medical professional.
15 sapphic books with a character who's a medical professional
I put together a list of 15 novels featuring a protagonist who works in healthcare. I hope you find at least one you'll enjoy.
Heart Trouble by Jae
Dr. Hope Finlay loves her job as an emergency room physician, especially since it allows her only brief encounters with her patients. She learned early in life not to get attached to anyone because it never lasts.
Laleh Samadi, a waitress at her aunt's restaurant, is the exact opposite. She easily connects with people and loves her big, boisterous Persian family, despite their tendency to meddle in her life.
When Laleh needs to be rushed to the ER with heart trouble, Hope saves her life. Afterwards, strange things begin to occur: Why does Laleh suddenly know even the most obscure diseases, while Hope is fluent in Farsi?
Soon, they can no longer deny that there's a mysterious connection between them—one that becomes stronger with each passing day.
Are they losing their minds…or their hearts?
Available at:
Irregular Heartbeat by Chris Zett
After nearly a decade as a professional drummer, Diana Petrell leaves her rock-star life behind to continue her residency in emergency medicine. She's determined not to let anything stop her—not even falling in love with her aloof mentor, Dr. Emily Barnes.
Emily has only ever focused on her career as a senior attending in the emergency department, and she isn't happy about having to babysit a resident with a ten-year gap in her résumé, no matter how intriguing she is.
But every time they work together, it's not just their patients' heartbeat that gets a little irregular. Soon, the once-clear lines between work and personal life begin to blur.
When Diana's unorthodox secret past is revealed, putting her job in jeopardy, Emily has to choose between her career and her relationship. A lesbian romance that asks how much we'd risk for love.
Available at:
Ask, Tell by EJ Noyes
Where can you turn when you're caught in a crossfire of war and passion?
Captain Sabine Fleischer is a skilled and dedicated U.S. Army surgeon deployed to a combat hospital in Afghanistan. She is also one of the thousands of troops who are forced to serve in silence because of the military's anti-gay policy of "Don't Ask, Don't Tell (DADT)."
Usually driven and focused, Sabine finds that battles raging both inside and outside the perimeter walls are making it more and more difficult for her to deal with her emotions. Dealing with loss and mortality, lack of privacy, sleep deprivation, loneliness and the isolation forced on her by "Don't Ask, Don't Tell" are all taking their toll. Plus, her long-term relationship with a civilian back home is quickly becoming another casualty of war.
Colonel Rebecca Keane is an enigmatic career officer who runs the surgical unit like clockwork. Well liked and respected by those who work with and under her, she walks a fine line to preserve the military's chain of command while connecting with those under her care and supervision. Sabine knows the Colonel is way off-limits, but can't help fantasizing about her. Especially when she starts picking up unspoken cues—a stolen glance, a secret smile, an "accidental" brush of hands. Or is it just wishful thinking? After all, Rebecca's wedding ring shines almost as brightly as her deep blue eyes…
Available at:
Passion's Bright Fury by Radclyffe
Saxon Sinclair, the broodingly secretive Chief of Trauma at a busy Manhattan hospital is less than pleased to learn that her new resident is going to be the subject of a documentary film.
The arrival of Jude Castle, a fiery independent filmmaker, soon sets sparks flying as the two driven women clash both personally and professionally. Both have secrets they have spent a lifetime guarding, and both have chosen careers over love. Forced together on the battleground between life and death, passion strikes without warning, and they find themselves struggling with both desire and destiny.
Available at:
All That Matters by Susan X. Meagher
Life is going damned well for Blair Spencer. She's a very successful real estate agent, happily married to a man who encourages her to live the independent life she loves—and they're actively working to have a baby.
The wrench in the works is that Blair favors adoption, while her husband David desperately wants to have a biological child. The fates are against them, and they finally seek the help of a group of reproductive specialists. One of the doctors, a surgeon named Kylie Mackenzie, eventually becomes a good friend to Blair. And she needs all of the friends she can get when things start to go horribly wrong at home. As her marriage teeters on the brink of collapse, she relies more and more on Kylie's friendship.
Kylie's happily gay; Blair's happily straight. But the way they structure their relationship leads friends and family to privately question whether the pair is setting themselves up for heartache. They eventually come to a crossroads, which could either destroy their friendship or turn it into what each of them has been seeking. The question is whether each woman can change her view of herself and her needs. The answer is all that matters.
Available at:
L.A. Metro by RJ Nolan
Dr. Kimberly Donovan's life is in shambles. After her medical ethics are questioned, first her family, then her closeted lover, the Chief of the ER, betray her. Determined to make a fresh start, she flees to California and L.A. Metropolitan Hospital.
Dr. Jess McKenna, L.A. Metro's Chief of the ER, gives new meaning to the phrase emotionally guarded, but she has her reasons.
When Kim and Jess meet, the attraction is immediate. Emotions Jess has tried to repress for years surface. But her interest in Kim also stirs dark memories. They settle for friendship, determined not to repeat past mistakes, but secretly they both wish things could be different.
Will the demons from Jess's past destroy their future before it can even get started? Or will L.A. Metro be a place to not only heal the sick, but to mend wounded hearts?
Available at:
Blurred Lines by KD Williamson
Kelli MacCabe is a no nonsense detective with a tough exterior. Only a select few know her as a loyal, loving friend. Committed to her family, her friends, and her job, Kelli puts her needs behind everyone else's.
As a surgeon, Nora Whitmore is used to being in control. The hospital is her life and leaves room for little else. Respected by her colleagues, but misunderstood by the residents, Nora takes what she needs and keeps everyone at arm's length. In the process, she creates unexpected enemies.
Tragedy brings them together. As chaos grows around them, the lines between them begin to blur. Despite being from different worlds, friendship grows between them, turning quickly to attraction. Will these two strong, independent women find a way to deal with their individual baggage? Or will they be overcome by it?
Available at:
Major Surgery by Lola Keeley
Skilled surgeon Veronica Mallick runs her London hospital department like she runs her surgeries: with hawkish efficiency. Then her perfect world is turned upside down by the arrival of a new Head of Trauma.
Cassie Taylor is a brash, no-nonsense army surgeon, fresh from the front lines, and trying to find her way in civilian life. She's all action and sharp edges, not too interested in rules. She's even less interested in bureaucracy, or playing nice with her uptight, paper-pushing colleague, Veronica.
While they're circling each other warily at St. Sophia's hospital, Cassie becomes entangled in some shady financial dealings.
Their shared search for the truth draws them closer together, sparking heated moments as they try to see justice done. But in exposing a scandal, can they also find some common ground? How will they both deal with being attracted to a woman they don't even like?
Available at:
Who'd Have Thought by G Benson
Top neurosurgeon Samantha Thomson needs to get married fast and is tightlipped as to why. And with over $200,000 on offer to tie the knot, no questions asked, cash-strapped ER nurse Hayden Pérez isn't about to demand answers.
The deal is only for a year of marriage, but Hayden's going into it knowing it will be a nightmare. Sam is complicated, rude, kind of cold, and someone Hayden barely tolerates at work, let alone wants to marry. The hardest part is that Hayden has to convince everyone around them that they're madly in love and that racing down the aisle together is all they've ever wanted. What could possibly go wrong?
Available at:
Snowbound by Cari Hunter
"The policewoman got shot and she's bleeding everywhere. Get someone here in one hour or I'm going to put her out of her misery."
An ultimatum that forever changes the lives of police officer Sam Lucas and Dr. Kate Myles.
When heavy snowfall isolates the small English village of Birchenlow, a violent robbery shatters the community. Taken as a hostage and stranded with the increasingly desperate criminals, Sam is seriously injured during an ill-fated escape attempt. Already struggling to save the lives of the villagers caught up in the raid, Kate volunteers to walk straight into the lion's den. Cut off from help, with only each other to rely on, Sam and Kate must find a way to fight the odds and stay alive if the growing attraction between them is to survive.
Available at:
This Time by S.W. Andersen
Some people believe love transcends time and space.
Neuropsychologist Dr. Contessa "Tess" Kenner isn't one of them. She can explain in detail how lust and desire cause the limbic system to battle the prefrontal cortex over ethical decision making, but ask her about her aversion to relationships and she's completely at a loss. It's not due to lack of trying. She's just never felt the need or the connection to put in the effort.
Free spirited artist Elena Jake, on the other hand, wants to fall in love with the woman of her dreams—quite literally. Ever since her youth, her nights have been consumed by a beautiful stranger, so much so, that no flesh and blood woman has ever been able to measure up. When the lines between fantasy and reality begin to blur, she seeks guidance from her Native American roots.
Driven by strong astrological influences, the "powers that be" attempt an intervention between the two women. Their pasts and presents merge, sending Tess and Elena on an unimaginable journey, causing them both to question their sanities.
Will these two souls rediscover an epic love?
Or are they destined to forever be star-crossed lovers?
Available at:
Traumatic Love by Ellen Hoil
Dr. Nydia Rogers was stripped of her future long before she had one, she now lives day to day. Her life focused on being a trauma doctor and saving others, not herself.
Jo Powers, a cop doing her best to make a difference, is a survivor of domestic violence because of someone she thought was her protector. Chance brings them together, but will real life keep them apart?
For the first time in her life, Jo will use every bit of charm and romance to gain the trust of Nydia to soothe both their wounds. Will it be enough to win the heart of the emotionally scarred doctor? Traumatic Love includes themes of surviving domestic violence, abuse, and bullying and is recommended for mature readers.
Available at:
Real Love by Graysen Morgen
Leigh Myer is a trauma nurse practitioner who is not happy going through the motions of her daily life. When a friend offers up her mountain cabin for a relaxing vacation, Leigh packs her bags. She's never been to the mountains and certainly never in heavy snow. A chance meeting with a fish and wildlife officer turns her idea of a quiet, relaxing vacation…upside down.
Camden Gorely loves her job and loves the mountain she works and lives on even more. She's tired of having flings with vacationers who visit for days or weeks at a time, until she meets the elusive nurse from the city.
Can Leigh stop running from her past and allow real love into her heart?
Available at:
Doctored by K'Anne Meinel
A brilliant child protégée, she dreams of becoming a doctor and a surgeon…and accomplishes her goals. Unfortunately, her youth and round, child-like face work against her. No matter how skilled she becomes, how knowledgeable, the old school, male-dominated medical hierarchy wants to keep her in 'her place.'
Deanna has worked hard to become an expert in her chosen field, but few believe this 'child' capable. Specializing in infectious diseases, she travels the world—from the States to Europe to South America—honing her skills before winding up in Africa where her skills are desperately needed.
Meeting a nurse by the name of Madison MacGregor, she finds they share an insatiable curiosity and a love of helping others, but falling in love was not what she intended. Later, when she loses Maddie to a misunderstanding, she is haunted by the one that got away…
Ten years have passed and both the doctor and nurse have moved on with their lives, but fate intervenes when they find themselves working at the same hospital. Their friendship is revived…can their love be rekindled? Will the past haunt them or bring them closer? Will the secrets that both harbor keep them from realizing a future together?
Available at:
The Fifth Surgeon by Faith Prize (to be published in July 2021)
Nadia Keating has barely started her cardiothoracic fellowship training, but she already has the archetype nailed—she's direct, uncompromising, and suffering from a God complex.
Before she can focus on her impressive research, deeply closeted Nadia has a personal project: getting her inconvenient attraction to women out of her system. She picks a stranger online for a one-night stand.
Ashley Rylan, the chief of Nadia's department, is her polar opposite—sweet, agreeable, and soft-spoken—and the stranger Nadia unwittingly chooses.
The two women's meeting is a hostile disaster and they would love nothing more than to never see each other again. However, their paths keep colliding as Nadia embarks on an ambitious experiment that could lead to a historic medical breakthrough.
Despite warring egos and the secrets they keep, their connection is powerful and growing. Maybe having sex would help them get over their distraction at work? Or would that just ruin everything?
Available at:
Leave a comment
Leave a comment and let us know which book you'll be reading for the "character is a medical professional" category!
Subscribe to this blog to get future Sapphic Reading Challenge posts
If you'd like to get all future Sapphic Reading Challenge posts sent to your in-box, subscribe to my blog.
Happy reading!
Jae