If you're an avid reader of lesbian fiction, you know there's no such thing as too many lesbian books. Thankfully, we live in a time where books about women loving women are readily available, from lesbian romance novels to mysteries, science fiction, fantasy, and any other genre you can think of.
But now that there are so many lesbian books out there, how do you keep track of new releases and find book recommendations? And how can you make sure you won't have to sell a kidney to finance your reading habit?
Here are 12 great ways to find great reads, free books, and special offers and to make sure you never miss a new release by your favorite lesbian authors.
SUBSCRIBE TO AUTHOR NEWSLETTERS
One of the best ways to keep up with new releases and special offers in the lesfic world, especially for lesbian books from indie authors, is to check out your favorite authors' websites and sign up for their newsletters, if they have one. Some authors even offer a free book to newsletter subscribers. For example, I'm giving away the short story "The Romance Bet" if you sign up for my author newsletter, and I'm regularly sharing free books, special offers, and giveaways in my monthly newsletter too.
SUBSCRIBE TO PUBLISHER NEWSLETTERS
Most of the lesbian fiction publishers send out newsletters once a month to let readers know about new releases and special offers. Here's the link to the Ylva Publishing newsletter, for example.
SUBSCRIBE TO THE I HEART LESFIC NEWSLETTER
You might also want to check out I Heart Lesfic, a site that T.B. Markinson set up to celebrate lesbian books. I Heart Lesfic sends out a weekly newsletter to keep you informed about new releases across all publishers plus indie authors, runs giveaways, and lists freebies that authors are offering to newsletter subscribers.
SUBSCRIBE TO THE MY LESFIC NEWSLETTER
Another great way to keep up with special offers is to subscribe to the weekly My LesFic Newsletter, which alerts you to limited-time discounted and free lesbian books. My LesFic was created by Harper Bliss and Caroline Machoulas because other newsletter services either leave out lesbian fiction or lump it together with gay fiction, making it harder for readers to find books about women loving women.
FOLLOW AUTHORS & PUBLISHERS ON SOCIAL MEDIA
Of course, if you are on Facebook, Twitter, or Instagram, you can follow your favorite authors and lesbian fiction publishers on social media. Many authors have a social media presence. You can find me on Twitter, Facebook, Instagram, and Pinterest, for example. Keep in mind, though, that it's easy to miss a tweet and that Facebook doesn't always show you the posts you might want to see.
FOLLOW AUTHORS ON AMAZON
If you buy your books on Amazon, you can also follow your favorite lesbian fiction authors there so you'll get an email notification each time they release a new book. It's easy to do: Just sign in to your Amazon account, visit an author's Amazon page (here's mine for example), and click on the yellow "follow" button.
Some of the other online bookstores such as Smashwords offer a similar feature.
CHECK OUT THE AMAZON TOP 100 BESTSELLER LISTS
While you are on Amazon, you can also check out their top 100 bestsellers list for lesbian fiction or lesbian romance to find books that you might want to read.
JOIN FACEBOOK GROUPS DISCUSSING LESBIAN FICTION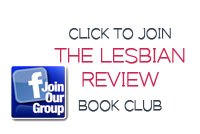 One of my favorite ways to find book recommendations is to read the posts in one of several Facebook groups for readers of lesbian fiction. There are a lot of avid readers in these groups who can recommend books in any subgenre you might be interested in. If you haven't already, check out my Facebook group for readers of women-loving women fiction. 
CHECK OUT LESBIAN BOOK REVIEW SITES
If you're overwhelmed with the amount of new releases and lesbian books available and need recommendations, find a lesbian book reviewer whose opinion you trust or who has similar taste in books. By far the largest review site is The Lesbian Review, which is run by Sheena. They have several reading lists for popular subgenres and tropes such as 10 Best Friends to Lover Romances and also a list of 100 Best Lesbian Books to Start With that gives you a good idea of where to start if you are only just discovering lesbian fiction.
There are also other lesbian book review sites such as Sistahs on the Shelf, The Lesbrary, Les Rêveur, LezReviewBooks, and many others.
FOLLOW THE WOMEN & WORDS BLOG
Women and Words is a site that regularly offers interesting blog posts about LGBT characters in books and TV. They also release a monthly list of new lesbian book releases across publishers.
LISTEN TO LESBIAN FICTION PODCASTS
If you like to listen to podcasts on your commute or while you work out, you could listen to lesbian fiction podcasts. The most active one is the Lesbian Talk Show, a podcast channel for women about women, with a focus on lesbian fiction. Their shows include book clips (lesbian author readings) and Les Do Books, where lesbian books are reviewed and discussed.
GOODREADS GROUPS
The two biggest ones are probably the Lesbian Book Club and Mostly Lesfic. They have discussion boards for recommendations, a book of the month, buddy reads, and reading challenges. While you're on Goodreads, also check out this list of new releases and most-read lesbian books.
How do you find new books and keep up with special offers and giveaways? Did I miss any great sites that could be helpful to readers looking for books with lesbian, bisexual, or pan female characters?