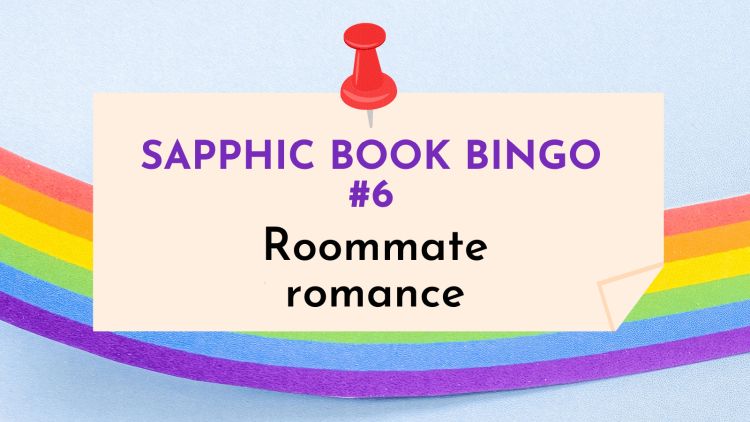 This week's Sapphic Book Bingo category features sapphic roommate romance novels. The main character falls in love with their roommate. It can either be a planned roommate situation or more of a temporary arrangement that arises out of an emergency.
15 sapphic roommate romances
Here are my book recommendations for the "sapphic roommate romance" category:
The Roommate Arrangement by Jae
A feisty comedian. A former cop with a wounded heart. An unusual roommate arrangement…
Comedian Stephanie Renshaw hopes to finally get her big break in LA. A chance encounter lands her the perfect apartment close to the comedy clubs, but it comes with a catch: She needs a roommate to afford the rent.
Enter Rae Coleman, a former police officer working the door at one of the top comedy clubs. After getting injured in the line of duty and losing her job with the LAPD, Rae guards her wounded soul behind a tough exterior.
At first, the two clash horribly before a tentative friendship develops. Bit by bit, Steph manages to break through the walls Rae has built around her.
But Steph has never been in a relationship, preferring casual flings, and Rae isn't sure she's ready to be happy again. Will they find the courage to open themselves up to love?
Available at:
For the Long Run by Cheyenne Blue
A koala ruined her life. Well, that's how elite athlete Shan Metz sees it.
When an idiot charity runner in a koala suit trips Shan during a community fun run, her knee blows out, destroying her dream of making the Australian Commonwealth Games team. Recovering from knee surgery will be bad enough, but living on her building's fourth floor will make it a nightmare.
Consultant Lizzie Carras, aka the dream-wrecking koala, does guilt like a pro. The only decent thing to do is offer Shan her spare bedroom during recovery. Their incompatible lifestyles don't help matters. Neither does Shan's training partner, the haughty and possessive Celia. But they'll muddle through until Shan's knee has healed enough to get out of Lizzie's life.
Because it's not like Shan would ever miss a dream-wrecking koala or anything. Right?
Available at:
Score to Love by Johana Gavez
In the field, hate can easily turn into love.
Antonia Carvalho left her native Brazil in search of a dream: a professional soccer career and better opportunities for her and her brother. The plan is simple; score as many goals as possible with the Houston Starlight and become one of their top players. She won't let anything get in the way. Not even Camila Sánchez, her attractive but annoying teammate.
Camila Sánchez spent all her life in the shadow of her father, a former soccer star and coach. There's no time for distractions as she fights to show everyone she deserves her spot on the team. Playing for the Houston Starlight is her opportunity to shine. She won't let Antonia steal her spot on the team, no matter how much chemistry they have in bed.
Available at:
Warm Pearls and Paper Cranes by E.V. Bancroft
Maud Heaston has been in love with Beatrice Williams since they first met in 1939. They've been through hell and back; family, careers, and secrets have threatened to tear them apart, but their love has endured it all. Until now. Old age and illness have forced them into separate nursing homes and the family Maud trusted to take care of them are only out for themselves.
Hannah Jones is trying to put her past behind her and find her place in the world. Midway through a doctorate and living with Suki, the woman she'd like to be more than just friends with, the last thing she needs is Gammy, her interfering great aunt, back in her life. Though Gammy took Hannah in when her mother died, her overbearing nature and constant criticisms forced them apart. Now they barely speak.
Maud needs Hannah's help to be reunited with the love of her life. Hannah needs Suki to take a chance on love. Can a reconciliation between Maud and Hannah free them both to be with the women they love or will the past destroy their future?
Available at:
Hero Complex by Jesse J. Thoma
Being labeled a mad scientist doesn't faze Bronte Scales. Accidentally gaining superpowers didn't even seem that strange. It's not until she realizes someone is out to get her and her do-it-yourself super tech invention, that she reluctantly becomes one part of a superpowered crime fighting team. Then things really get out of hand. And somewhere along the way she accidentally kidnaps a nurse—a smart, kind, and beautiful sort of nurse. Bronte's screwed.
Athena Papadaki doesn't have superpowers, but she's scary good at squeezing everything she can from each waking minute. That feels heroic until she's kidnapped by a group of knuckleheads who need more rescuing than she does. Once she's done saving the day, she'll walk away and most certainly never think about Bronte Scales ever again. Nothing to see here.
Can Bronte and Athena, and their unlikely friends, work together to defeat Bronte's archnemesis? The fate of love, humanity, and the world might depend on it. No pressure.
Available at:
Secrets Well Kept by Lynn Ames
It's March, 1943. World War II rages across the globe, and twenty-five-year-old Nora Lindstrom is about to take a huge leap of faith. One of the few women in the male-dominated field of physics, she travels to an undisclosed destination to undertake a vital, top-secret project that the government insists could help the Allies win the war.
At eighteen, Mary Trask is ready to put high school and the boy who wants to marry her in her rearview mirror. But what alternative could the future hold for the dyslexic daughter of a train conductor? When a cousin in Tennessee provides Mary with a cryptic job opportunity, she jumps at the chance to rewrite her life.
Nora and Mary are drawn together under impossible circumstances. As the fate of the world hangs in the balance, they find solace in their love for each other. But in a place where secrecy is paramount, their relationship is forever changed by the consequences of secrets well kept.
Available at:
If We Meet Again by Nicole Spencer-Skillen
Twenty-five-year-old Ashley is an aspiring writer living in New York City. A recent lack of inspiration leads to doubt in her ability. She can't envision a career outside of the bar she works in or any possible way to become unstuck from the cycle that consumes her.
But then, an overdue evening out with her two best friends leads to a surreal experience.
When she meets Megan, the energy in the room is enough to captivate Ashley—the infectious smiles that pass between them are electrifying. Smiles that, for a brief moment, make even Ashley—a true cynic—believe in fate.
The beautiful, sweet and mesmerising Megan is a Stanford graduate with one goal—to play basketball in the WNBA. She shares with Ashley a story about unfaltering love that's compelled by the force of fate—a story about her grandmother, Nancy. It ultimately becomes the catalyst for their future relationship and the inspiration Ashley's been looking for.
To Ashley, the word destiny has never been anything more than a crossword clue found in the NY Times, but she can't deny the transcendent depth of their connection as an unseen force keeps pulling them back together. The question is—will it be enough?
Available at:
She'll Steal Your Heart by Rachel Lacey
Last year, Lauren Booker fled New York with a warrant out for her arrest. Now she's back and ready to make amends for her crime. She wants to rebuild her life, and Brooklyn is home. There's not much waiting for her here now, though, nothing except an online friend who's brought her so much joy during one of the hardest years of her life. When they finally meet in person, Lauren's unprepared for her attraction to Mia, but she's even less prepared to discover that Mia has an unexpected connection to her crime, putting Lauren's plans in jeopardy.
Mia Solano has also had a difficult year. Recently divorced, she walked away from her legal career after a health scare caused her to reexamine her priorities. Now Mia owns a cat café, and she's struggling to adjust to a slower pace of life. She finds an unlikely friend in Lauren, but Lauren's legal troubles force Mia to revisit a part of her life she's trying to leave behind. She can't explain why she's so drawn to Lauren. They shouldn't have much in common, and yet, they just seem to click.
As the connection between them strengthens, Lauren and Mia wrestle with growing feelings, but neither wants to risk their friendship by crossing that line. With Lauren's court date looming ever closer, they might lose everything, including each other.
Available at:
Song of Stars by Rae D. Magdon
Sefina, a young orphan, studies music at the Temple of Dreams. She loves to sing with her best friend Mirae, but their voices aren't the same. Mirae's voice heals the sick while Sefina's is ordinary. Unable to compete with Mirae's miracles, Sefina longs for acknowledgment from Lady Lirath, their demanding music instructor. When their temple's leader dies, Sefina must compete with Mirae for the position—not only against a miracle-worker, but the woman she loves.
Available at:
Just Three Words (SoHo Loft Series) by Melissa Brayden
Sometimes the one you want is the one you least suspect… Accountant Samantha Ennis craves order and structure. As the bookkeeper at the boutique advertising agency she owns with her three best friends, it's her job to apply logic to the chaos. When one of those best friends, laid back Hunter Blair, moves in to share her loft apartment, Sam's carefully organized world is thrown wildly askew.
Available at:
Sunsets and Shades by Erica Lee
Grace Harper is a hopeless romantic hanging on every word of the lesbian romance novels she reads.  When Grace's childhood best friend, Leah, suggests that she comes to Philly to get space from her ex, it seems like the perfect opportunity to start over, especially since Leah's roommate is none other than Laurel Lake, Grace's favorite romance author. Grace quickly learns that people aren't always how they appear online and is disappointed to find that the real Laurel Lake (Kinsley Scott) is actually rude and vulgar and, unfortunately, irresistibly sexy. There is also much more to her than meets the eye, and as the two grow closer, her tough exterior is quickly stripped away, revealing much more than Grace ever bargained for.
Available at:
Sweat Equity by Monica McCallan
Avery Simmons' life is in a rut. As the co-founder and creator of a lesbian dating app meant to help people find love, or at least a fun fling, the irony isn't lost on her.
Personal trainer Charlie Grant wants nothing more than a clean slate and a fresh start from her old life in New York City. One of her oldest friends offers an extra room in her San Francisco duplex, but Charlie quickly finds out that it comes at an unforeseen cost.
Available at:
Rooting For You by Roz Alexander
Botanist Fisch's life in Clover Hill is small. Getting physical distance from her tense relationship with her mother was supposed to give her room to breathe. Instead, she's created a new cage for herself, spending most of her time isolated and working on other people's projects instead of her own dreams. Admitting she's lonely is the first step. Doing something about it seems much harder.
When traveling photojournalist Jaeeun Kupperman comes to town, it's a wake-up call like no other. Jaeeun's hot, talented, sweet, and the proud cat parent of one perfect angel named Dan. Faster than Dan can take down a dandelion, the two butch women are mutually smitten. But the sun is setting as both of them search for their next assignments and Fisch realizes it's past time to branch out just as Jaeeun considers planting roots.
They might both be eager to sow the seeds of love, but will they be brave enough to keep it growing? Or will Jaeeun leave Fisch in her rearview mirror when the golden hour is over?
Available at:
North Coast: A Contemporary Love Story by Dorothy Rice Bennett
Two women, who have every reason not to be attracted to one another, share a house and a dog and gradually find they have feelings they didn't expect—and don't want to own. Do they belong together, despite their differences, or should they move on to other people and other places?
Available at:
Tricky Wisdom by Camryn Eyde
Darcy Wright is a closeted lesbian who has been infatuated with her best friend, Taylor, since junior high. Leaving her small Minnesota town for Boston in a quest to become a doctor, she moves in with fellow med-student Olivia Boyd, a neurotic, anal, gigantic thorn in the side. The first year of medical school is a nerve-wracking encounter in medicine, learning lessons the hard way, and romance.
Available at:
Leave a comment
Leave a comment and let us know what book you'll be reading for the "sapphic roommate romance" category!