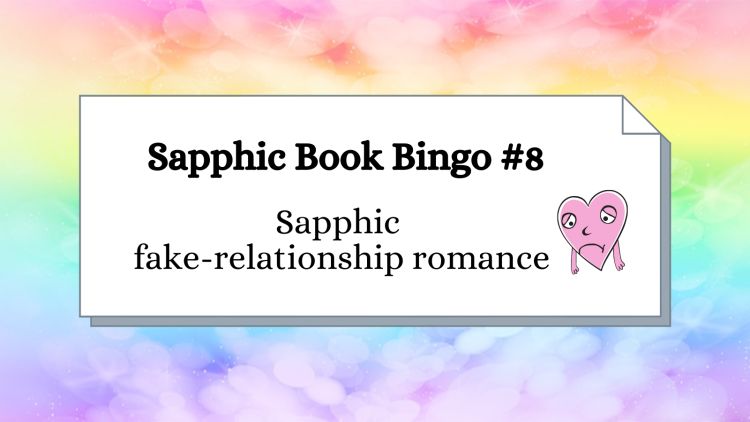 This week's Sapphic Book Bingo post features sapphic fake relationship romance novels—books in which the two main characters pretend to be in a relationship with each other.
The "fake relationship" trope is very popular with romance readers, so you will find 10 additional book recommendations in the "favorite trope" post of the Sapphic Book Bingo.
I think what readers love about "fake girlfriend" or "fake fiancée" stories is that the plot throws together two characters who are often total strangers and who might not even like each other. Under normal circumstances, they would never consider dating each other, but now they are forced to spend time together and pretend to be a couple. As you can imagine, they get into some hilarious situations, and after a while, they discover that their feelings are no longer fake…
How to get started if you are new to Sapphic Book Bingo

If you have only just discovered the Sapphic Book Bingo, read up on the rules, download your book bingo card, and take a look at my suggestions for the "sapphic fake relationship romance novels" square below.
Make the Sapphic Book Bingo more interesting! 
If you'd like to get more book suggestions, talk about the books you are reading, and chat with other readers participating in the Sapphic Book Bingo, join either my Facebook group for readers or the Goodreads group for the Sapphic Book Bingo.
15 sapphic fake relationship romance novels
Here are my recommendations for sapphic romane novels with a fake relationship:
Something in the Wine by Jae
An introverted 30-year-old woman tries to prank her brother—and finds out what it means to be herself in this lesbian fake-relationship romance.
All her life, Annie Prideaux has suffered through her brother's constant practical jokes. But Jake's last joke is one too many, she decides when he sets her up on a blind date with his friend Drew—neglecting to tell his straight sister one tiny detail: her date is not a man, but a lesbian.
Annie and Drew decide it's time to turn the tables on Jake by pretending to fall in love with each other.
At first glance, they have nothing in common. Disillusioned with love, Annie focuses on books, her cat, and her work as an accountant while Drew, more confident and outgoing, owns a dog and spends most of her time working in her beloved vineyard.
Only their common goal to take revenge on Jake unites them. But what starts as a table-turning game soon turns Annie's and Drew's lives upside down as the lines between pretending and reality begin to blur.
Something in the Wine is a story about love, friendship, and coming to terms with what it means to be yourself.
Available at:
Her Royal Happiness by Lola Keeley
Keeping a secret isn't easy when you're in the most visible family in the world. It's even harder when you're a lesbian who has just fallen madly in love. An opposites attract, charming royal romance with a dash of fake dating.
When tabloid darling Princess Alice, the first out member of the British royal family, meets an opinionated single mother, the encounter goes viral. It seems the anti-monarchist education specialist Sara has a view on all things and doesn't mind sharing.
So when Alice later has to ask Sara to help diagnose her young nephew's learning difficulties, it's seriously awkward. At least until they discover how beautifully they click together.
With the press sniffing around them, and Alice desperately wanting to protect her nephew's privacy, they agree to claim they're dating.
But as their fake dates start to feel like much more, Sara and Alice must navigate having a real relationship in the public eye. Is that even possible, though, while keeping Sara's daughter safe and happy, and facing the Queen's disapproval?
Can they overcome their doubts for love? A love they can no longer hide?
Available at:
Elemental Attraction by K. Aten
Two people find themselves in a quandary: Aderri, a powerful dragon shifter with some light defensive magic, and Ellys, a half-elven swordswoman for hire, one of the best across the six nations.
When Aderri gets news that she must come home for the naming ceremony of a new hatchling, she's forced to hire Ellys and her telepathic steed, Roccotári, to see her safely there. Of course, things are never as simple as they seem. Not only do they have to traverse the land between two kingdoms on the brink of war, but Aderri's Clan expects her to return with a romantic interest. So, for the added promise of triple Ellys's normal fee, the half-elf agrees to pretend to be Aderri's suitor.
Ellys and Aderri have to convince a Clan full of magical mixed-shifters for a week that creatures of differing elements can burn with the flames of love, without actually lying. A situation made even more difficult by a matchmaking mare, steamy baths, and an innkeeper with mischief on the mind.
Caught between the weight of the past and expectations of the future, they must find their true destiny within the heat of fire.
Available at:
The Marriage Masquerade by Toni Logan
Taylor Braxton needs to get married, then divorced, with no strings attached.
Taylor, a physical trainer, has just inherited her grandfather's B&B on Maui, but there's a catch. She can't have the deed until the day after her one-year wedding anniversary. She'd rather stick a fork in her eye than get hitched, but the B&B is a dream come true. So all she has to do is find a woman who will agree to fake a marriage. How hard can it be?
Jayden Wheaton could use a year in paradise to help her recovery. After a crippling accident, she hires Taylor in the hope of gaining back some mobility. When Taylor casually mentions her dilemma, Jayden jumps at the chance, hoping the warm island temperatures will help with her chronic pain. A marriage masquerade in exchange for a year in Paradise? Yes, please. After all, it's not like either of them are looking for romance, so there's zero chance of their feelings complicating the arrangement. Right?
Available at:
Love's No Joke by Cheri Ritz
The only commitment Mara Antonini ever made was to her career on the Vegas stand-up scene. Putting romance on the back burner, she's long accepted the role of 'the player' among her friends. Landing a gig as the emcee of a fund-raiser seemed like the perfect way to get some positive career exposure. If she happened to make a new friend with benefits along the way, so be it. She didn't count on the stunning redhead representing a rival casino throwing her off her game.
All Victoria McHenry needed was a date to her grandmother's birthday gala to keep her high-society mother off her back. But she wasn't exactly ready to dip back into the dating pool after her last disaster of a relationship. So when she's coerced into representing her family's casino at a local fund-raiser, she takes it as an opportunity to find that date. Naturally she's drawn to the  charismatic comedian headlining the event.
When the women are paired up on a planning committee, Victoria proposes the Fake Date Deal: she gets her date for the soirée, and Mara gets the chance to finally shake her playgirl reputation. It's not long before hearts and emotions tangle, and soon the women find themselves wondering if the only people they are fooling are themselves.
Available at:
D'Vaughn and Kris Plan a Wedding by Chencia C. Higgins
D'Vaughn and Kris have six weeks to plan their dream wedding.
Their whole relationship is fake.
Instant I Do could be Kris Zavala's big break. She's right on the cusp of really making it as an influencer, so a stint on reality TV is the perfect chance to elevate her brand. And $100,000 wouldn't hurt, either.
D'Vaughn Miller is just trying to break out of her shell. She's sort of neglected to come out to her mom for years, so a big splashy fake wedding is just the excuse she needs.
All they have to do is convince their friends and family they're getting married in six weeks. If anyone guesses they're not for real, they're out. Selling their chemistry on camera is surprisingly easy, and it's still there when no one else is watching, which is an unexpected bonus. Winning this competition is going to be a piece of wedding cake.
But each week of the competition brings new challenges, and soon the prize money's not the only thing at stake. A reality show isn't the best place to create a solid foundation, and their fake wedding might just derail their relationship before it even starts.
Available at:
No Rings Attached by Rachel Lacey
From award-winning author Rachel Lacey comes the second installment in the Ms. Right series: a captivating romance about a reluctant bookseller finding love in unexpected places.
Lia Harris is tired of being the odd one out. She's never quite fit in with her uptight family, and now that her roommates have all found love, she's starting to feel like a third wheel in her own apartment. Fed up with her mother's constant meddling in her love life, Lia drops hints about a girlfriend she doesn't have. But with her brother's London nuptials approaching, she needs to find a date to save face. Lia turns to her best friend, Rosie, for help, and Rosie delivers—with the fun, gorgeous Grace Poston.
Grace loves to have a good time, hiding her insecurities behind a sunny smile. Her recent move to London has provided her with a much-needed fresh start. Grace isn't looking for love, and she hates weddings, having weathered more than her fair share of heartache. Friendships are different, though, so for Rosie's sake, she reluctantly agrees to pose as Lia's adoring girlfriend for the wedding festivities.
Both Grace and Lia are prepared for an awkward weekend, complete with prying family members and a guest room with only one bed. As it turns out, they get along well—spectacularly, in fact. Before they know it, the chemistry they're faking feels all too real. But is their wedding weekend a fleeting performance or the rehearsal for a love that's meant to last?
Available at:
Restrained Desires (Rehoboth Pact #3) by Katherine McIntyre
One rule: don't fall for your best friend's straight sister. Especially not when she's pretending to be your fake girlfriend.
Chelsea Moore is officially divorced from her asshole husband, and after wasting her early twenties putting up with his shit, she's burning to get out there and play the field—especially a certain kinkier side he made her feel like garbage about.
Kyle Walker's terrified to put herself out there. According to her mother, she doesn't have the looks to hook anyone, but what makes it worse is that her dating history falls in line. However, when her family tries to claim she's not really a lesbian, she tells them she's bringing her girlfriend to Christmas. Only problem? She doesn't have one.
In comes sexy, newly divorced, and straight Chelsea Moore to the rescue—her best friend Aubrey's little sister. She's doing Kyle a favor—like any friend would—except Kyle's half in love with her from the moment they start hanging out. All too soon those lines begin to blur—lingering touches, flirting, kissing…. And when they connect on kink and begin hooking up, that's when Kyle knows she's screwed.
Chelsea might have Aubrey to protect her heart, but Kyle could lose both her best friend and the only woman who's made her feel like she's worth more.
Available at:
Love and Other Natural Disasters by Misa Sugiura
When Nozomi Nagai pictured the ideal summer romance, a fake one wasn't what she had in mind.
That was before she met the perfect girl. Willow is gorgeous, glamorous, and…heartbroken? And when she enlists Nozomi to pose as her new girlfriend to make her ex jealous, Nozomi is a willing volunteer.
Because Nozomi has a master plan of her own: one to show Willow she's better than a stand-in, and turn their fauxmance into something real. But as the lies pile up, it's not long before Nozomi's schemes take a turn toward disaster…and maybe a chance at love she didn't plan for.
Available at:
Never Mine by Bryce Oakley
Sage Carson has a messy reputation. Sure, she's a soccer star with World Cup trophies and Olympic medals, but she's almost as well known for her rebellious behavior off the pitch. She's left enough gorgeous women with broken hearts in her dust to fill a roster. That was, until she got injured. Now, her frustratingly-slow recovery means she'd better secure this new squeaky-clean endorsement deal in order to get back on top.
Sweet, sunshiny Willa Bellamy has a crisis on her hands. She's used to it — as an events coordinator for the Denver Zoo, it's her job to handle crises. But when she receives an invite to her ex's wedding, she's not so sure it'll be as easy to handle as an escaped emu during a Girl Scout sleepover. Even worse, when the bachelorette party invite mentions that couples are welcome, she realizes she's the sole single person invited.
Fifteen years ago, Willa and Sage roamed the same halls of Edgelake High School. When their paths cross again, they decide to team up to solve both their problems — a stable, albeit fake, relationship to snag the endorsement deal and a hot soccer star to make the couples getaway sting a little less… But when the lines between real and fake start to blur, will they be able to keep the growing heat between them just a game or will they start playing to win?
Available at:
Mutual Benefits by H.P. Munro
Coming out to your loved ones is stressful, so when Hannah Melville's family not only accept but celebrate her accidental announcement, it should be a relief. Which it would be, if Hannah was gay.
Ashley West isn't looking for a relationship. When she's set up by her mother on a blind date, she's ready to nip any expectations in the bud. She's less prepared for her love interest to be straight.
What do you get when you combine a fake relationship with two meddling mothers? A laugh-out-loud romantic comedy that will have you glued to the page!
Available at:
Who'd Have Thought by G Benson
Top neurosurgeon Samantha Thomson needs to get married fast and is tightlipped as to why. And with over $200,000 on offer to tie the knot, no questions asked, cash-strapped ER nurse Hayden Pérez isn't about to demand answers.
The deal is only for a year of marriage, but Hayden's going into it knowing it will be a nightmare. Sam is complicated, rude, kind of cold, and someone Hayden barely tolerates at work, let alone wants to marry. The hardest part is that Hayden has to convince everyone around them that they're madly in love and that racing down the aisle together is all they've ever wanted. What could possibly go wrong?
Available at:
The Missus by Natasha West
Keira Evans likes an easy existence. That goes double for her love life. She's happy to remain single and wants every woman she takes to bed to know exactly what the deal is. Trouble is, some of them don't heed the warning and fall in love with her anyway. Keira doesn't want to hurt anyone's feelings, nor does she want to have to take out restraining orders every week. It's a pickle.
But when Keira is trying to pry yet another lovesick woman out the door, her next-door neighbour, Alanna Hall, decides to come to her rescue – pretending to be Keira's serious girlfriend who is furious at catching her in the act of cheating. The one-night stand, shocked at Keira's seeming deceit, decides to ditch the drama and never bothers her again. Keira's amazed by the effectiveness of the charade and becomes convinced that a fake girlfriend could be the solution to all her woes. But how the hell can she convince Alanna to take on the position of phony girlfriend full time?
With spectacular timing, Alanna finds herself abruptly homeless when her relationship implodes. And look who happens to have a bed going spare in exchange for a little quid pro quo? Alanna's uncertain about repeating her spontaneous performance for her philandering neighbour. But she's a hell of a lot more uncertain about where's she's gonna sleep. And Alanna is nothing if not a practical woman.
Keira thinks she's got it made now that Alanna's ready to chase off every casual sex partner who doesn't know when it's time to leave. But living with Alanna creates more chaos in Keira's perfect little world than she's expecting. Particularly when the sham starts to feel real…
Available at:
Casting Lacey by Elle Spencer
Coming out is easier when you've got someone by your side. At least that's how the hyper-private Quinn Kincaid sees it. When her publicist suggests a good old-fashioned sham of a Hollywood relationship, Quinn reluctantly agrees. And that's how the star of Jordan's Appeal, TV's highest rated legal drama, ends up with a fake girlfriend—the very real, very sexy, and very gay soap star, Lacey Matthews.
The two clash immediately, and often hilariously, as they figure out how to fake a budding romance. And of course, things are never as simple as they seem. A freak accident, some reluctant caregiving, and a chance to work together on Jordan's Appeal force Quinn and Lacey closer together—for better or worse.
In Casting Lacey, Elle Spencer gives us a funny new take on a classic storyline, complete with nosy mothers, fawning assistants, and two beautiful actresses who might learn about true love. If they don't kill each other first.
Available at:
Take Me Home by Lorelie Brown
Thanksgiving arrives in one week and one day. Feeling hemmed in by parental expectations? Are they disappointed by your sapphic proclivities? I can help! The only pay I want is the holiday meal!
I didn't know what I was looking for until I saw her Craigslist ad.
I love my family. I'm lucky to have them — well, most of them. But my aunt? I'm so tired of her giving my mom crap because I happen to be a lesbian. So one pink-haired tattoo artist pretending to be my girlfriend will annoy my Christian fundamentalist aunt right back and make my Thanksgiving perfect.
Only . . . Brooke turns out to be cuter and more complicated than I expected. And before you can say "yorkiepoo," we kiss…and abduct a dog together. I want to keep them both — but Brooke isn't the kind to be kept. Lucky for me, I'm the kind to chase what I want.
Available at:
Leave a comment
Leave a comment and let us know what book you'll be reading for the "sapphic fake relationship romance" category!
Subscribe to this blog to get future Sapphic Book Bingo posts
If you'd like to get all future Sapphic Book Bingo posts sent to your in-box, subscribe to my blog.