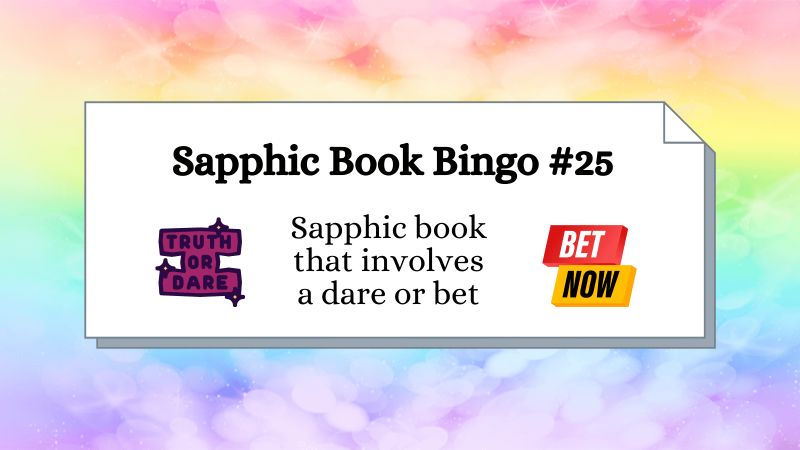 Can you believe that Sapphic Book Bingo 2022 is nearly over? This "sapphic book that involves a dare or a bet" post is the last regular bingo category. Next week, I'll post the "main character is a twin" category of the Book Unicorn card, and then it's time to wrap up this year's Sapphic Book Bingo.
But don't despair: I'll run a Sapphic Book Bingo in 2023 too, with new categories and new books to be discovered. I hope you'll join us for next year's reading challenge too. It'll start on January 1, when I'll post the rules and reveal the categories.
Free romance short story that involves a bet
If you are looking for a free sapphic book that involves a bet or dare, check out my short story "The Romance Bet."
Reporter Abby James prides herself on never having read a romance novel. She thinks they're formulaic, shallow, easy-to-write drivel—until romance author Tamara Brennan challenges her to write one. Is it possible that Abby will find the outcome of that bet not so predictable after all?
You can download the free ebook on Bookfunnel.
15 sapphic books that involve a dare or a bet
Here are 15 recommended sapphic books that involve a dare or a bet:
Just a Touch Away by Jae
Hannah Martin has an unusual job: she's a professional cuddler. While she has a big heart for her clients, she hasn't found someone special to snuggle up to in her personal life.
Winter Sullivan isn't looking for love. She's an aloof workaholic who's built walls of ice around herself. She would rather drive toothpicks under her fingernails than cuddle, and she certainly doesn't want to share her space with anyone.
When Winter's estranged father dies, he leaves her one last surprise: she and Hannah, a perfect stranger, will inherit a building together. But there's a catch: first, they have to live together for ninety-two days.
Winter is determined to dislike her rival, but soon finds Hannah isn't what she expected at all. Thanks to a hilarious doormat war, a cuddle dare from Winter's half sister, and a kiss in the most unusual of places, the frosty fortress around her heart begins to melt.
Will she be able to accept that love might be just a touch away?
Available at:
Contract for Love by Alison Grey
Single mom Sherry lives in a trailer park with her six-year-old son Jake, trying to make ends meet as a waitress.
Madison's life couldn't be more different. She's been raised by her rich grandmother, and her only goals are partying and bedding women.
When her grandmother threatens to disinherit her if she doesn't clean up her act, Madison has to find a way to convince her she's changed.
After a chance encounter with Sherry, Madison comes up with a crazy idea that will rock both of their worlds: she wants to hire Sherry to play her fake girlfriend.
Available at:
Bet Against Me by Fiona Riley
Trina Lee would sell her own mother's house out from under her if it meant securing a sale, no joke. Her reputation as a ruthless deal closer and her record sales year in Boston's luxury property market should've landed her Realtor of the Year, so when the award goes to new girl rival Kendall Yates, Trina is left speechless. And, okay, turned on.
Kendall made more enemies than friends the night of her big win, but she couldn't care less. She's the best, and she has the obnoxious glass paperweight to prove it. This is the edge she needs to escape the shadow of her family's reputation. When her boss accepts a friendly bet that she can close the holy grail of property deals, she's not about to fold for anyone. Especially not to overly cocky and annoyingly beautiful Trina. Even if it breaks her heart.
Available at:
The Brutal Truth by Lee Winter
Australian crime reporter Maddie Grey is working the night shift, out of her depth in New York, miserable, and secretly crushing on her twice-married, media-mogul employer.
Elena Bartell is a brilliant, fierce, ice queen boss who eats failing newspapers for breakfast and believes to her core that everything would be much simpler if people told each other the whole, unvarnished truth.
As work takes them to Australia, Maddie is goaded into a brief, seemingly harmless bet with her enigmatic boss—where they can't lie to each other. The bet backfires spectacularly as Elena realizes that the brutal truth might not be what she wanted after all.
Available at:
From Fan to Forever by Tiana Warner
Talented A-lister Cate Whitney is the gorgeous middle-aged movie star almost every lesbian has a crush on.
Rachel Janssen, an introverted medical physics student, is no exception. So when her celebrity crush starts filming near her Vancouver apartment, she can't believe her luck.
A chance encounter with Cate leads to a little swooning, small-talk, and a shock offer to help the star as a science consultant on her Marie Curie film. And, wait, could Cate actually be flirting with Rachel?
However, as the chemistry sizzles between them, Rachel struggles with the harsh reality of being linked to a famous actress. Paparazzi keep dragging her into the spotlight when all she wants is to be taken seriously in her medical career.
Is falling for a superstar too much to handle? Even if sexy Cate Whitney is the one everyone wants? Even if she's everything Rachel needs?
Available at:
The Shaded Parlor by Nanisi Barrett D'Arnuk
Mistress JuliAnn Clayton owns one of the most renowned bars and alternative restaurants in the area. But when she allows her staff to talk her into listing herself in the "Flog-a-Dom" auction to benefit the LGBTQ Pride Clinic, she's sure something will go wrong. With an audience watching and the Dungeon Monitor officiating, how bad could it get? And Dr. Shelley is always ready to alleviate any injury, real or imagined.
With a starting bid at five thousand dollars, it will definitely raise money for the Clinic. But when the bidding gets out of hand, will it open all those doors JuliAnn has spent fifteen years trying the lock closed? Will the memories sink her back into those dreaded days that even millions of dollars haven't erased?
When the mystery bidder turns out to be the Mistress who abandoned her fifteen years earlier; the one JuliAnn swore she'd never go back to, her memories come crashing down. Can she fulfill her promise to help the Clinic, or will the past throw her bar, her restaurant, and her reputation into chaos?
Available at:
The Woman in 3B by Eliza Lentzski
The challenge was supposed to be simple. Spill a drink on an airline passenger and be one square closer to winning the company's secret bingo card game. Twenty-five different challenges, at various levels of difficulty, had to be accomplished within a month's time. After nearly eight years of being a flight attendant, Alice Kaminski had spilled drinks on plenty of passengers, mostly on accident and during rough air. She didn't particularly like the idea of the bingo card, but she had massive student debt; the financial incentives were enough to make her momentarily forget the questionable ethics of it all. The challenge was supposed to be simple—that is, until Alice saw her intended target—the beautiful woman seated in 3B. And after that, nothing was simple ever again.
Available at:
Girl Talk by Cassidy Storm
Autumn is stuck in a rut. She's been on many first dates but is beginning to wonder if she'll ever experience happiness — or a second date, for that matter.
When she gets a new phone, she receives a call from an "Unknown Number." The person's first words are, "So. You were going to tell me how wet you are." Autumn is stunned — because the caller happens to be a woman.
Over the next few months, the mysterious calls continue, and the "girl talk" gets more and more personal.
But Autumn is straight . . . isn't she?
Available at:
The Perks of Loving a Wallflower by Erica Ridley
As a master of disguise, Thomasina Wynchester can be a polite young lady—or a bawdy old man. She'll do whatever it takes to solve the cases her family takes on. But when Tommy's beautiful new client turns out to be the highborn lady she's secretly smitten with, more than her mission is at stake . . .
Bluestocking Miss Philippa York doesn't believe in love. Her heart didn't pitter-patter when she was betrothed to a duke, nor did it break when he married someone else. All Philippa desires is to decode a centuries-old manuscript to keep a modern-day villain from claiming credit for work that wasn't his. She hates that she needs a man's help to do it—so she's delighted to discover the clever, charming baron at her side is in fact a woman. But as she and Tommy grow closer and the stakes of their discovery higher, more than just their hearts are at risk.
Available at:
Without a Front: The Producer's Challenge by Fletcher DeLancey
Alsea is fractured in the aftermath of war. So is its leader. Though devastated by a personal loss, Lancer Andira Tal must somehow stitch her world together and move it forward when all the rules have changed. Every decision is fraught with risk, and her enemies wait for her to stumble.
During a global debate over alien technology, Tal stuns the world when she accepts a challenge from her most vocal critic in the producer caste. By trading the staff of office for the tools of a field worker, she hopes to swing the producers to her side.
In the peaceful fields of Hol-Opah, Tal finds both a shocking secret and a lost dream. It is here that she will take her greatest risk—and give her enemies their greatest weapon.
Available at:
Bitter Fruit by Lois Cloarec Hart
Boredom and booze inspire Jac Lanier to accept an unusual wager from her best friend to seduce Lauren Blaine, a beautiful co-worker, within a month. One small problem: The woman is straight. Not to mention engaged. And a complete stranger. Nonetheless, Jac is pretty confident that she'll win.
Naturally, her plan goes awry—after all, if you sow an onion seed, you won't harvest a peach. Will Jac reap the bitter fruit of her games when the truth comes out? Will Lauren turn the tables on her?
Available at:
Run to You by Georgia Beers
Welcome to Junebug Farms, a successful, well-known animal shelter in upstate New York, where every day brings something new—love, stress, heartbreak, warmth—and not just from the animals.
Catherine Gardner knows what it means to work hard. Growing up with little, it's pretty much all she's done for most of her life. As the bookkeeper for Junebug Farms, she handles the money. When Catherine finds herself undeniably attracted to Emily Breckenridge, daughter of the shelter's largest donor, it doesn't sit well with her. At all.
Emily Breckenridge has spent her life in the shadows of both her family's money and her brother Clark. But when the reins of the family's charity foundation are taken from Clark and handed to Emily, it's her chance to shine on her own. Everything about Catherine Gardner is unexpected, from her emotional reserve to the crazy magnetic pull she has…one Emily can't seem to fight… Available at:
If You Dare by Sandy Lowe
Lauren West is stuck. Stuck in her hometown over the holidays. Stuck in a Wi-Fi dead zone. Stuck watching her longtime crush make out with her ex-best-friend. The small town of Sunrise Falls thrives on gossip, and everyone's talking about the mess she's made of her life back in San Francisco. One festively decorated bar and two vodka tonics later, a game of truth or dare seems like just the thing to distract her. Until the dare to seduce the next woman who walks through the door brings her face-to-face with librarian Emma Prescott.
Available at:
This Used to Be Easier by Katia Rose
Meg Doyle did not intend to return home from college with a suitcase and nowhere else to go.
Ideally, she would have rolled up to her tiny home town in a limousine and jumped out wearing a designer tuxedo. She would have shaken a few hands, signed a few autographs, and maybe kissed a few girls before riding off into the sunset of her glorious, post-grad future in set design.
Instead, she's stuck spending the summer in her childhood bedroom, trawling the internet for job listings after a last minute internship cancellation in Europe.
It's anything but triumphant. Her friends in the city won't stop reminding her what she's missing, her mom won't stop researching lesbian slang terms to seem more 'relatable,' and around every corner in the small town of Chapel Creek, there's Connie Shipley.
The girl Meg used to know better than anyone in the world.
The girl she spent countless nights huddled under the blankets with for sleepovers and movie marathons.
The girl who leaned in and kissed her four summers before.
The girl who hasn't spoken to her since.
…Which makes it very inconvenient that Meg's heart still stops every single time she sees her.
Available at:
Call My Bluff by Bel Blackwood
Never fall in love with straight women. But sleeping with them? That's another thing entirely…
When straight girls want to experiment, cocky butch Dakota is more than happy to show them the ropes. She'll give them everything they want– except for her heart.
She's not making that mistake again.
Bubbly outgoing Zoe had never thought that she could be anything but straight. But when she meets the intense Dakota, unexpected sparks fly.
Dakota is so smug and confident– it's hot in the bedroom, but infuriating outside of it! There's no way that Zoe's giving Dakota the satisfaction of winning her over… right?
One bet. One weekend.
Who will give in first?
Available at:
Lines of Love by Brey Willows
The Muse of Love, Eris Ardalides, is bored out of her mind. Love in this century isn't real. It has no depth or feeling, and she's taken herself out of the Muse business altogether. Sex is fine. Love, not so much. As far as she's concerned, she's retired. Life is too short for the angst that comes with deep emotion, even for an immortal.
Grace Gordon is an excellent divorce lawyer. She's trying to save the world, and who has time for frivolity when lives are being torn apart? She's lonely, yes, but so what? One day she'll find love and a relationship. But she'll never settle for anything less than perfect. Surely, it's out there somewhere…
When Eris finds out she's being sued by lovelorn victims who believe they might've had a chance if the Muse of Love hadn't been AWOL, it's Grace who takes the case. Attraction simmers, but there's no middle ground when Grace wants perfection, and Eris doesn't believe love even exists anymore.
The lines of love have been drawn. Who will cross them first?
Available at:
Leave a comment
Leave a comment and let us know what book you'll be reading for the "sapphic book that involves a dare or a bet" category!
Send in your Sapphic Book Bingo card(s)
If you have finished a book bingo card (or maybe several), don't forget to send it in to be entered into the giveaway on December 31. Send me your bingo card either as a PDF or as a photo or screenshot via email.