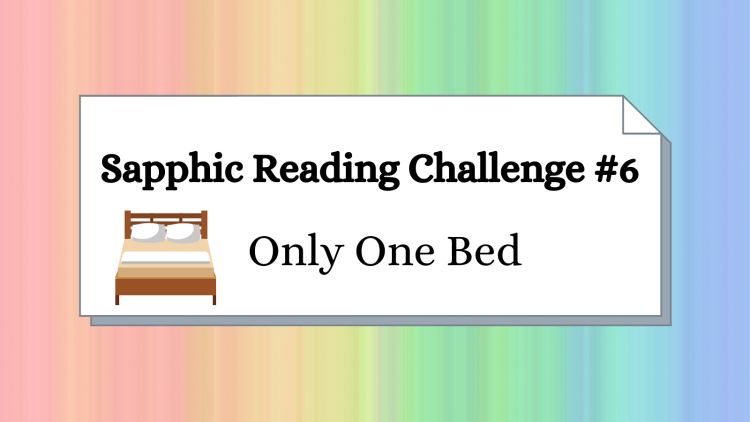 This week's Sapphic Reading Challenge category features a trope that seems to be quite popular in women-loving women romance. I call it the "only one bed" trope. It includes two characters who are not (yet) a couple having to share the only available bed.
Usually, that leads to hilarious situations: one character clinging to the edge of the bed so she won't give away her attraction, or they wake up in the middle of the night, cuddled up to each other. And sometimes, a whole lot more than cuddling happens 😊
Read up on the rules of the Sapphic Reading Challenge
Before you pick a book for the "there's only one bed" category, read up on the rules of the Sapphic Reading Challenge and download your PDF so you can keep track of the books you read this year.
Remember that you can either read one of the 15 books listed below or pick another sapphic book featuring the "only one bed" trope.
15 sapphic novels that include the "only one bed" trope
I put together a list of 15 sapphic novels in which the main characters have to share a bed. I hope you'll find one you enjoy.
Chemistry Lessons by Jae
Kylie and Regan have been best friends since kindergarten, supporting each other through thick and thin.
While everyone thinks they would be perfect for each other, they insist there's no chemistry between them—and Regan should know since she's a chemistry teacher.
To prove it, they agree to a little chemistry experiment: they'll go on three dates with each other.
So what if their gazes start to linger and accidental touches no longer feel platonic? They chalk it up to the romantic atmosphere—until a friendly good night kiss turns passionate.
Can their friendship go back to the way it was before? Do they even want it to? Or will they risk losing what they have for a chance at love?
Available at:
Crier's War by Nina Varela
After the War of Kinds ravaged the kingdom of Rabu, the Automae, designed to be the playthings of royals, usurped their owners' estates and bent the human race to their will.
Now Ayla, a human servant rising in the ranks at the House of the Sovereign, dreams of avenging her family's death…by killing the sovereign's daughter, Lady Crier.
Crier was Made to be beautiful, flawless, and to carry on her father's legacy. But that was before her betrothal to the enigmatic Scyre Kinok, before she discovered her father isn't the benevolent king she once admired, and most importantly, before she met Ayla.
Now, with growing human unrest across the land, pressures from a foreign queen, and an evil new leader on the rise, Crier and Ayla find there may be only one path to love: war.
Available at:
Anyone But Her by Erica Lee
Reagan Cooper has been an out and proud lesbian since high school, but can't say no when her gay best friend, Jamie Miller, asks her to pretend to be his girlfriend for his family reunion. Jamie has been there for her through everything. Plus, she's interested in learning more about the family he never speaks of.
Living in California for eight years, Charlie Miller has been able to live authentically, but being back in her small Maryland hometown with her conservative family means going back into the closet. What she didn't expect was to be so attracted to her brother's girlfriend. 
Available at:
Make the Yuletide Gay by Ivy L. James
Junior editor Grace Taylor is doubling as the temporary assistant to senior editor Nicola Valentine…and harboring a secret crush on her. Grace is devastated when a work conference forces her to miss her big family Christmas. However, she gets a gift she doesn't expect when a snowstorm strands her and Nicola at a small B&B.
Nicola has no idea how to handle sharing a room with her gorgeous, vibrant assistant. As she learns to share her heart as well, her fear threatens the blossoming relationship. Can she let Grace in, or will Nicola's past sabotage her chance at happiness?
Available at:
Just My Luck by Andrea Bramhall
Genna Collins works a dead end job, loves her family, her girlfriend, and her friends. When she wins the biggest Euromillions jackpot on record everything changes…and not always for the best.
When Abi Kitson fell in love she always knew it would go unrequited. The woman of her dreams was so close yet seemingly untouchable for so many reasons. Reasons like – they are best friends, or the big age gap, or the 'other' woman, nevermind Abi's own baggage.
And even when those reasons crumble it seems luck just isn't on her side.
It's a learning curve for both of them. But what if money really can't buy you everything you want? What if the answers aren't hidden in a big, fat bank balance? What if happiness is right in front of them? They just have to reach out…
Available at:
Revel by Bryce Oakley
Billie and Vero are getting married and the gang's all here, even the only two members left of the Singles Girl's Club, Isla and Freya.
When the wedding planner mixes up reservations for the wedding, party girl Isla and jaded artist Freya find that they're either sharing the very last room available or one of them is sleeping out on the beach. There's just one teeny-tiny problem — the room has one bed. But they're mature adult friends who can handle a sleepover. Right?
What happens when love is in the air and suddenly, kissing one of your closest friends seems like the world's best idea?
Get your sandals out for a beachy friends-to-lovers novella with one last sweet ending to The Shrikes' love stories.
Available at:
Mangos and Mistletoe by Adriana Herrera
Kiskeya Burgos left the tropical beaches of the Dominican Republic with a lot to prove. As a pastry chef on the come up, when she arrives in Scotland, she has one goal in mind: win the Holiday Baking Challenge. Winning is her opportunity to prove to her family, her former boss, and most importantly herself, she can make it in the culinary world. Kiskeya will stop at nothing to win, that is, if she can keep her eyes on the prize and off her infuriating teammate's perfect lips.
Sully Morales, home cooking hustler and self-proclaimed baking brujita, lands in Scotland on a quest to find her purpose after spending years as her family's caregiver. But now, with her home life back on track, it's time for Sully to get reacquainted with her greatest love, baking. Winning the Holiday Baking Challenge is a no brainer if she can convince her grumpy AF baking partner that they make a great team both in and out of the kitchen before an unexpected betrayal ends their chance to attain culinary competition glory.
Available at:
Mrs. Mix Up by Candace Harper
A secret crush. A mix-up in paperwork. And suddenly, a fake marriage that lands two women in one hotel room–and face to face with their denial.
After six months of simmering attraction, librarians Sofiya Anderson and Molly Andersen are ready to burst. There's a magnetism between them that threatens their commitment to professionalism, and not even a librarian's stern shushing can quiet it down. But they've managed to hold themselves in check…for now.
Until a mistake at a regional conference, a tiny oversight in spelling, makes the coordinators believe they're a married couple.
Two women. One bed. And a Mrs. Mix-Up that doesn't quite go by the books. Can they make it through four days of professional development with both their hearts and their jobs intact.
Available at:
All the Reasons I Need by Jaime Clevenger
Kate Owens has kept her attraction to her best friend Mo Calloway a carefully guarded secret for years. But some secrets you can't hide forever and she's worried that Mo is beginning to suspect her feelings.
It's harder than ever to pretend there's nothing going on when a reservation mistake on a trip to Mexico leads to Kate sharing Mo's bed for five long nights.
One fateful vacation could change everything. But are Kate and Mo ready to risk their friendship for a chance at love?
Available at:
Love Waits by Gerri Hill
High school sweethearts…and nobody knew.
Ashleigh Pence had been the all-American high school girl: cheerleader, prom queen…and in love with another girl. Gina Granbury hasn't thought about Calloway High in twenty years, but the arrival of the invitation to the class reunion brings back memories of Ashleigh and the betrayal that drove them apart.
With no real choice, Ashleigh has to go the event, hoping that it's not the one reunion that Gina decides to attend after all these years. Gina had expected to dismiss the possibility as easily as she has during all the years since, but the curiosity is suddenly strong. Her long-broken heart has never mended, but that's no reason to go back in time…is it?
Available at:
Cowgirl 101 by Laina Villeneuve
What Jo Harding loves most about the summer is being able to retreat from annoying humans. Though her friends say she'd be happier with someone sleeping by her side, she insists that all she needs to be happy are her mules, her dog, and a trail into the backcountry. She has absolutely no time to teach the incompetent, if attractive, newcomer.
Daisy Lucero is an eager student from the start. Hired for work in the café, her real dream is to explore the High Sierra wilderness on horseback. While she would love to earn the respect of the handsome woman who inspired her adventure, she may have to settle for pestering her with songs and questions.
In the vast classroom of the California wilderness, each woman finds herself tested. Tests of perseverance for Daisy as she learns to ride, and tests of patience as Jo considers whether life is about more than riding alone.
It doesn't take either of them long, however, to realize that neither one of them needs a lesson in chemistry.
Available at:
Homecoming by Celeste Castro
Destiny "Dusty" Del Carmen is a bestselling author and much sought-after speaker. An invitation to the Northwest Urban Indian Federation's annual conference brings Dusty back to her "home" state of Idaho—the one place she swore she would never return to. Dusty does what she does best—smothers the painful memories of her past and picks up the smoking hot bartender at the local lesbian hangout.
Professor Morgan West is eager to attend the Federation's annual conference and to meet the famous Destiny Del Carmen. A chance encounter leaves them trapped in a rustic cabin and Dusty has nowhere to run from her past pain—or her present fears. Will this accident of fate finally lead her home?
Available at:
Alone by E. J Noyes
Half a million dollars will be Celeste Thorne's reward for spending four years of her life in total isolation. No faces. No voices. No way to leave.
Since Celeste has never really worried about being alone, the generous paycheck she'll receive for her participation in the solitary psychological experiment seems like easy money.
When she finds an injured hiker in the woods bordering her living compound, her strictly governed world is thrown into disarray. But even as she struggles with the morality of breaking the rules of the experiment, Celeste can't deny her growing attraction to the kind and enigmatic Olivia Soldano. Still, how much can you really trust a stranger? And how much can you trust yourself when you know all the faces you've seen and voices you've heard for the past three years have only been your imagination?
But what's real? Celeste's reality may lie somewhere between the absolute truth and a carefully constructed deception.
Available at:
Mutual Benefits by HP Munro
Coming out to your loved ones is stressful, so when Hannah Melville's family not only accept but celebrate her accidental announcement, it should be a relief. Which it would be, if Hannah was gay.
Ashley West isn't looking for a relationship. When she's set up by her mother on a blind date, she's ready to nip any expectations in the bud. She's less prepared for her love interest to be straight.
What do you get when you combine a fake relationship with two meddling mothers? A laugh-out-loud romantic comedy that will have you glued to the page!
Available at:
The Wrong Date by Sienna Waters
What happens when you fall for Ms. Wrong?
Annie Harland is rich, successful, and very single. So when an invitation to her tenth high school reunion drops on her mat, she's determined to skip it. Until a drunk evening with her best friend results in an appointment with an escort named Robin.
Robin is supposed to be bookish, well-muscled, and the owner of a golden retriever. Robin is actually tall, curvaceous, and very, very female.
Things should have ended at their very first meeting. But for some strange reason, Annie can't stop seeing Ms. Wrong. And Robin is Ms. Wrong, if only because she's a Ms. and not a Mr.
What should have been a story of high school revenge has turned into a romance, and Annie's life is about to be turned upside down. But love knows no labels, or does it?
Available at:
Leave a comment
Leave a comment and let us know which book you'll be reading for the "only one bed" category!