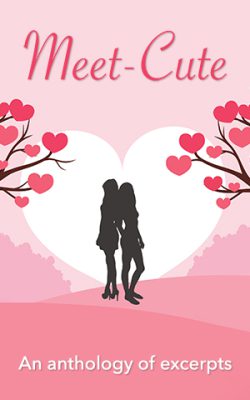 First-meeting scenes in romance novels are special. They often set off the spark that will later grow into passion and love.
In this anthology, you are getting an entire book full of "meet-cutes."
Forty-five of the most popular authors of sapphic fiction picked an excerpt from one of their books for you. Some of these first encounters are adorable, some are hilarious, and others are tension-filled, but they are all unique and memorable in some way.
Contributing authors:
E. J. Noyes, Lee Winter, Harper Bliss, Jae, Milena McKay, T.B. Markinson, Miranda MacLeod, Jamey Moody, Rachel Lacey, Anna Stone, KJ, Eliza Lentzski, Rachel Spangler, A.L. Brooks, Anne Hagan, Adrian J. Smith, Brenda Murphy, Emily Banting, Cheyenne Blue, Chris Zett, Jourdyn Kelly, Serena J. Bishop, Katia Rose, Claire Highton-Stevenson, Cade Haddock Strong, Fiona Zedde, Johana Gavez, Quinn Ivins, Sienna Waters, Stephanie Shea, Tiana Warner, Violet Morley, A.L. Lester, Anna Larner, Catherine Maiorisi, Jess Lea, Jo Havens, S.W. Andersen, Kimberly A. Todd, Melissa Price, R.L. Merrill, Renee Dahlia, Roz Alexander, Shannon M. Harris.
Publication date: September 15, 2022
Sign up for Jae's reader newsletter
Sign up for Jae's monthly reader newsletter to be the first to find out about new releases, free books, special offers, giveaways, and other book-related news. You'll also get a short story as a welcome gift.