With Halloween approaching, it's time to take a closer look at paranormal books with lesbian or women-loving women main characters.
Paranormal books are set in a world that looks like our current, ordinary world at first glance—but paranormal creatures and supernatural beings such as werewolves, shapeshifters, vampires, demons, or ghosts exist along with humans.
If paranormal fiction is a square that you struggle with, take a look at these tips on how to complete your book bingo card even when you don't like speculative fiction.
15 GREAT LESBIAN PARANORMAL BOOKS
I've put together a list of 15 paranormal books featuring women-loving women. I hope you'll enjoy these novels.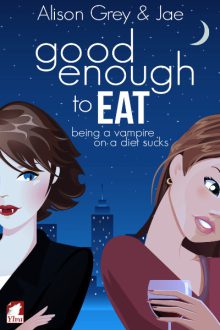 Good Enough to Eat (The Vampire Diet Series, book 1) by Jae & Alison Grey
Robin is a vampire who wants to change her eating habits. To fight her cravings for O negative, she goes to an AA meeting, where she meets Alana, who battles her own demons.
Despite their determination not to get involved, the attraction is undeniable.
Is it love or just bloodlust that makes Robin think Alana looks good enough to eat? Will it even matter once Alana finds out who Robin really is? 
Available at:
The Devil You Know (Darkmirror Agency, book 2) by Marie Castle
Cate Delacy isn't thrilled to be volunteered as a finder of lost bodies, but she's not immune to Gemini Roskov's grief and righteous desire to claim her father's remains. It means a confrontation with the hostile Council of Supernatural Beings that controls far too much of New Orleans' darker mysteries and…personalities.
Available at: Bella BooksAmazonApple iBooks
Beauty and the Wolf by Bridget Essex
Bella has lived her whole life in the little town of Paris, Vermont. Her family's restaurant, the Rose Garden Diner, has been a point of pride…until they're forced to sell it.
Every day, a mysterious woman comes to the diner for lunch. Mel Grim enchants Bella, and when Grim makes her an offer she can't refuse, Bella goes to work for her. But Grim has a secret. Is their love strong enough to overcome the truth? Or are they destined for an unhappily ever after?
The Awakening (Sisters of Spirits Trilogy, book 1) by Yvonne Heidt
Sunny Skye, a psychic medium, is the head investigator and founder of Sisters of Spirits, a paranormal society dedicated to helping others understand what they can't see. She is excellent at finding ghosts but finds it difficult to cope in the real world. When she meets Jordan, she is instantly attracted and completely unnerved by the personal demons she carries around with her.
Available at:Bold Strokes BooksAmazonApple iBooks
Ex-Wives of Dracula by Georgette Kaplan
Mindy's best friend, Lucia, is a vampire. Every second Mindy spends with her she's in danger of becoming dinner. But Lucia needs help. To keep her alive they need fresh blood, and to cure her they have to kill her sire. So why is it that Nosferatu, the cops, and the chance of becoming an unwilling blood donor don't scare Mindy half as much as the way she feels when Lucia looks at her?
Available at:Ylva PublishingAmazonApple iBooks
Five Moons Rising by Lise MacTague
Code-named Malice, Hunter Mary Alice Nolan was genetically modified and rigorously trained to use her great strength, heightened senses, and killer instincts to eliminate supras who prey on the innocent. Werewolf Ruri Samson is comfortably situated as the Beta of her peaceful pack. Until she is betrayed by the woman she loves and an evil outsider massacres her pack. Although these two women should despise each other, fate compels them to join forces on a dangerous quest to avenge their loved ones—and will ignite a forbidden passion that neither of them ever imagined.  
Available at:Bella BooksAmazonApple iBooks
Witch Wolf (Kassandra Lyall Preternatural Investigator series, book 1) by Winter Pennington
Preternatural Private Investigator and Paranormal Huntress Kassandra Lyall is used to working alone. Whenever there's a murder or a mystery to solve that involves the preternatural—she's the witch they call. When she's called in to help the local cops work on a mysterious murder case, she finds herself needing all the help she can get.
Available at:Bold Strokes BooksAmazonApple iBooks
The Midnight Hunt (Midnight Hunters, book 1) by L.L. Raand
Medic Drake McKennan has never been good at following protocol, so she doesn't think twice about rendering emergency care when a young girl's life is at stake—even if the girl is in the throes of Were fever and any sane human should know better. It isn't the bright shining pain of the bite or even the wrenching agonies of the fever that convinces her everything in her life has changed.
Available at:Bold Strokes BooksAmazonApple iBooksAudible (audio book)
The Devil's Tree (The Hunter series, book 1) by Ali Spooner
Torn between her love for the pack and her need to find what's missing in her life, Devin Benoit travels to New Orleans. She senses something calling to her as she enters a small club off Bourbon Street and her eyes are drawn to the DJ spinning music. Without any doubt, she knew she had found the missing piece of herself. When her new love Tia is kidnapped, Devin and her brother Damen, alpha of the Baton Rouge werewolf pack, must return to the Devil's Tree, where lives and souls are lost, and sad memories abound. Will the previous happenings at the Devil's Tree help or hinder Devin in the fight of her life, and the life of Tia, the woman who now owns her heart?
Available at:Affinity Rainbow PublicationsAmazonApple iBooks
Fury's Bridge by Brey Willows
Avenging fury Alectho (Alec) Graves has been tasked with saving the world. If she fails in her mission, those she loves will cease to exist. Philosophy professor Selene Perkton lives an ordinary, well-scheduled life. When Alec appears, the world she thought she knew becomes a very different place. Can Alec and Selene put aside their differences, or will the evil lurking in the shadows manage to pull them apart?
Available at:Bold Strokes BooksAmazonApple iBooks
Twisted Echoes by Sheri Lewis Wohl
Can a reluctant psychic set things right, or will an angry spirit destroy those she loves the most? Lorna Dutton is ready for something new and a chance to move beyond the numbness of a broken heart. Inheriting her great-aunt's house on the shores of the Pacific Ocean, she embarks on an exciting adventure only to discover things are more complicated than simply starting over.
 Available at:Bold Strokes BooksAmazonApple iBooks
If you haven't done so already, download your bingo card, pick the book you want to read for the "paranormal" square, and start reading! Remember that you can either read one of the 15 books listed above or pick another lesbian paranormal book.
Lesbian Book bingo giveaway: Win a book by leaving a comment
 For the paranormal square, I'm giving away an e-book copy of:
The Devil's Tree by Ali Spooner
Five Moons Rising by Lise MacTague
Fury's Bridge by Brey Willows
Anyone can enter. To be entered into the drawing, leave a comment on this blog and let us know which book you're going to read for the "paranormal" square or if you can think of other lesbian books that fit this category.
Entries close on Thursday, October 25, 2018, 10 a.m. CET, when I'll draw the winners using a random numbers generator. I'll notify winners via email. Your email address won't be used for any other purpose.
Subscribe to this blog so you won't miss the next book bingo post
The reading list for the next bingo square—f/f holiday books—will be posted on November 1. Subscribe to my blog so you won't miss it. There'll be another giveaway too!