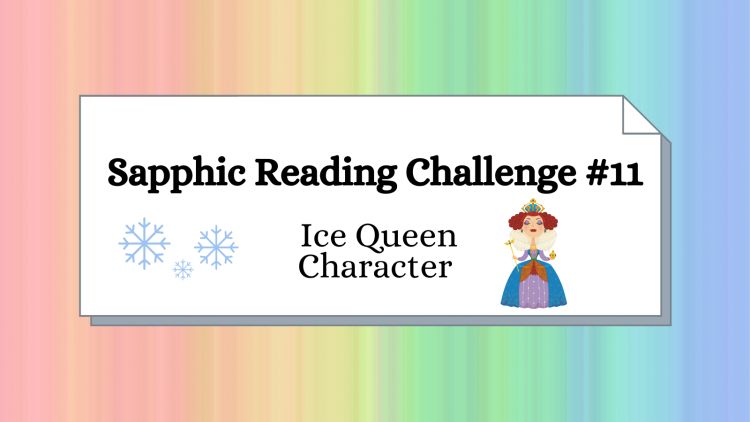 This week's Sapphic Reading Challenge post features a very popular kind of protagonist: the famous (or maybe infamous) ice queen character.
Ice queens are characters who come across as cold, aloof, and prickly. Often, they melt a bit after falling in love, and we get to see their well-hidden vulnerable side, but they typically remain their ice queenish, frosty selves with other people. Ice queens are usually in positions of power–they own their own business, are famous celebrities, or made it to the top of the food chain in whatever profession they chose. Think Miranda Priestly in The Devil Wears Prada, and you have the quintessential ice queen.
Read up on the rules of the Sapphic Reading Challenge
If you are new to the Sapphic Reading Challenge, read up on the rules and download your PDF so you can keep track of the books you read this year. Remember that you can either read one of the 15 books listed below or pick another sapphic book featuring an ice queen character.
15 sapphic novels featuring an ice queen character
I put together a list of 15 novels featuring an ice queen main character. I hope you'll find one you enjoy.
Just a Touch Away by Jae
An enemies-to-lovers lesbian romance with an ice queen whose frosty facade is melted by the power of touch.
Hannah Martin has an unusual job: she's a professional cuddler. While she has a big heart for her clients, she hasn't found someone special to snuggle up to in her personal life.
Winter Sullivan isn't looking for love. She's an aloof workaholic who's built walls of ice around herself. She would rather drive toothpicks under her fingernails than cuddle, and she certainly doesn't want to share her space with anyone.
When Winter's estranged father dies, he leaves her one last surprise: she and Hannah, a perfect stranger, will inherit a building together. But there's a catch: first, they have to live together for ninety-two days.
Winter is determined to dislike her rival, but soon finds Hannah isn't what she expected at all. Thanks to a hilarious doormat war, a cuddle dare from Winter's half sister, and a kiss in the most unusual of places, the frosty fortress around her heart begins to melt.
Will she be able to accept that love might be just a touch away?
Available at:
Hotel Queens by Lee Winter
Over one long night at a bar in Las Vegas, two powerful hotel executives meet, flirt, and challenge each other—having no clue they're rivals after the same dream deal.
Brilliant ice queen Amelia Duxton is a hotel vice president who thrives on control, truth, and efficiency. She's in no mood for love or the mess it brings. All she wants is to buy the coveted Mayfair Palace—a massive deal that could finally help her land the CEO job in her family's hotel empire.
Fiery Kai Fisher is charming and chaotic and renowned for closing ambitious deals. Her sights are set on snatching the Mayfair Palace out from under the nose of her hated arch rivals, the Duxton family.
But when secrets emerge and everything starts to fall apart, how can either of the warring women win—especially when they've just met their match?
Available at:
Don't Cry for Me by Rachel Lacey
A frosty television host, a bubbly bar owner, and a litter of abandoned kittens. The recipe for ratings gold…or heartbreak?
Eve Marlow has her eyes on the prize: a third season of her popular business makeover show, Do Over. But when her ratings take an unexpected dive, Eve needs a blockbuster new client, or she can kiss season three goodbye. She has her work cut out for her, and that's before she discovers a litter of newborn kittens in a trash can. Now she's desperate to find someone to take them so she can concentrate on reviving her career.
Josie Swanson had to put her kitten rescue on the back burner when she inherited her father's bar two years ago. Since then, she's invested all her time and energy into keeping it afloat, but despite her best efforts, Swanson's is going under. When she gets a phone call from Eve Marlow, host of the television show Josie applied to earlier that year, the woman she's convinced can save her bar, Josie hopes her luck has finally turned.
Eve knows what she needs to succeed, and it isn't Josie—or her bar. There's no denying the chemistry sizzling between them, though. Josie's personality is as vibrant as her turquoise-tipped hair. She stirs things in Eve that haven't been stirred in a long time, but there's a reason she keeps her heart under lock and key. Eve stands to lose a lot more than her TV show if she lets her guard down, no matter how tempted she is to see if Josie's love would be worth the risk.
Available at:
Blurred Lines by KD Williamson
Kelli MacCabe is a no nonsense detective with a tough exterior. Only a select few know her as a loyal, loving friend. Committed to her family, her friends, and her job, Kelli puts her needs behind everyone else's.
As a surgeon, Nora Whitmore is used to being in control. The hospital is her life and leaves room for little else. Respected by her colleagues, but misunderstood by the residents, Nora takes what she needs and keeps everyone at arm's length. In the process, she creates unexpected enemies.
Tragedy brings them together. As chaos grows around them, the lines between them begin to blur. Despite being from different worlds, friendship grows between them, turning quickly to attraction. Will these two strong, independent women find a way to deal with their individual baggage? Or will they be overcome by it?
Available at:
A Roll in the Hay by Lola Keeley
The whole "big city, successful career, loyal, hot girlfriend" experiment has been a miserable failure for veterinarian Tess Robinson, so she's moved back home to a small town in the Scottish countryside. She doesn't count on a run-in with the stuck-up, maddening, local landowner Lady Susannah Karlson, who tries to boss Tess around as if she owns the whole town…which she sort of does.
Closeted, wealthy, ice queen Lady Karlson is having the worst year – becoming widowed, being embroiled in a public feud over her vast estate, and now finding herself at odds with the sharp-tongued new vet who has just blown in from London. The annoying woman is so unsuitable to tend her horses, so impertinent, and so frustratingly cute.
As their clashes build and they're thrust together against a back-drop of eccentric village busybodies, class warfare, and deadly dangers, the circling women start to wonder if there might be something more to the rising tensions between them. It can't all be hate, can it?
Available at:
Who'd Have Thought by G Benson
Top neurosurgeon Samantha Thomson needs to get married fast and is tightlipped as to why. And with over $200,000 on offer to tie the knot, no questions asked, cash-strapped ER nurse Hayden Pérez isn't about to demand answers.
The deal is only for a year of marriage, but Hayden's going into it knowing it will be a nightmare. Sam is complicated, rude, kind of cold, and someone Hayden barely tolerates at work, let alone wants to marry. The hardest part is that Hayden has to convince everyone around them that they're madly in love and that racing down the aisle together is all they've ever wanted. What could possibly go wrong?
Available at:
Detour to Love by Amanda Radley
High-flying executive Celia Scott is on her way to Tokyo to accept a prestigious award heavy with emotional baggage. She'll make the trip, but she doesn't have to like it, and she certainly doesn't have to make nice with a stranger on a plane.
Artist Lily Andersen is excited to finally meet her online crush, the only person in the world who truly gets her. She just needs to survive the eleven-hour flight from London to Japan with a testy seatmate who by turns annoys and fascinates her.
Fate, upgrades, and a troupe of travelling clowns bring them together for a journey memorable for all the wrong reasons. Not only do they have nothing in common, they really can't stand each other. But people are not always as they seem, and Celia and Lily are about to realise, there's more than one path to love.
Available at:
Irregular Heartbeat by Chris Zett
After nearly a decade as a professional drummer, Diana Petrell leaves her rock-star life behind to continue her residency in emergency medicine. She's determined not to let anything stop her—not even falling in love with her aloof mentor, Dr. Emily Barnes.
Emily has only ever focused on her career as a senior attending in the emergency department, and she isn't happy about having to babysit a resident with a ten-year gap in her résumé, no matter how intriguing she is.
But every time they work together, it's not just their patients' heartbeat that gets a little irregular. Soon, the once-clear lines between work and personal life begin to blur.
When Diana's unorthodox secret past is revealed, putting her job in jeopardy, Emily has to choose between her career and her relationship. A lesbian romance that asks how much we'd risk for love.
Available at:
Tropical Storm by Melissa Good
Dar Roberts, corporate raider for a multi-national tech company, is cold, practical, and merciless. She does her job with razor-sharp accuracy. Friends are a luxury she cannot allow herself, and love is something she knows she'll never attain.
Kerry Stuart left Michigan for Florida in an attempt to get away from her domineering politician father and the constraints of the overly conservative life her family forced upon her. After college she worked her way into supervision at a small tech company, only to have it taken over by Dar Roberts' organization. Her association with Dar begins in disbelief, hatred, and disappointment, but when Dar unexpectedly hires Kerry as her work assistant, the dynamics of their relationship change. Over time, a bond begins to form. But can Dar overcome years of habit and conditioning to open herself up to the uncertainty of love? And will Kerry escape from the clutches of her powerful father in order to live a better life? The answer to both questions is no – unless these two women can strengthen and cement the tenuous bond that forms between them. First they must face storms that neither expects . . . and live to tell the tale.
Available at:
The X Ingredient by Roslyn Sinclair
Laurie Holcombe is out of a job, out of luck, and out of time. When a prestigious law firm hires her as an assistant to one of its senior partners, it feels like she might finally get back on her feet. All she has to do is put up with the whims of her infuriatingly icy boss, Diana. How hard could that be?
Diana Parker is Atlanta's top lawyer and isn't afraid to let everyone know it. She's driven, ruthless, demanding, and stuck in a failing marriage. Too bad she can't run her personal life as well as she runs her ordered office.
When a young assistant shows up with bright blue eyes, a cute Southern accent, and a streak of pink hair, Diana's sure she's all wrong for the job. And yet something seems to be pulling her and Laurie Holcombe together, drawing them into a secret, thrilling dance that's far too dangerous for a boss and employee.
Can they make rules for this powerful attraction, a way to keep each other at arm's length? But how do you resist the irresistible?
Available at:
Hot Ice by Aurora Rey, Elle Spencer and Erin Zak
Can falling in love melt the hearts of the iciest ice queens? Join Aurora Rey, Elle Spencer, and Erin Zak to find out!
In Ice on Wheels by Aurora Rey, all's fair in love and roller derby. That's Riley Fauchet's motto, until a new job lands her at the same company—and on the same team—as her rival Brooke Landry, the frosty jammer for the Big Easy Bruisers.
In Private Equity by Elle Spencer, Cassidy Bennett spends an unexpected evening at a lesbian nightclub with her notoriously reserved and demanding boss, successful venture capitalist Julia Whitmore. After seeing a different side of Julia, Cassidy can't seem to shake her desire to know more.
In Closed-Door Policy by Erin Zak, going back to college is never easy, but Caroline Stevens is prepared to work hard and change her life for the better. What she's not prepared for is Dr. Atlanta Morris, her new professor whose tough demeanor is no match for Caroline's burgeoning confidence.
Available at:
Undone by Bryce Oakley
Billie Rush can't stop writing pop songs. The kind of songs that her rock band, The Shrikes, would never play. After their successful first album, the pressure for a perfect follow-up is crushing her creativity. Billie's new songs and sound need an outlet, but she's not just going to give them away to anyone.
Vero De Luca is always in the limelight for making mistakes. The daughter of a famous musician, she's trying to make smart decisions for the first time in her life as she sets off on a solo career after years in a popular all-female group. Though she knows she's fully capable of writing her own songs, the label insists that her first single needs a major name behind it, not just her own.
Both women think that working together sounds like a match made in hell. Though they can hardly stand each other, sparks start to fly when they're writing the new single, "Undone."
Will they go up in flames or find a way to work together through the blaze?
Available at:
Redemption by Susanne M. Beck
Angel is a small-town young woman who finds herself trapped in her worst nightmare, a state penitentiary called "The Bog". Sentenced for murder and sent to the infamous prison, Angel becomes a useful inmate to the other prisoners with her unique skills of procuring items for the prisoners. Her life changes when Angel attracts the attention of the legendary prisoner and repeat offender, Morgan Steele, better known as "Ice", who once again returns to the Bog.
The minute Angel looks into the woman's icy blue eyes, she is irresistibly attracted to the charismatic woman, sensing a connection she cannot explain nor deny. Charmed by her innocence, Ice takes Angel up on a dare that will forever change their lives as the two start down a road together they've never traveled before – fueling a passion that will rock them to the very core and nurturing a love that will make them stronger together… and so much more vulnerable when they are apart.
Available at:
Don't Call Me Hero by Eliza Lentzski
It's been over a year since Cassidy Miller retired from the United States Marine Corps, but try telling that to her nightmares. She knew that coming back after eight years in a war zone wouldn't be easy, but she'd underestimated the real difficulties of transitioning back to civilian life. War is hell, but the aftermath is endless.
Looking for a fresh start, she's left her friends and career in Minneapolis to be a police officer in northern Minnesota. It's in the tiny town of Embarrass where she learns more about Julia Desjardin. The city prosecutor is cool, professional, and untouchable. But she and Cassidy have history, and Cassidy isn't going to let her easily forget that.
For all their surface differences, Cassidy and Julia have more in common than they first realized—both are reluctant to hand over their pasts to be judged and studied. But it might take someone just as damaged as the other to help each cope with the skeletons in their respective closets.
Available at:
Ice Queen by Gun Brooke
High school counselor Aislin Kennedy's charisma and exuberance mask deep scars that prevent her from letting anyone too close. Instead, she throws herself into helping her students. CEO of a fashion conglomerate, Susanna Garry has been through three painfully public divorces, and to say she's given up on love would be an understatement.
When Aislin agrees to help Susanna connect with her daughter, Cynt, surprising feelings awaken for both of them. But Aislin isn't ready to trust again and Susanna's track record is intimidating. If the past were to repeat itself, it could break Aislin for good.
Available at:
Leave a comment
Leave a comment and let us know which book you'll be reading for the "ice queen character" category!
Subscribe to this blog to get future Sapphic Reading Challenge posts
If you'd like to get all future Sapphic Reading Challenge posts sent to your in-box, subscribe to my blog.
Happy reading!
Jae