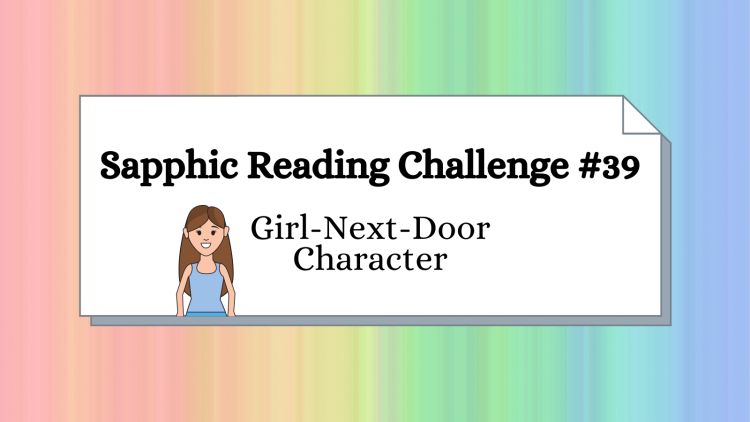 This week's Sapphic Reading Challenge features sapphic books with a girl-next-door character.
"Girl next door" doesn't mean that the main characters need to actually be neighbors and live door-to-door. It means that one of the main characters is the "girl next door" type—sweet, kind, and unpretentious. She's generally well-liked by everyone, and she's often described as pretty or cute, but usually, she's not movie-star stunning.
Read up on the rules of the Sapphic Reading Challenge
If you are only discovering the Sapphic Reading Challenge now, the good news is you can still join! It's a year-long challenge, so it runs until December 31, 2021. Read up on the rules of the Sapphic Reading Challenge and download your PDF so you can keep track of the books you read this year.
15 sapphic books with a girl-next-door character
I put together a list of 15 sapphic books with a girl-next-door character. I hope you find at least one you'll enjoy.
Not the Marrying Kind by Jae
Small-town florist Ashley Gaines loves her little flower shop and putting together the perfect bouquets for weddings and other happy occasions. Her own love life, however, is far from blossoming. Ash has decided that staying in the closet is safer than risking her heart again.
Local bakery owner Sasha Peterson hasn't had much luck mixing it up with romance either. Besides, she's too busy whipping up delicious treats to have time for a relationship.
But when their town's first lesbian wedding forces them to work together, Ashley and Sasha discover they have more in common than they imagined.
During food fights, cake tastings, and slow waltzes, they begin to see each other in a new light. Soon Ashley has to admit to herself that Sasha is tempting more than just her sweet tooth.
Available at:
16 Steps to Forever by Georgia Beers
If there's one thing Brooke Sullivan knows for sure it's that people let you down, but that hasn't stopped her from going after the life she wants. In a new city, with a new job and a new start as a high-end real estate agent, she's finally back on her feet. The last thing she needs is a distraction. Not her volatile neighbors, not a damn stray cat, and certainly not the flaky, infuriatingly adorkable girl-next-door property stager she has to work with.
Macy Carr believes in soul mates and true love. She knows because she had it all until a freak accident took the love of her life. She's doing okay though, surrounded by her family, her animals, and her BFFs. Home staging gives her a sense of control, and she's made her job her happy place. If only the super sexy, super cold new agent working for Macy's biggest client wasn't determined to ruin that.
Available at:
Poppy Jenkins by Clare Ashton
Poppy Jenkins makes everyone smile. She's the heart of Wells, a beautiful village in mid-Wales, leaving light and laughter in her wake. She has a doting family, an errant dog and a little sister with a nose for mischief. But she's the only gay in the village and it's a long time since she kissed a girl: the chance of romance in sleepy Wells is rarer than a barking sheep.
If she doesn't think too hard, life is cosy, until a smart sports car barrels into town with the last woman Poppy wants to see behind the wheel. Beautiful Rosalyn Thorn was once Poppy's high school BFF even though she was trouble. Then one day she abandoned Wells and Poppy without explanation. Now the highflier is back and bound to cause fresh havoc in the village and with Poppy's heart; folk are not happy.
Wells needs to wake up to the 21st century and Rosalyn can help, but old prejudices die hard. If they can be friends it could be the chance to make everyone's happy ever after. Couldn't it?
Available at:
Breaking Character by Lee Winter
Life has become a farcical mess for icy British A-lister Elizabeth Thornton. America's most-hated villain stars in a top-rated TV medical drama that she hates. Now, she's been romantically linked to her perky, new co-star, Summer, due to the young woman's clumsiness.
As a closeted actress, that's the last thing Elizabeth needs. If she could just get her dream movie role, life would be so much better. The only problem is that the eccentric French film-maker offering it insists on meeting her "girlfriend", Summer, first.
Summer Hayes is devastated when her co-star shuns her for accidentally sparking rumors they're lovers. Now the so-called British Bitch has the audacity to ask Summer to pretend to be her girlfriend to get her a role? Elizabeth doesn't even like Summer! Oh, how she'd love to tell her no. And Summer definitely would if it wasn't for the fact she's maybe a tiny bit in love with the impossible woman.
Available at:
Strawberry Summer by Melissa Brayden
Margaret Beringer didn't have an easy adolescence. She hated her name, was less than popular in school, and was always cast aside as a "farm kid." However, with the arrival of Courtney Carrington, Margaret's youth sparked into color. Courtney was smart, beautiful, and put together—everything Margaret wasn't. Who would have imagined that they'd fit together so perfectly?
But first loves can scar.
Margaret hasn't seen Courtney in years and that's for the best. But when Courtney loses her father and returns to Tanner Peak to take control of the family store, Margaret comes face-to-face with her past and the woman she's tried desperately to forget. The fact that Courtney has grown up more beautiful than ever certainly doesn't help matters.
Available at:
The Flaw In Our Design by Monica McCallan
Olivia Carver's life in Lake Cabot, New York is simple. That's how she likes it, even if she can't stop the town she loves from being overrun by wealthy tourists each summer. When she's not working at her family's paddleboard shop or spending time with her lovable but infuriating brothers, she puts her energy into writing professionally, a dream that has yet to materialize.
Valerie Maycomb used to summer in Lake Cabot with her family when she was younger, until school and planning for her future became the driving forces in her existence. For the first time in years, following her college graduation, she's spending a few months in the small, lakeside town she loved as a child. All she wants is a little time to decompress before law school in the fall and maybe even strike up the courage to talk to a woman.
A chance meeting at the lake opens up the possibility of a summer romance, with the explicit understanding that it can't become something more. Olivia's not built for falling in love, and Val needs to keep her eye on the prize of a successful career. But neither of them can deny the attraction, and summer quickly takes on a life of its own.
Available at:
Rough Around The Edges by Crystal Chard
Roxanne Mackenzie is not exactly living her best life. After moving to London to follow her dream of becoming a writer, she thought things would be different – better. Instead, they're a whole lot worse.
Meeting Josie Calhoun – the woman who has everything together, including the top button of her shirt – makes Roxy question how she's been living her life.
Josie can't bear lies and values trust above all else, so what will she make of Roxy's scandalous truth?
Available at:
Home by Kris Bryant
To say Sheriff Natalie Strand is shocked that Sarah Eastman, the girl who kissed her at a high school party, is back in town would be a huge understatement. Between Sarah's return and a stray dog that gets the best of her, Natalie's world is suddenly turned upside down.
They say you can't go home again, but that's exactly what Sarah does when she returns to Spruce Mountain, Oregon, to live with her aunt and uncle after her divorce. All she wants is peace and to ensure her daughter, Harley, has stability. Seeing Natalie again after seventeen years ignites a passion that she hasn't felt in a long time. Never mind that her heart tumbles in her chest or that she forgets words when Natalie's around, she needs to focus on her family and getting her life back together.
Natalie and Sarah are about to discover that anything is possible when love takes the long way home.
Available at:
What Happened in Vegas by Claire Highton-Stevenson
Molly Day's life is usually pretty uncomplicated, but after a series of hapless romances, she finds herself being packed off by her employees for some well-deserved vacation time in Vegas.
She had planned to soak up the sun, take in some shows, and enjoy being free and single again, but only Molly could end up married to a stranger!
Anna Garcia has a career and a life plan all set out, which doesn't include meeting Molly.
What starts off as dinner results in a night of tequila, great sex, and wedding rings.
This is a marriage of inconvenience for both of them, but getting it annulled isn't quite as simple as Anna thinks. Panicked, she returns to LA, leaving Molly with no way of contacting her, and her only option is to return home and try to forget all about the best mistake of her life.
So, when Anna turns up at Molly's coffee shop four months later, Molly is convinced she's there for a divorce. How wrong could she be? Anna wants to give it a go!
Can two people fall in love when they're already married, or will it just be something that happened in Vegas?
Available at:
Rocks and Stars by Sam Ledel
For Kyle Lindsay, life is simple. She comes from the ideal suburban family—two hardworking parents, a geeky younger brother, and a supportive best friend. But everything changes when Kyle starts having those kind of thoughts about her soccer teammate.
Things don't get any easier when college starts and she heads off to play for a Division I squad. Figuring out how to pass her classes is one thing. Figuring out herself and the other girls on her team, a whole other ball game.
Kyle's struggle to own who she is and what she really wants may end up landing her on the bench and without the woman of her dreams.
Available at:
Love Burns by Adrian J. Smith
Kimberly Thompson—or Kim Burns, her stage name—is a celebrity chef whose career is taking off. As a single mom who has a penchant for being a bit of a bitch, she goes through nannies like the flavor of the month until Becca Kline is sent to her by Kiddie Academy.
Becca—known as 'the fixer'—is often sent to homes considered to be troublemakers. In charge of caring for four-year-old Michael, she is determined to make this job her last before student teaching in the fall and finishing up her degree, which she has been working on for the better part of a decade.
Neither Kimberly nor Becca are prepared for the changes headed toward them, and they both have to learn the hard way that love doesn't wait or discriminate.
Available at:
Without Warning by KG MacGregor
On a day that begins like any other, a violent earthquake strikes Los Angeles, plunging the region into chaos. Two strangers, trapped in a collapsed shopping mall, find each other amid the rubble and join forces to escape. Hampered by injury and darkness, they dig and claw their way through one crumbled store after another, emerging long after most have given up hope for survivors.
The ordeal leaves both women shaken, but their shared triumph sets them on a life-changing course together, igniting a connection like neither has ever known.
Anna Kaklis—whose perfectly planned life never included falling in love with another woman—is thrown for a loop, but she doesn't doubt her heart.
Lily Stewart—abandoned too many times by people she trusted—won't let herself believe that Anna's love will endure.
Available at:
Wasted Heart by Lynn Galli
Austy Nunziata has spent two years pining for her married best friend and about the same amount of time berating herself for it. In fact, she's so adept at trying to stamp out her feelings that she could probably write a How-To guide on the subject. One, move 3,000 miles away from your best friend. Two, get a time-consuming job so you don't have time to think about your best friend. Three, hang out with new friends who aren't anywhere as enchanting as your best friend. Four, get involved with a striking woman who is smart, sexy, caring and, most importantly, available, unlike your best friend. Five, hope the new love interest doesn't find out about your pathetic best friend obsession before you have time to replace it with actual life-altering love.
Even following her own step-by-step process, Austy may not be able to redirect all of her misguided feelings. Becoming involved with Elise Bridie helps her realize how pointless her pining has been. But when Elise suspects that she harbors feelings for someone else, will their new found love survive the unrequited infatuation of Austy's fantasies?
Available at:
The Devil Inside by Ali Vali
Brains, guts, and ruthless ambition should be enough to come out on top in any fight. Except when the battle is over love, all bets are off.
Derby Cain Casey was groomed from birth to take the reins of the Casey family enterprises, which just happens to be one of the major crime organizations in New Orleans. Surviving by never turning away from a fight and knowing how to win at all costs, Cain is as careful with her heart as she is with her business – until she meets Emma Verde.
The farm girl from Wisconsin puts a hit out on Cain's heart and leads her down a dangerous road filled with great joy and devastating sorrow.
Available at:
The Long Way Home by Rachel Spangler
They say you can't go home again, but Raine St. James doesn't know why anyone would want to.
Rory St. James was disowned after she came out at seventeen. She rebounded by moving to Chicago, changing her name to Raine and putting down her hometown to audiences around the country. Now, ten years later, too old to be considered a gay youth, broke, evicted, and fresh off a much needed break-up, Raine St. James is forced to accept a job teaching at Bramble University in Darlington, the town she's been publicly bashing for the last decade.
Beth Devoroux was born and raised in Darlington. Despite losing her parents at a young age, she is well loved by everyone who knows her. She leads a comfortable life with good job at Bramble University, a long-term but closeted relationship, friends that she can count on, and everything she thinks she wants, so why is she so drawn to a rabble-rouser like Raine St. James?
Can Raine and Beth face their pasts and come to terms with their differences in order to have any hope for a future together?
Available at:
Leave a comment
Leave a comment and let us know which book you'll be reading for the "girl-next-door character" category!