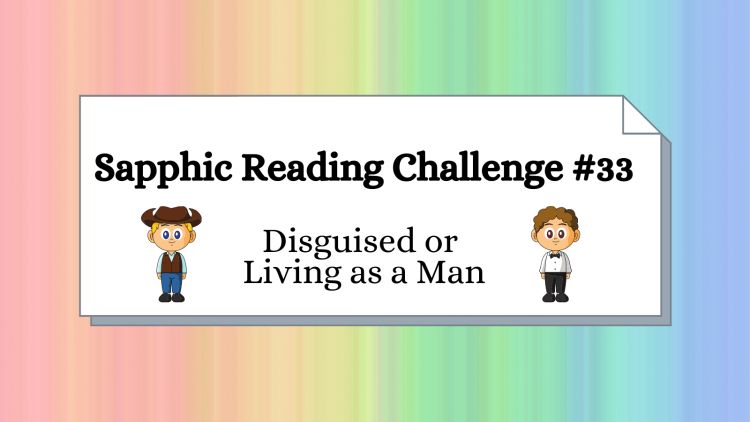 This week's category of the Sapphic Reading Challenge features books about main characters who are either women who disguise themselves as men out of necessity or genderqueer people who were assigned female at birth but might identify as nonbinary or as trans men (even though the book might not use those terms since most books on this list are historical romances).
Read up on the rules of the Sapphic Reading Challenge
If you are only discovering the Sapphic Reading Challenge now, the good news is you can still join! It's a year-long challenge, so it runs until December 31, 2021. Read up on the rules of the Sapphic Reading Challenge and download your PDF so you can keep track of the books you read this year.
15 sapphic books featuring main characters who are disguised or living as men
I put together a list of 15 sapphic books featuring a character who lives their life as a man at least for major parts of the book. I hope you'll find at least one you'll enjoy.
Backwards to Oregon by Jae
Luke Hamilton has always been sure that she'd never marry. She accepted that she would spend her life alone when she chose to live her life disguised as a man.
After working in a brothel for three years, Nora Macauley has lost all illusions about love. She no longer hopes for a man who will sweep her off her feet and take her away to begin a new, respectable life.
But now they find themselves married and on the way to Oregon in a covered wagon, with two thousand miles ahead of them.
Available at:
Crossing the Wide Forever by Missouri Vaun
Cody Walsh leaves Arkansas for California. Lured by stories of opportunity, even for women, Cody disguises herself as a man and prepares for the arduous journey west.
Lillie Ellis leaves New York to accept a post as a schoolteacher on the frontier near a small homestead she just inherited from her uncle. Lillie's ultimate desire is to become a painter, and she hopes the Kansas frontier will offer her the freedom to follow that dream. In the nineteenth century, a young woman has few options in the East that don't revolve around marriage and motherhood. Lillie is interested in neither.
Cody rescues Lillie after a chance encounter in Independence, Missouri. Their destinies and desires become entwined as they face the perils of the untamed West. Despite their differences, they discover that love's uncharted frontier is not for the weak in spirit or the faint of heart.
Available at:
Sword of the Guardian by Merry Shannon
A shocking assassination creates an unconventional bond between a princess and her guardian in a kingdom filled with political intrigue, danger and unexpected romance.
Princess Shasta Soltranis enjoys a pampered life of court dances, elaborate finery, and the occasional secret fencing match with her twin brother, Daric. But in the midst of a birthday celebration, her world shatters when a mysterious assassin takes her brother's life. Shasta, the only remaining heir to the throne, narrowly escapes the assassin's blade thanks to the intervention of a traveling acrobat named Talon.
With the threat of another attempt on Shasta's life imminent, her father declares that the young hero will become the Princess's bodyguard. But what Shasta doesn't know is that her new guardian has a very well-kept secret: he is actually a she. Talon and Shasta soon grow closer than anyone, especially her father, could have predicted.
Will the truth of her guardian's secret change their relationship forever?
Available at:
The Devil Between Us by S.C. Wilson
Jessica Pratt is only ten when her world is destroyed. After witnessing unspeakable acts of violence, she flees for her life, becoming lost in the untamed California wilderness. Terrified and alone, she fights for survival as each step takes her further away from everything she has ever known.
For nearly a decade Jessica calls the mountain home until tragedy strikes once again. Forced to reenter a world that is controlled by men, Jessica transforms into Jesse for her own protection. Posing as a man, she ventures off the mountain for the first time in years, and soon finds herself at the mercy of emotions beyond her control when she attracts the attention of a local singer.
Will Jesse be able to maintain the ruse she has created or will she let down her guard and confess her true identity to an unlikely new love? And, what happens when she comes face to face with the demons from her past? Will she get the justice she desires?
Available at:
The Covert Captain by Jeannelle M. Ferreira
Eleanor Charlotte Fleming, forgotten daughter of a minor baronet, stakes her life on a deception and makes her name—if not her fortune—on the battlefield.
Her war at an end, she returns to England as Captain Nathaniel Fleming and wants nothing more than peace, quiet, and the company of horses. Instead, Captain Fleming meets Harriet. Harriet has averted the calamity of matrimony for a decade, cares little for the cut of her gowns, and is really rather clever. Falling in love is not a turn of the cards either of them expected.
Available at:
The Travels of Charlie by JB Marsden
In 1884, Charlene Dieter needs a new life, away from unwanted male suitors and from Jo, her best friend who has rebuffed her romantic overtures. Charlene finds her new self in "Charlie," the man she always thought she should have been. Charlie decides to start a new life in Illinois, motivated by letters from a cousin of Charlie's deceased dad.
Kitty McIntire, a young woman managing her prairie farm after her father's death, also fends off a suitor, John Cameron. John, however, presses on, despite a rival for Kitty's attentions in cousin Charlie, newly arrived in their small town. Charlie does his best to be a farmer, but sustains injuries that lay him up. Kitty attends him while he recuperates, and they begin to fall in love, when circumstances force Charlie to let Kitty in on his secret.
Charlie and Kitty together face the escalating verbal and physical attacks from John, as he tries to get Kitty and her farm for his own purposes.
Will John come between the love that Charlie has found with Kitty? How can they, two women in a time that men rule, bring John to justice?
Available at:
Heart of Gold by Luci Dreamer
Thomasina Miller knew from a young age she wasn't like other girls. She didn't want to be a rancher's wife, so she makes the harrowing decision to leave all she's known, risking everything for the chance to choose her own fate in life. Now going by 'Thomas' she realizes hiding her identity is a rather small price to pay for the freedom to live her own life and the Klondike Gold Rush is the perfect opportunity to help her fund her endeavor.
Rachel Harkes knew that marrying Roy would be her ticket out of her small town in Kansas. Two years into their marriage and still looking for more adventure, Roy decides they should try their luck and join the Klondike Gold Rush.
When tragedy strikes and Thomas and Rachel are brought together at the top of the world in the unforgiving, arduous search for gold, can Thomas navigate her relationship with Rachel without revealing her secret? Will Rachel reconcile what she's known with the new, seemingly overwhelming reality she now finds herself in?
Available at:
Divided Nation, United Hearts by Yolanda Wallace
February 1862. The War Between the States has been raging for nearly a year with no end in sight. Philadelphia socialite Wilhelmina Fredericks is safe from the war's clutches, yet she feels compelled to do her part to bring the madness to an end. Accordingly, she disguises herself as a man, takes up arms, and heads South to join the fight. What could possibly go wrong?
Clara Summers's father and older brother are serving in the Confederate army. Forced to look after her two younger brothers as well as the small Tennessee farm the family depends on for its livelihood, Clara has no time for or interest in love. Then she meets a handsome Union soldier named Wil Fredericks, and her loyalty to both her family and the Southern cause is put to the test.
Available at:
The Princess Deception by Nell Stark
When Sebastian, the Crown Prince of Belgium, overdoses on heroin shortly before he is set to launch Belgium's campaign to host the FIFA World Cup soccer tournament, his family manages to hush up the scandal. While the royals are debating how to proceed, Sebastian's twin sister, Viola, decides to impersonate him to keep Belgium's bid hopes alive.
Missy Duke is a freelance reporter covering Belgium's World Cup bid. A former women's soccer player whose career was sidelined by injury, she is now trying to break into the male-dominated sportscasting world. While in Belgium, she meets the imposter Sebastian and soon realizes that he is actually Viola. Sensing a big story in the making, Duke feigns ignorance and plays along with the charade.
Real sparks develop between the two women, but will the double deception doom this fairy-tale romance?
Available at:
Donning the Beard by EA Kafkalas
In 1777, when Gabrielle's mother dies in childbirth she is left to be raised by her father Lord Guillemot, a soldier in the King's Army.
Orphaned Madeline is sent to live with her aunt Aimée, the lord's housekeeper, and work for Lord Guillemot. She is assigned to care for the lord's daughter, Gabrielle, and finds her best friend and the love of her life.
Gabrielle's father discovers that she has taught Madeline to read and write, and tries to put an end to their friendship. They thwart his plans only to find that he has arranged a marriage for Gabrielle to Damien. Her fiancé proves to be a vile man, and unbeknownst to Gabrielle, Madeline poses as Alexandre, a new suitor. Alexandre challenges Damien to a duel of swords.
When Gabrielle discovers her new love's true identity, the fall out sends them on a journey that takes them out of the rising French Revolution into a magical theatrical world in England. There, with the help of an actor and their father's paramour –the grand dame of theatre– Mademoiselle Babcock, they think their dreams of have come true.
When Gabrielle's father is rescued from imprisonment and makes his way back to England, will their dreams be dashed or will they finally get their happily ever after?
Available at:
The Spanish Pearl by Catherine Friend
When Kate Vincent and her partner travel to Spain, Kate is accidentally transported back in time…way back in time…to 1085. What does a woman like Kate do in a world of no antibiotics, no feminism, no Diet Coke? She denies it as long as possible, then sets her mind to getting home. Tricky with her now useless twenty-first century skills. Things don't go well.
Kate is captured by a band of mercenary soldiers and becomes an unwitting pawn in the violent conflict between the Catholic kings and the Islamic Moors. In her struggle to stay alive and return to the future, Kate must flee exotic harems, filthy dungeons, and treacherous Moorish courts.
But when a sword-brandishing woman with an astonishing secret sweeps into Kate's life, Kate is suddenly torn between two women, and between two centuries.
Available at:
Night Fires in the Distance by Sarah Goodwin
Laura and her husband William Deene have come a long way, from England to Ohio to Indian Territory. With their farm failing and Laura expecting her fourth child, their relationship begins to disintegrate and with another cruel winter coming on, Will's mistrustful and violent nature becomes more apparent.
Laura finds relief in the arms of their new neighbour, a young man of wealthy providence setting up as a lone homesteader; James Clappe. Attracted to Clappe's youth, kindness and naiveté, Laura struggles to maintain her stoic tolerance of the hard prairie life she has endured for so long.
Clappe is not all he seems however. Beneath worn clothes and layers of dirt, is a young socialite fleeing her husband, brought to the prairie by fear and grief. The last thing on earth she expects, is to fall for a lonely prairie wife almost double her age – but it could be the thing that saves her.
Available at:
Renegade by Cheyne Curry
What would you do if one minute you were in the 21st century and the next you were in the 19th? One day you're driving a Mustang and the next day you're riding one?
Dirty cop Trace Sheridan faces this dilemma as she moves from a present day mob war to a range war over a hundred years in the past. The year is 1879, when cattle barons, crooked lawmen, saloons, painted ladies, cowboys and Indians ruled the Wild West, and laws were only as strong as the gunman who upheld them. In Sagebrush, the town and the sheriff belong to the Cranes, who take what they want or bad things happen.
Trace finds this out firsthand when she ends up on the land of Rachel Young, a struggling ranch woman who won't give in to the merciless cattle baron and his obsessed son. For some unexplainable reason, Rachel trusts the enigmatic Trace who uses 21st century sensibilities to battle 19th century turmoil, while Trace is forced to keep the secret of her origin from the attractive and vulnerable Rachel.
Available at:
Keeping Secrets by McGee Mathews
What would you do if, after finally finding the woman of your dreams, she suddenly leaves to fight in the Civil War?
It's 1863, and Elizabeth Hepscott has resigned herself to a life of monotonous boredom far from the battlefields as the wife of a Missouri rancher. Her fate changes when she travels with her brother to Kentucky to help him join the Union Army. On a whim, she poses as his little brother and is bullied into enlisting, as well. Reluctantly pulled into a new destiny, a lark decision quickly cascades into mortal danger.
While Elizabeth's life has made a drastic U-turn, Charlie Schweicher, heiress to a glass-making fortune, is still searching for the only thing money can't buy.
A chance encounter drastically changes everything for both of them.
Will Charlie find the love she's longed for, or will the war take it all away?
Available at:
The Coffield Chronicles – Hearts Under Siege by TL Dickerson
The year is 1862. The war between the states has been raging intensely for a year now. The country is in complete and utter turmoil, and brother is fighting brother to the death, dying for what each believed. It seems it's all the townsfolk of New Albany, Indiana can speak of, and Melody Coffield is paying attention. Through a series of heartbreaks and sorrow, she settles on the decision to cut her hair and don men's attire.
Going under the alias of Melvin A. Coffield, she leaves her childhood home, the only home she had ever known, and enlists in the United States Army. Chewing tobacco and drinking liquor were ways of men, and she learns quickly how to behave like one. She would soon know the horrors of battle, and what was called the glory of war, through roads that led straight to Vicksburg, Mississippi. However, her biggest concern was making sure she was not detected by the others. Keeping her secret would not only be challenging, but trying as well.
Will she remain in this solitude the rest of her life, never allowing anyone into her heart again? Or will she find love, once more, in a world that was intolerant and unaccepting of who she truly was?
Available at:
Leave a comment
Leave a comment and let us know which book you'll be reading for the "disguised or living as a man" category!