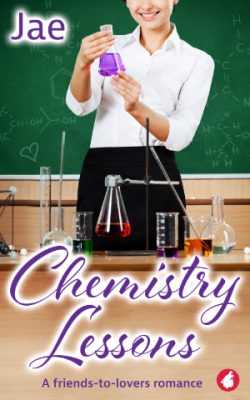 Chemistry Lessons
Sometimes the perfect person has been right in front of you all along
Kylie and Regan have been best friends since kindergarten, supporting each other through thick and thin.
While everyone thinks they would be perfect for each other, they insist there's no chemistry between them—and Regan should know since she's a chemistry teacher.
To prove it, they agree to a little chemistry experiment: they'll go on three dates with each other.
So what if their gazes start to linger and accidental touches no longer feel platonic? They chalk it up to the romantic atmosphere—until a friendly good night kiss turns passionate. Can their friendship go back to the way it was before? Do they even want it to? Or will they risk losing what they have for a chance at love?
Publication date: August 3, 2021
Length: 73,000 words
Tropes & themes: friends-to-lovers romance, slow-burn romance, character is a teacher, lesbian character, bisexual character
Awards:
GCLS Literary Award Winner 2022 (Contemporary Romance: Mid-Length Novels)
eLit Award (gold) in the LGBT Books category 2022
Queer Indie Book Awards 2022 (Best Romance)
IPPY Award (silver) in the Best Romance/Erotica E-Book category 2022
Global Ebook Awards (silver) in the Romance Fiction – Contemporary category 2022
Global Ebook Awards (bronze) in the LGBT Fiction category 2022
Rainbow Awards 2021 (Runner-up in the category Lesbian Contemporary Romance)
Lambda Literary Award finalist 2022 in the Lesbian Romance category
GCLS Literary Award finalist 2022 (Ann Bannon Popular Choice Award)
International Book Awards finalist 2022 in the LGBTQ Fiction category
International Book Awards finalist 2022 in the Romance category
Readers Favorite Award finalist 2022 in the LGBTQ Fiction category
I Heart SapphFic – Best Sapphic Blind Date (first place) 2023
I Heart SapphFic – Best Sapphic Friends-to-Lovers Romance (third place) 2022
I Heart Lesfic Book of the Month Award (February 2022) in the audiobook category
Reading companion: If you'd like to look at pictures of places, outfits, and yummy dishes mentioned in the book while you read, check it out here.
The Lesbian Review
"I picked up Chemistry Lessons during a spectacularly bad week and I am so glad I did. It was the gentle, stress-free story that I needed and it kept me up way past my bedtime more than once. If you love friends-to-lovers romances between adorkable, oblivious women as much as I do, this will be the perfect choice for you."
❤
Jae has taken one of lesfic's favorite tropes and given it the perfect twist, making this friends to lovers romance a true stand out. Filled with tender moments and big time chemistry, it's a guaranteed good time.
❤
LESBIreviewed
"The cutest friends-to-lovers romance ever! I literally couldn't put the book down. I fell in love with everything about it."
❤
Rainbow Reflections
"A story that is sometimes humorous, always touching, and very romantic."
❤
Rainbow Moose's Reviews
"The writing in Chemistry Lessons is even better than any other previous books I've read by Jae. It seems her writing is aging like fine wine, getting even more perfect and sophisticated with every new release"
❤
Kitty Kat's Book Review Blog
"The story was heartwarming and made me so happy."
❤
Lez Review Books
"Both mains are absolutely adorable. … They are people whom you can relate to. …  The general tone is light, romantic and fun."
❤
Jasmine (Goodreads reviewer)
"It was like a warm hug and I couldn't put it down."
❤
Rainbow Literary
"One of the most challenging things about friends-to-lovers romance is to make the change believable. What makes two people who have known and loved each other forever suddenly see the other one in such a different light? What turns unquestionably platonic into lusty? Jae makes it work flawlessly."
If you like this story, you'll also like…