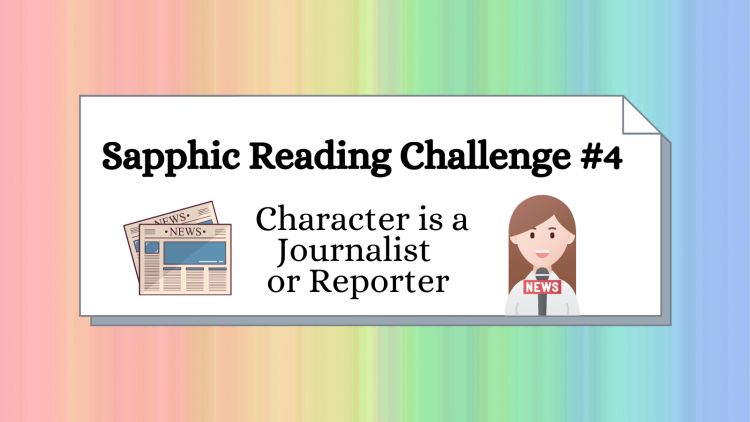 This week's category of the Sapphic Reading Challenge features books with a main character who is a journalist or reporter.
Read up on the rules of the Sapphic Reading Challenge
Before you pick a book for the "character who's a journalist or reporter" category, read up on the rules of the Sapphic Reading Challenge and download your PDF so you can keep track of the books you read this year.
Remember that you can either read one of the 15 books listed below or pick another sapphic book with a protagonist who's a journalist or reporter.
15 sapphic novels with a main character who's a reporter or journalist
 I put together a list of 15 novels with a reporter/journalist protagonist that I hope you'll enjoy.
The Red Files by Lee Winter
Ambitious Daily Sentinel journalist Lauren King is chafing on LA's vapid social circuit, reporting on glam, A-list parties while sparring with her rival—the formidable, icy Catherine Ayers.
Ayers is an ex-Washington DC political correspondent who suffered a humiliating fall from grace, and her acerbic tongue keeps everyone at bay. Everyone, that is, except knockabout Iowa girl King, who is undaunted, unimpressed and gives as good as she gets.
One night a curious story unfolds before their eyes: One business launch, 34 prostitutes and a pallet of missing pink champagne.
What on earth does it mean? King and Ayers join forces but they might find a lot more than just a passion for news on the dusty road to Nevada.
Available at: 
Death's Echoes by Penny Mickelbury
Police Lieutenant Gianna Maglione heads up the DC Police Department's Hate Crimes Unit. She investigates those who espouse and perpetrate acts of hatred. She hunts them down and infiltrates their habitats, and then she finds out where they live and work and who their friends are. She learns what their next evil acts are likely to be, and who will be their victims. Then, she must stop the violence―because hatred is almost always violent. But what happens to a cop when one of her officers becomes the victim of a brutal hate crime, and her girlfriend is targeted for a hit?
Mimi Patterson is the lead investigative reporter for Washington DC's top newspaper. She's not the kind of reporter who skims the surface of any story―she digs deep, asks the hard questions, leaves no stone unturned. She's looking for facts, for all of them, seeking out the truth. There's nothing fake about the news she reports, and the truth that she uncovers comes at a terrible price. But what happens when she finds herself unable―or perhaps unwilling―to pursue the big stories that come her way, to follow them wherever they lead?
The evils of racism, sexism, homophobia, misogyny, and religious intolerance pervade every aspect of our modern society. Hatred is a powerful force, one whose goal is to maim, weaken, diminish, and destroy. After so many years and so much hatred, Mimi and Gianna must finally come to terms with the price paid for their personal commitments to their jobs and to each other. And this time, the violence hits close to home, and the voices of its victims live on in the minds and consciences of Mimi and Gianna. They speak to them―and they remind them never to forget that they were denied life, liberty, and the pursuit of happiness simply because of who they were.
Available at: 
London Holiday by Miranda MacLeod
Jordan is an American journalist living in London, but when her newspaper is sold to an infamous tabloid king, she has one week to produce a tell-all story of the century or she's out of a job, and out of the country. Then a runaway princess nearly falls into her lap. It seems like the answer to her prayers, but how can she write an exposé on a woman she's falling in love with?
Abby was a typical California girl, until a twist of fate turned her into Princess Abigail, the heir to the throne of her father's kingdom. When presented with an opportunity to escape her royal duties for a night out on the town while on an official state visit to London, she seizes the chance. But when she's rescued by the woman of her dreams, she begins to doubt that she can ever return to royal life again.
As they have a madcap adventure exploring London together, both Jordan and Abby suspect they may have found their perfect match, but if the secrets they are hiding are exposed, will their relationship survive?
London Holiday is a modern-day fairytale inspired by the classic film Roman Holiday, with a lesbian twist.
Available at: 
Falling into Place by Sheryn Munir
Romance is not for Tara. Embittered after a college fling, she vows to never fall in love again–especially since she believes there's no future for same-sex love in her home in urban India. Then, one rain-drenched evening, an insane decision brings the bubbly Sameen into her life and everything changes. Sameen is beautiful, a breath of fresh air…and almost certainly straight. All Tara's carefully built-up defenses start to crumble, one after the other. But is this relationship doomed before it can even start?
Available at: 
The Miracle Girl by T.B. Markinson
Newspaper publisher and world traveler JJ Cavendish continually feels pressured to live up to her Miracle Girl nickname. Not many people know she's living a carefully crafted lie. She may not hide ties to the LGBT community, but she does hide past struggles with addiction.
When the Colorado native is handpicked to take the helm at a dying Denver newspaper, she ends up reconnecting with her long lost love in this contemporary lesbian romance. Only there's a catch. If JJ fires the most belligerent editor at the paper, she risks losing the love of her life.
Mid-afternoon office romps abound in this romantic comedy while also focusing on what it takes for a newspaper to remain relevant in this age of social media.
Available at: 
SBF Seeking by La Toya Hankins
Four months before her wedding, Yvette Thurman realizes this might be her last chance to have a sexual fling with a white man. But she never thought placing a personal ad would lead her to discover she was a lesbian.
Yvette's small town life in eastern North Carolina never prepared her for the personal journey she undertakes as she struggles to find her heart's path.
Through personal ads and late night visits to an adult bookstore, Yvette learns more about her own personal desires than she ever did when she was engaged to be married. If she embraces her true self, can she find acceptance and love from her family and friends? Or will she be forced to hide who she really is from those she cares about the most?
Available at: 
The Harbinger by Mary Eicher
In a picturesque California town, the deafening sound of bells brings dozens of people to their knees. Three days later a horrific accident claims their lives. Among the dead is the twin brother of Artemis Andronikos, a beautiful attorney, who abandons the ill-fated vacation and returns home to grieve.
Her mourning is interrupted by Lucy Breem a reporter who suspects a connection between the strange bell sound and subsequent deaths. Disturbed by the possibility that the phenomenon had presaged her brother's death, Artemis agrees to join forces with Lucy to investigate the mysterious premonitions. Utilizing her considerable physical and deductive talents, Artemis battles nefarious forces and seeks information from friends in high places. Their research takes them to various global venues. But the solution to the mystery proves illusive and the couple discovers that neither science nor religion can provide an explanation for what has become known as the Harbinger.
Available at: 
The Wolf's Consort by Max Ellendale
When reporter Mack Parker accepted the task of an exclusive article about suspicious activity at a local hospital, she never expected to stumble into a preternatural world hidden in plain sight. A near-death rescue launches Mack into the arms of Zara Weston; a grumpy, reclusive police officer who impedes Mack's investigation at the brink of every discovery. Her officious, vigilant demeanor forces Mack to take matters into her own hands. Can the reporter slip under the radar of the meddlesome cop to uncover the truth? Or will their crossed paths bring them closer to each other and to the dangerous world of werecreatures and vampires that haunts the fringes of society?
Available at: 
The Seven Husbands of Evelyn Hugo by Taylor Jenkins Reid
Aging and reclusive Hollywood movie icon Evelyn Hugo is finally ready to tell the truth about her glamorous and scandalous life. But when she chooses unknown magazine reporter Monique Grant for the job, no one is more astounded than Monique herself. Why her? Why now?
Monique is not exactly on top of the world. Her husband has left her, and her professional life is going nowhere. Regardless of why Evelyn has selected her to write her biography, Monique is determined to use this opportunity to jumpstart her career.
Summoned to Evelyn's luxurious apartment, Monique listens in fascination as the actress tells her story. From making her way to Los Angeles in the 1950s to her decision to leave show business in the '80s, and, of course, the seven husbands along the way, Evelyn unspools a tale of ruthless ambition, unexpected friendship, and a great forbidden love. Monique begins to feel a very real connection to the legendary star, but as Evelyn's story near its conclusion, it becomes clear that her life intersects with Monique's own in tragic and irreversible ways.
Available at: 
Lucy's Chance by Jackie D.
Lucy severed the connection to her first love when the seduction of college life pulled at her desires. Now in their thirties, Lucy returns home to cover a story where Detective Erica Chance plays a central character. Erica has spent a decade trying to banish the memory of Lucy, and on the surface, she has succeeded. Now, the reporter is back in her life, insisting she is a valued resource in the search for their hometown's first serial killer. Old wounds are opened and new enemies are discovered as Lucy tries to take her chance.
Available at: 
The Delicate Things We Make by Milena McKay
Hitting rock bottom in the concrete jungle of Manhattan, investigative journalist Jamie Walker lands the assignment of a lifetime: Find the most elusive artist of a generation, who has enthralled the art and fashion world for over a decade.
This assignment is supposed to finally be Jamie's ticket to journalistic fame and fortune. The quest, however, proves to be difficult, as—so far—nobody has managed to discover who the legendary DeVor really is.
As Jamie delves deeper into the mysteries surrounding the enigmatic artist, trying to salvage her stagnant career, she risks getting in over her head and losing her heart in the process.
Available at: 
Skin Deep by Kenna White
Jordan Griffin is an attractive and dedicated assistant editor for Northwest Living Magazine. She is given an assignment to track down and interview one-time nationally renowned broadcast journalist, Reece McAllister who has been living a secretive and reclusive life. To get the story, Jordan follows Reece deep into the backwoods of Washington State. To her surprise, Jordan comes away with far more than just a story.
Should she betray a trust or deny her journalistic conscience? Their future together depends on her making the right choice.
Available at: 
Holy Hell by Elizabeth Sims
Lillian Byrd is a small-time reporter with a flair for making big-time mistakes–like getting fired for fending off the boss's son with an X-Acto knife and breaking up with her girlfriend for no good reason–so her investigation into the disappearances of women in the Detroit area might not be the best idea. But when one of the missing women turns up dead and Lillian recognizes the bizarrely mutilated corpse, she's in too deep to get out. Of course, it doesn't help that she's still fighting off the boss's son and ducking the aggressively amorous overtures of the roughest dyke in town.
Now, after simultaneously blowing the case for the police and revealing herself to the off-kilter killers, she's completely on her own. Can she catch the murderers before they catch up with her?
Available at: 
Lone Ranger by VK Powell
Freelance reporter Emma Ferguson's assignment to write about a missing member of a local furniture royalty family turns into a murder when she talks to the only survivor of the founding family. While she tries to mine literary gold from the crumbs of a decades-old mystery, commitment-phobic Carter West seems more interested in maintaining the status quo, another puzzle Emma is eager to unravel.
Park ranger Carter West has been dedicated to her family and their close-knit community all her life, so when Emma Ferguson starts poking around in the past, Carter does whatever is necessary to maintain the life they've established—including keeping deadly secrets.
Available at: 
Clichéd Love by Lynn Galli
Vega, a journalist by trade and a cynic for life, came up with a brilliant pitch for a series of articles. Recount the tales of lesbian and gay couples to assure the heterosexual population that the institution of marriage isn't at risk now that gay marriage is legal. Her editor loved the idea. Vega loved the notion of a long-term assignment that paid regularly. What she didn't realize until too late was that she'd have to sit through every one of these often banal, regularly nauseating love stories without wanting to hurl herself off the nearest cliff. So much for her brilliant idea.
By the time she arrives in Seattle, she's already had enough of interviewing couples, but she's determined to see it through. After all, if the readers of a national newspaper can recognize a love story as a love story, regardless of sexuality, she might change a few minds out there. Helping to temper the discontent is new friend, Iris, who seems to know everyone's story and, more importantly, shares Vega's take on them. As the interviews continue and her friendship with Iris grows, Vega wonders if her lifelong cynical attitude toward love might be softening a bit.
Available at: 
Leave a comment
Leave a comment and let us know which book you'll be reading for the "protagonist who's a journalist or reporter" category!